Trump Halts New Sanctions Against Russia Over Syria
President Trump undercut his own Ambassador to the United Nations today by blocking the imposition of new sanctions on Russia.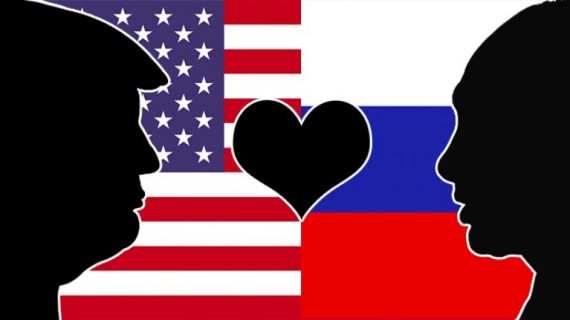 During an appearance on CBS's Face The Nation yesterday, U.S. Ambassador to the United Nations Nikki Haley said that the Trump Administration would be imposing new sanctions against Russia over its support for the Assad regime and its efforts to deflect from Assad's use of chemical weapons on Syria civilians. That attack, of course, led to the military action that the United States, France, and the United Kingdom took on Friday night against selected targets inside Syria, retaliation that at least seemed to suggest a much harsher tone on the part of the West toward Russia and its client state in Damascus. Notwithstanding Haley's announcement, The Washington Post is reporting that President Trump has blocked the sanctions mere hours before they were set to be announced:
President Trump on Monday put the brakes on a preliminary plan to impose additional economic sanctions on Russia, walking back a Sunday announcement by U.S. Ambassador to the United Nations Nikki Haley that the Kremlin had swiftly denounced as "international economic raiding."

Preparations to punish Russia anew for its support of Syrian President Bashar al-Assad's government over the alleged chemical weapons attack in Syria caused consternation at the White House. Haley said on CBS News' "Face the Nation" that sanctions on Russian companies behind the equipment related to Assad's alleged chemical weapons attack would be announced Monday by Treasury Secretary Steven Mnuchin.

But as officials in Moscow condemned the planned sanctions as overly punitive, Trump conferred with his national security advisers later Sunday and told them he was upset the sanctions were being officially rolled out because he was not yet comfortable executing them, according to several people familiar with the plan.

Administration officials said the economic sanctions were under serious consideration, along with other measures that could be taken against Russia, but said Trump had not given final authorization to implement them. Administration officials said Monday it was unlikely Trump would approve any additional sanctions without another triggering event by Russia, describing the strategy as being in a holding pattern.

Sometime after Haley's comments on CBS, the Trump administration notified the Russian Embassy in Washington that the sanctions were not in fact coming, a Russian Foreign Ministry official said Monday.

The Trump team decided to publicly characterize Haley's announcement as a misstatement. White House press secretary Sarah Huckabee Sanders said in a statement Monday: "We are considering additional sanctions on Russia and a decision will be made in the near future."

Privately, another White House official said Haley got ahead of herself and made "an error that needs to be mopped up."

But other administration officials expressed skepticism that Haley had merely misspoken. They said Haley is one of the most disciplined and cautious members of the Cabinet, especially when it comes to her public appearances. She regularly checks in with Trump personally to go over her planned statements before she sits for television interviews.

Haley issued no clarifying statement on Sunday after news organizations, including The Washington Post, reported prominently that the new sanctions would be announced Monday based on her comments to CBS.

Asked Monday morning why it had taken 24 hours for the administration to walk back Haley's comments, one White House official said only that there had been confusion internally about what the plan was.

(…)

In the absence of a permanent secretary of state, Haley has been the face of American diplomacy, playing an especially prominent role over the past week as the Trump administration responded to the attack in Syria.

Haley said Sunday on CBS, "You will see that Russian sanctions will be coming down. Secretary Mnuchin will be announcing those on Monday, if he hasn't already. And they will go directly to any sort of companies that were dealing with equipment related to Assad and chemical weapons used. And so I think everyone is going to feel it at this point. I think everyone knows that we sent a strong message, and our hope is that they listen to it."

The Russians were listening. After Haley's comments, Kremlin press secretary Dmitry Peskov told reporters in Moscow that the sanctions were a U.S. ploy to oust Russia from international markets and constituted "undisguised attempts of unfair competition."

"The sanction campaign against Russia is truly assuming the nature of an obsessive idea," Peskov said, according to the Interfax news agency. "We still do not see these sanctions as lawful. We see them as going against international law."

Peskov added, "Certainly, this cannot have any relation to and cannot be motivated by considerations of the situation in Syria or any other country . . . I would call this international economic raiding rather than something else."
Unlike some other members of the Administration, Haley has not been one who has been known to speak prematurely on a subject, and this has been especially true regarding the comments she makes when speaking as the representative of the United States before the Security Council and in her media appearances. Given that, it seems unlikely that she was getting out ahead of what she had been told regarding the Administration's future plans regarding Russian sanctions and that there was some other intervening act or communication may have caused the President to so obviously undercut the person who has, in the absence of a permanent Secretary of State, become the primary foreign policy of the Administration outside of the President himself. What seems more likely is that, for some reason, Trump decided that he didn't want to go forward with a plan that would have had Secretary of the Treasury Steve Mnuchin announce new sanctions as early as today. What that may be is anyone's guess.
This report, though, comes at the same time that The Washington Post is also reporting that Trump apparently erupted in anger at his aides when he learned that the United States was expelling far more Russian diplomats that many of our European allies in response to the poisoning of a former Russian spy on British soil:
President Trump seemed distracted in March as his aides briefed him at his Mar-a-Lago resort on the administration's plan to expel 60 Russian diplomats and suspected spies.

The United States, they explained, would be ousting roughly the same number of Russians as its European allies — part of a coordinated move to punish Moscow for the poisoning of a former Russian spy and his daughter on British soil.

"We'll match their numbers," Trump instructed, according to a senior administration official. "We're not taking the lead. We're matching."

The next day, when the expulsions were announced publicly, Trump erupted, officials said. To his shock and dismay, France and Germany were each expelling only four Russian officials — far fewer than the 60 his administration had decided on.

The president, who seemed to believe that other individual countries would largely equal the United States, was furious that his administration was being portrayed in the media as taking by far the toughest stance on Russia.

His briefers tried to reassure him that the sum total of European expulsions was roughly the same as the U.S. number.

"I don't care about the total!" the administration official recalled Trump screaming. The official, like others, spoke on the condition of anonymity to discuss internal deliberations.

Growing angrier, Trump insisted that his aides had misled him about the magnitude of the expulsions. "There were curse words," the official said, "a lot of curse words."

The incident reflects a tension at the core of the Trump administration's increasingly hard-nosed stance on Russia: The president instinctually opposes many of the punitive measures pushed by his Cabinet that have crippled his ability to forge a close relationship with Russian President Vladi­mir Putin.
Taken in this context, Trump's decision to put a stop to new sanctions against Russia over its Syria policy would seem to be motivated by the same sort of desire to mollify Putin that we've seen in the past. The best example of that, of course, can be seen in the fact that Trump has yet to implement the sanctions that Congress imposed in legislation passed at the end of 2016 and the Administration has yet to provide any explanation for why that is the case. While it's true that Trump did call out Putin by name when he spoke initially about the chemical weapons attack, this has been notable as one of the only times during the entire Administration that he has done so. Now, he is once again holding back on sanctions that clearly seemed to be coming down the pike. Why that happening is something I'll leave you, readers, to decide.