Trump Holds Solid Leads In Florida And Ohio Polling
Less than a week before what may be the most important week of the campaign, Donald Trump is in very good shape. Marco Rubio and John Kasich? Not so much.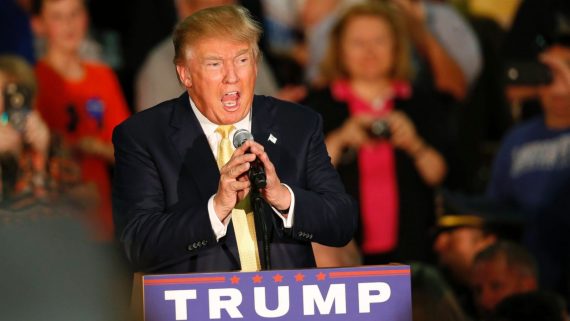 A series of new polls out of Florida and Ohio shows Donald Trump in a comfortable position in both Florida and Ohio heading into what may be the most important week of the entire race for the Republican nomination:
Florida and Ohio are looking like friendly states for Donald J. Trump ahead of their primary elections next Tuesday, according to two new polls.

Surveys from CNN/ORC released on Wednesday show Mr. Trump with solid leads, potentially dealing serious blows to the campaigns of Senator Marco Rubio of Florida and Gov. John Kasich of Ohio. Both will face calls to quit the race if they fail to hold their home states.

In Florida, 40 percent of likely Republican voters support Mr. Trump, while 24 percent back Mr. Rubio. Trailing them are Senator Ted Cruz with 19 percent and Mr. Kasich with 5 percent.

Florida voters view Mr. Trump as being most fit to handle the economy, foreign policy and immigration. Mr. Cruz does better when it comes to social issues.

A separate poll released on Wednesday from Quinnipiac University shows an even steeper climb for Mr. Rubio in Florida, with Mr. Trump leading him by 23 percentage points.

In Ohio, Mr. Trump holds a smaller advantage over Mr. Kasich, topping him by a margin of 41 percent to 35 percent, according to CNN/ORC. Mr. Cruz comes in third with 15 percent, followed by Mr. Rubio at 7 percent.

Like Mr. Rubio in Florida, Mr. Kasich's candidacy rests on a strong performance in Ohio. The poll shows him winning among women and holder voters. He is also seen as being better on social issues and more empathetic to the needs of voters.

Quinnipiac's Ohio poll also shows Mr. Trump leading Mr. Kasich by 6 points, with the rest of the pack lagging far behind.

The surveys were conducted over the weekend while voters were going to the polls in other states and the outcomes could sway voters next week. CNN's poll had a margin of error of plus or minus six percentage points, while Quinnipiac's margin of error was plus or minus four percentage points.
The new Florida polls come in the wake of several other polls that show Trump leading Rubio in his home state, thus casting doubt on just how viable the Senator's campaign really is at this point. A poll from the University of North Florida, for example gives Trump a 12 point lead over Rubio at 36% to 24% with Ted Cruz in third place at 16% and John Kasich at 10%. A SurveyUSA poll gives Trump at 20 point lead over Rubio at 42% to 22% with Ted Cruz at 17% and Kasich in single digits. Finally, a Monmouth University poll that now appear to be an outlier gives Trump just an eight point lead over Rubio at 38% to 30%, with Ted Cruz and John Kasich again at 17% and 10% respectively. All of this gives Trump a 15.8% average lead according to RealClearPolitics, with him averaging 40.2% to Rubio's 24.4%, followed by Ted Cruz at 17.4% and Kasich at 8.4%. Obviously, this is quite good news for Trump, and quite bad news for Rubio, who must win in his home state to maintain any sense of a credible campaign, and likely to maintain any semblance of a political future in Florida at this point. Absent something radical happening, the idea that Rubio will be able to close this gap seems fanciful, which is likely why even some of Rubio's top advisers are saying that he should drop out of the race before the Florida primary unless it appears that he has some chance of winning.
Heading north to Ohio, the situation doesn't appear to be quite as bleak for Ohio Governor John Kasich, but it also doesn't look very good either. Other than the CNN/ORC polls, the only other recent poll come from Public Policy Polling, and it shows Trump with a smaller lead of just three point. Nonethess, RealClearPolitics gives Trump a five point lead over Kaisch at 39% to 34%, with Ted Cruz coming in third place at 15.3% and Marco Rubio coming in fourth at 7.0%. As with Rubio in Florida, a loss by Kasich in Ohio would be fatal to his political career going forward. While Kasich cannot run for another term as Governor, he could potentially run for the Senate against Sherrod Brown in the future. Such a prospect would be significantly reduced, though, if he fails to win his home state in a multiple candidate election just a couple years after being re-elected with more than 60% of the vote just two years ago..
Obviously, if these poll numbers hold up it would be very good news for Donald Trump since they portend potential victory in the first big winner-take-all states of the election cycle. Winning both states would give Trump more than 150 delegates, something that would both place him much closer to winning the nomination and make it far more difficult for Ted Cruz or any of the other candidates to catch up to him or prevent him getting a majority of delegates before the convention. Indeed, with just those wins in Ohio and Florida, Trump would need to win less than half of the delegates remaining to win the nomination. If he picks up wins in other March 15th states, such as Missouri, Illinois, and North Carolina, he would be even closer to closing the deal and winning the nomination outright.