Trump is Who We Thought He Was
That which worked for petty business disputes was never going to work on this big of a stage.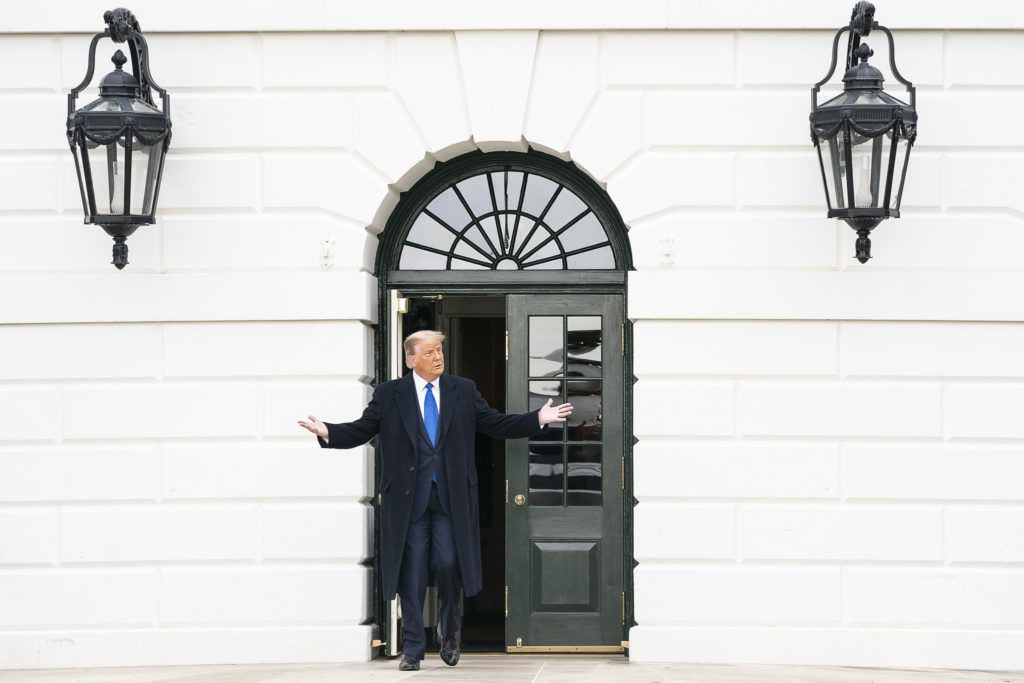 NFL fans may recall an infamous rant by then Cardinals Head Coach, the late Dennis Green, after a Monday Night Football loss to the Chicago Bears. "They are what we thought they were!" he declared.
The phrase resonates with the Trump administration, because Trump himself is what we thought he was.
He is an amateur. He is a spoiled child. He is a rich man from a privileged background who has never been held accountable for anything (in any way that mattered). A combination of lawyers and his father's wealth has bailed him out time and time and time again.
It is almost cliche to point out, but this is a man who had a casino go bankrupt. Mythology aside, he is no great businessman. He is a con artist and any objective assessment of his presidency demonstrates this fact. His understanding of governance is near zero, his hiring practices a farce, and his theories of international affairs utterly ridiculous.
All this is directly manifesting in these ridiculous claims of electoral fraud in the recent election. He is playing the same game he always has. He is pouting and assuming that he can gripe his way through the whole thing via lawyers and conning his followers.
After all, his views on not getting an Emmy for The Apprentice should sound familiar:
"I got screwed out of an Emmy," he recalled during a 2015 episode, when it was revealed celebrity contestant Leeza Gibbons does, in fact, have an Emmy. "Everybody thought I was gonna win it. Like, in fact, when they announced the winner, I stood up before the winner was announced."

"I started walking for the Emmy," Trump continued. "And then they announced the most boring show on television, piece of crap. I literally stood up and started walking out."

[…]

"The public is smart. They know it's a con game. I remember when I was originally nominated, everybody thought that 'The Apprentice' was going to win. It was the hottest thing on television, virtually," Trump said in 2011. "Well, it didn't win. They picked another show that frankly has been nominated many years and it's like, an irrelevant show. I'm not talking about myself. I'm not talking about 'The Apprentice.' I'm just saying the Emmys have a become boring, boring, boring show, totally predictable, and they're picking the wrong people."

Then the tweets began. For two days after the 2012 Emmys, he fired off a series of them. "'Amazing Race' winning an Emmy again is a total joke. The Emmys have no credibility — no wonder the ratings are at record lows," reads one.

Source: WaPo (2016), "Donald Trump's long feud with the Emmys: 'The public is smart. They know it's a con game.'"
These are the rants of a child throwing a tantrum. They are the words of a petty, self-centered manchild. Note, also, the ever-popular "According to many" rhetorical approach.
But, of course his behavior is hardly limited to television award shows. Note when he lost the Iowa Caucuses in 2016 to Ted Cruz:
Or his claims after his Elecroral College win in 2016:
The man has clear, public record of making unsupported claims about his public loses.
He is who we thought he was. He is who he has always been.
As I have watched the attempts by Team Trump to try and exploit the legal system with court filing after court filing, I am struck by a number of things. The most important of which is that utterly anti-democratic nature of it all. But also, on a lesser level, this is all just Trump being Trump.
First, the whole situation underscores how is in over his head, and always has been. He doesn't understand his job at POTUS nor does he understand the vast legal system of the United States nor the complex elections system.
He is just a wealthy man who has been insulated from consequences his entire life who has been able to throw money at problems (often manifesting at throwing lawyers at said problem) to make them go away. This works with relatively small issues, like contract disputes or petty scams like Trump University, but it is not a strategy for overcoming a clear electoral loss.
Second, he is so insulated from reality that he really believes his own bullshit, and doesn't seem to understand that his hand-picked henchman are paid to agree with him and his family members have been raised to do so (not to mention they know where their bread is buttered). Moreover he doesn't understand that a lot of people on Fox News, NewsMax, and OAN are all deliberating kissing up to him to garner favor and ratings.
He is, in many ways, captive to his own cons.
Third, he is trying to deploy his conman/carnival barker skills to get himself out of this jam, and they will in the sense that those who are buying the con are contributing money to his "defense fund" and will follow him to his next media circus, whereever that it and however it may manifest.
At the end of the day, however, he is a failed president by any objective measure. And the parallels between his business endeavors and his time in office are stark–and I expect there will be far deeper analyses along these lines to be written.