Trump Leads Biden in Meaningless Poll
We're three short years from the next election.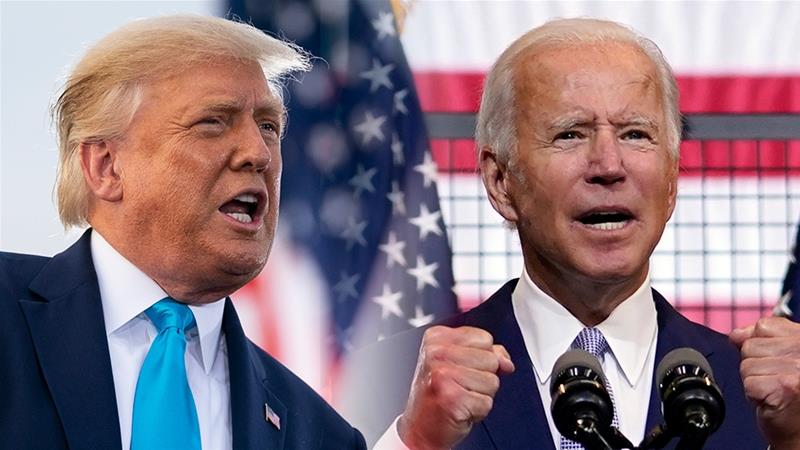 Were the Presidential election being held today—and I am reliably informed it is not—former President Donald Trump might well defeat current President Joe Biden, according to a dubious poll released by an otherwise reputable outfit to generate pageviews.
The Hill ("More voters would pick Trump over Biden if election were held today: poll"):
More voters would back former President Trump than President Biden in a hypothetical match-up if the 2024 election were held today, according to a new Harvard CAPS-Harris Poll survey released exclusively to The Hill.

Forty-eight percent of voters in the survey said they would back Trump, compared with 45 percent for Biden. Another 8 percent were unsure.

The results were evenly split at 46 percent among women, while men backed Trump by a margin of 50 percent to 43 percent. Biden won urban voters by 20 percentage points and suburban voters by 4 percentage points, but Trump romped among rural voters by 33 percentage points.
So, again, we're almost three years out from the next election. Trump is 75 and Biden is 79; there's no guarantee both will live that long, much less be the party nominees. Still, the poll reflects something of modest interest: the events of the last thirteen months have done nothing to dissuade those who supported Trump in the last election. He received 46.9% of the vote last time and is showing almost exactly that number in this survey.
Which makes this unsurprising:
Should Trump run, he would likely skate to the 2024 GOP nomination, according to the poll.

Trump holds a gargantuan lead over any other potential GOP contender. Sixty-seven percent of Republican voters would back the former president, with former Vice President Mike Pence coming in second with 9 percent and Florida Gov. Ron DeSantis coming in third with 8 percent.

The poll is largely in line with other surveys that have suggested Trump is a shoo-in for the Republican nomination if he wages a third White House bid in 2024.
Given his command of the microphone and the fact that pretending the last election was stolen is a de facto requirement for participation, I don't see how a serious alternative can emerge.
But this is just silly:
"The collapse of Biden has led to a surge for President Trump on all fronts both in the GOP primary and in a potential general election," said pollster Mark Penn.
First, Biden hasn't "collapsed." Yes, he's underwater in the polls. Here's the RealClearPolitics trendline: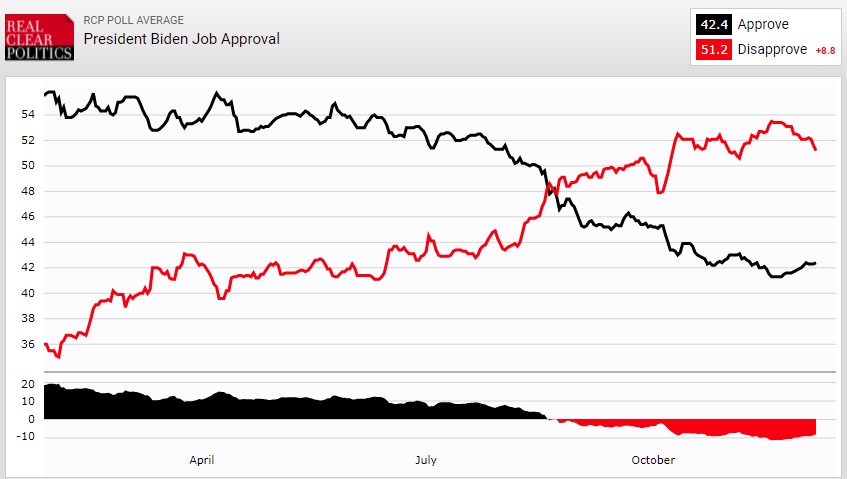 But compare that to Trump's tenure: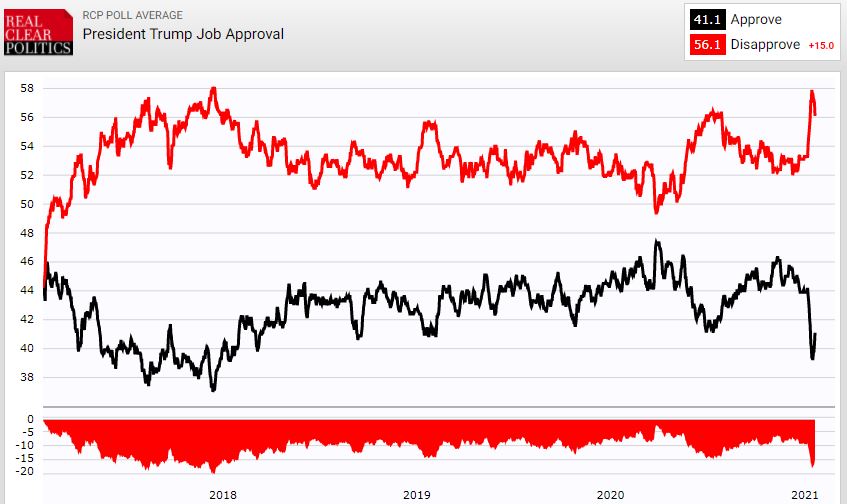 Trump spent all but the first couple days of his presidency underwater. On December 7, 2017, exactly this point in his administration, Trump's approval was 38.5% and his disapproval 57.4%—much worse than Biden today.
Second, Biden's approval has next to nothing to do with what happens in the GOP primaries.
Biden defeated Trump by about 7 million votes in 2020, or roughly 4 percentage points. He won largely because of narrow victories in Arizona, Georgia, Michigan, Pennsylvania and Wisconsin, all of which Trump had taken in 2016.
Which brings me to a rather important point: while national-level polling gives us some useful information, we don't elect Presidents in a national election but rather 51 local contests, the overwhelming number of which I can accurately predict for 2024, 2028, and 2032 with no knowledge of the nominees. How are the two men polling in the swing states? This survey doesn't tell us.
Finally:
The Harvard CAPS-Harris Poll survey of 1,989 registered voters was conducted from Nov. 30 through Dec. 2. It is a collaboration of the Center for American Political Studies at Harvard University and the Harris Poll.

The survey is an online sample drawn from the Harris Panel and weighted to reflect known demographics. As a representative online sample, it does not report a probability confidence interval.
So, again, a reputable surveying team but a rather dubious methodology. "Registered voters" is not the sample we're interested in but rather likely voters.