Trump Losing Sway with Republican Voters?
We can only hope.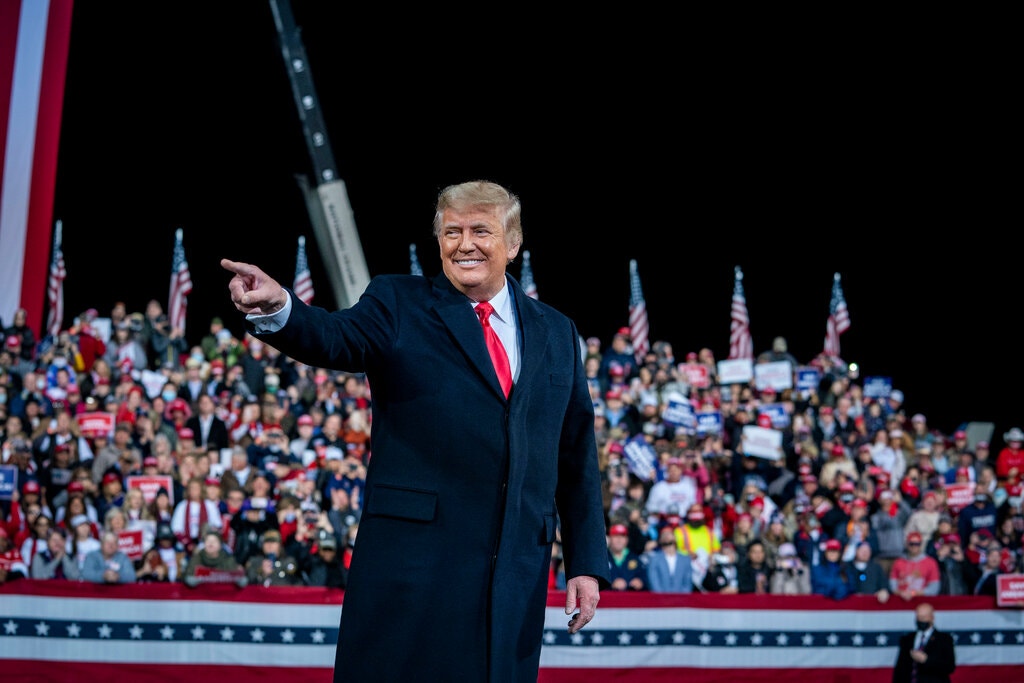 National Journal columnist Josh Kraushaar looks at several contested Republican primaries where candidates endorsed by the former President are faring poorly.
Former President Trump is staring at a real chance that his endorsed candidates go zero-for-three in competitive Senate primaries in May, an outcome that would underscore his already mixed record in primaries and raise serious questions about the depth of his political clout within the Republican Party. Trump's undisciplined political strategy, seeking to punish any candidate he deems disloyal, faces a wall of resistance in the South, one of the most pro-Trump regions of the country during his presidency.

From North Carolina to Alabama, Senate candidates are failing to capitalize on the Trump seal of approval. Former North Carolina Gov. Pat McCrory has weathered millions in outside attacks from the Trump-allied Club for Growth and leads Trump-endorsed Rep. Ted Budd in several publicly released polls. Georgia Gov. Brian Kemp now leads former Sen. David Perdue by double digits in multiple polls, while holding a significant financial advantage down the home stretch. Trump-endorsed Rep. Mo Brooks has underperformed so badly in Alabama's Senate race that the former president is reportedly considering endorsing one of his leading rivals. All these primaries will be taking place in May.

In June, Trump's clout in House races will be tested in South Carolina, with Reps. Nancy Mace and Tom Rice facing off against Trump-backed challengers. Trump held a rally for Mace's challenger Katie Arrington and Rice's leading opponent Russell Fry last weekend. Former South Carolina Gov. Nikki Haley, a likely future presidential candidate, headlined a fundraiser for Mace last week, a sign of the emerging proxy war between two opposing wings of the Republican Party. Multiple polls, including one from Arrington's campaign, show Mace leading in the head-to-head matchup. Rice, one of the 10 House Republicans to support Trump's impeachment last year, is in more precarious shape.

Adding insult to injury, Trump's past praise of Russian President Vladimir Putin is now proving to be a major vulnerability for MAGA-aligned candidates—at the worst possible time. By a nearly 2-to-1 margin, Republicans rejected the isolationist notion that the war in Ukraine is "none of our business" in a recent Reuters-Ipsos poll. Yet Trump touted the Russian dictator's strategic savvy at a recent fundraising event on the eve of Russia's invasion, with many of his endorsed candidates in attendance. McCrory, after being hit as a "Republican In Name Only" in pro-Budd ads, went up with his first ad attacking Budd for being soft on Russia. "These are serious times and we need serious senators. … I don't compliment our enemies. I stand for truth and freedom," McCrory says in the ad. The nonstop news coverage of the war in Ukraine is also preventing the Trump-backed challengers from getting much media attention at a time when intraparty politics feels downright small by comparison.
He does a deeper dive into the three Senate races and it does seem quite likely Trump will go 0-for-3 in them. Whether that's a function of his declining influence, his penchant for backing the wrong horse, or the fact that endorsements tend not to matter all that much in American politics is hard to disaggregate.
Certainly, the fact that Republicans, whose coalition was at least partly forged by anti-Communism during the Cold War, are rejecting the bizarre rallying around Vladimir Putin during his invasion of Ukraine shouldn't be surprising. That Georgia Republicans look set to overwhelmingly re-nominate Kemp, who stood in the way of Trump's attempt to overturn his state's Presidential election, is perhaps more telling. But there's also this:
"Trump's no longer president. People's attention is shifting to how bad Joe Biden is, not the last election. And time heals a lot of wounds," said the Kemp adviser. "Trump's also spread himself pretty thin here. He's done everything but endorse people for dogcatcher here and in states across the country."
Even while Republicans overwhelmingly tell pollsters they believe the Big Lie, it's simply a fact that Trump lost. A loser running around giving speeches is simply less compelling.
Of course, his lack of success in swaying voters to candidates who kiss his ass may not tell us much about his own viability as a candidate. It's not clear who can beat him in a Republican primary. Certainly, not Mitt Romney. Moving on to Ron DeSantis or the like would, I suppose, be an improvement. But it would still mean a Trumper as the nominee.