Trump Meets The Press
It turns out, he wasn't all that truthful.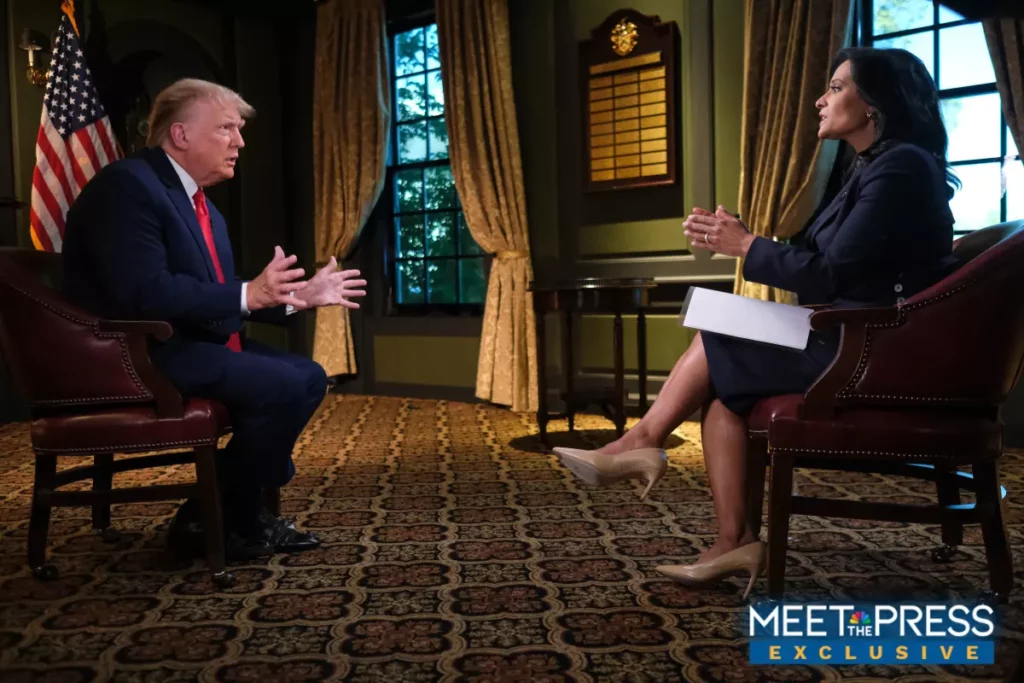 Kristen Welker took over from Chuck Todd yesterday as host of NBC's venerable Sunday interview show. Daily Beast media reporter Corbin Bolies is unhappy that she chose a certain former President as her first guest ("Kristen Welker's 'Meet the Press' Debut Derailed by Trump Derangement"):
Journalists and commentators for years have wrestled with the question of how to approach Donald Trump, a former president who is both a prolific liar and facing dozens of criminal charges in federal and state court. In her debut turn as moderator for Meet The Press, Kristen Welker wanted to be the latest to prove to critics that he could be challenged.

But like those who have tried before, her inherent skills as an interviewer were no match for a chaotic interview subject like Trump.

Welker managed to squeeze a plethora of topics into the hourlong exchange—a mighty feat when dealing with a man known to meander on a topic long enough to derail the overarching conversation. She approached Trump with the respect gifted to former presidents—often calling him "Mr. President"—and infrequently interrupted him, even when an in-the-moment fact check could be justified. Welker even managed to nail down semi-specific answers from a candidate who made a talent out of skirting specificity. ("I don't think you should be allowed to have abortions well into a pregnancy," he said at one point.)

But Welker's relative control and composure during the sit-down also allowed for some of the steam-rolling Trump successfully landed in his garbled CNN town hall.

He repeatedly refused to answer questions—directly telling Welker "I'm not going to tell you" when asked if he watched the chaos on Jan. 6 from a White House dining room—and made multiple ludicrous claims that were left largely unchallenged, or weakly so. (Democrats want to kill babies after birth! Nancy Pelosi was responsible for Jan. 6!)

NBC produced multiple post-interview fact-checks on air and online, including after each interview segment during the broadcast, but that is no replacement for an on-the-spot confrontation. Presenting an evidence-backed fact check to Trump's face allows an audience to watch him reject truth in real time. That serves a greater purpose than roundups scattered throughout NBC's online platforms.

The framing of her questions was also puzzling. Welker introduced some subjects to Trump like a writer would script a pilot episode of a television show. "Tell me how you watched all this unfold," she asked about Jan. 6. There would be some merit if an item was a fresh development, as was the case with Hunter Biden's criminal indictment, but Americans have heard Trump ramble on the issues of Jan. 6, abortion, Vladimir Putin, and immigration for years. A new platform for Welker should not be a reason to treat these ongoing stories—and Trump's position on them—as new, as it permits Trump to challenge the basis of fact in the question while regurgitating false information.

Welker herself attempted to head off the inevitable criticism during the broadcast. "He is the former president," she noted to a panelist. "He's facing four indictments, as journalists just set the scene, the backdrop why there is still news value and value for the public to hear from him."

Trump is indeed the former president, and Welker is an established professional who can conduct an inquisitive interview. Perhaps current President Joe Biden would have been a better interview subject for her first episode as Meet the Press moderator, as they at least would have been able to start from the same set of facts.

But since the White House declined to make Biden available, she was left with the Trump train wreck.
LAT television critic Lorraine Ali piles on ("'Meet the Press' debuts with Kristen Welker and treads familiar ground with Trump":
"Meet the Press" premiered Sunday morning with a new moderator, a former president and a disturbingly familiar pattern of mainstream media normalizing extremist chicanery for ratings.

Kristen Welker, NBC News' co-chief White House correspondent, sat down with the Republican front-runner for president for a segment that was teased as Donald Trump's "first network interview since leaving office," a tame descriptor for someone who's been indicted on numerous felonies involving efforts to overturn the 2020 election and who's been found liable of sexual assault in a civil trial since losing the White House to Joe Biden.

But the television event also highlighted a problem that traditional news outlets have faced since Trump emerged as a potent figure on the political scene in 2016. Treating the former reality TV star like any other presidential candidate or victor before him assumes that he's playing by the same set of rules as his predecessors. News flash: He's not.

One storming of the U.S. Capitol and four indictments later, it's clear that interview dynamic that "Meet the Press" has employed since Harry Truman was in office does not work in 2023. At least for folks who would actually like to see a substantive conversation — or grilling — of past or future leaders.

Sunday's "new chapter" of "Meet the Press" set the stage for the interview with an opener mentioning impeachment, the president's legal troubles and how his questionable dealings with family members might affect his chances in the 2024 election. But they were talking about President Biden, not Trump. The set-up validated long-held complaints of bothside-ism in legacy journalism, when an issue between opposing beliefs is presented as more balanced than evidence supports.

[…]

But it's doubtful that Sunday's show moved the needle one way or another. There was no chance at arriving at any sort of shared truth in response to Welker's questions about abortion policy, Ukraine, China, the storage of classified documents or his involvement in a deadly Jan. 6 insurrection.

Trump steamrolled over his interviewer, attacking his opponents with a barrage of insults while pushing the narratives he wants to push. To her credit, Welker did better at challenging him than most of her peers, including Chris Wallace and Megyn Kelly. She pressed him on federal versus state bans on abortion, his slow response to the Jan. 6 attack and whether — if he were elected — again, he would send troops to Taiwan if China were to invade. There were no great revelations in his answers but plenty of bluster about Florida Gov. Ron "DeSanctimonious" DeSantis and the "deranged, lunatic prosecutor" whom he says targeted him.

Welker asked about Russian President Vladimir Putin's praise of him after Trump criticized Biden's handling of the Russia-Ukraine war, arguing that if he were in office, he would quickly put an end to the conflict. In an earlier report, NBC News covered Putin's praise of Trump at the Eastern Economic Forum in Russia last week, where he said, "We surely hear that Mr. Trump says he will resolve all burning issues within several days, including the Ukrainian crisis. We cannot help but feel happy about it."

Trump's response, "Well, I like that he said that, because that means what I'm saying is right."

Although Trump's admiration for Putin shined bright, he toned down his combative nature for the pretaped interview. Instead of charging at his questioner and silencing her with bully tactics, he complained that Welker was cutting him off and not allowing him to finish his thoughts. Quite a comment coming from the King of Interrupters.

He responded to harder questions with untruths that may have shocked us seven years ago but that are par for the course now. "What did you do when the Capitol was attacked?" asked Welker.

"Nancy Pelosi was in charge of security," he claimed. "She turned down 10,000 soldiers. If she hadn't, the attack wouldn't have happened.

"Nancy Pelosi didn't have the authority, you did," pressed Welker.

"Pelosi is responsible for Jan. 6," insisted Trump.

It was futile in the moment to correct the outright lies, so Welker did so before commercial breaks. "A bit of context here on Mr. Trump's allegations. He ordered troops in the days leading up to the Jan. 6 attack. The Defense Department says the former president never gave a formal order to have 10,000 troops ready to be deployed to the Capitol. Of course, it's unreasonable to blame former Speaker Pelosi or lawmakers on Capitol Hill for what happened that day. Pelosi's office said at the time that the claim that she turned down troops was quote 'completely made up.'"

The sit-down may prove to be a ratings boon for the network, and perhaps even further boost Welker's career, but it failed to cut through the usual low-information bluster of past interviews with the former president. Trump was Trump. Legacy media was legacy media.

But somewhere in between is the high-stakes story of ratings versus journalistic responsibility and the dangers that dance presents to our democracy.
While these critiques are fair, they're familiar. We've been hearing variations on this theme since 2016. Yes, Trump is super entertaining for many and draws huge ratings. Of course that factors into his being invited back despite producers and show hosts knowing he won't give honest answers to questions.
But it's also the case that, during that period, Trump has been either the overwhelming frontrunner for the presidential nomination of one of our two major parties or the sitting President of the United States. He is simply unignorable. It would be the end of what little general credibility these outlets have if they eagerly brought on Joe Biden but refused to bring on his presumptive opponent in next year's election.
A somewhat more novel argument is presented by Raw Story's Sarah K. Burris ("Rhetoric expert explains why there's no way to fact-check Trump's 'layers of lies'"):
Rhetoric expert, Professor Jennifer Mercieca, explained that the way that new "Meet the Press" host Kristen Welker held the interview with Donald Trump had no hope of ever being able to adequately fact-check the president.

"Meet the Press" conducted the interview "live to tape," with the claim that they would be fact-checking him. Mercieca outlined that in an hour-long show, there simply isn't enough time to cover the pile of false claims.

"His whole 'reality' is layers upon layers of lies. It's honestly a waste of time," she said. "He lives in a very dark fantasy world. So does the whole right-wing media audience. It's a real shame."

When Trump answers a question, she explained that "he tells 20 lies in the process and you can't stop each of those 20 lies." Especially, she noted, when the reporter simply wants to get to the answer of their actual question.

"It's called a 'Gish Gallop' by old-timey propaganda folks," she said.

MSNBC's Mehdi Hasan wrote about it for The Atlantic when his book about winning debates and arguments came out. The Gish Gallop "aim is simple: to defeat one's opponent by burying them in a torrent of incorrect, irrelevant, or idiotic arguments. Trump owes much of his political success to this tactic — and to the fact that so few people know how to beat it. Although his 2024 campaign has been fairly quiet so far, we can expect to hear a lot more Gish Galloping in the coming months."

Mercieca said that Trump uses a "tone" that makes him sound like a reasonable man, while saying "insane" things. It ultimately confuses the listener.

[…]

"I'm not sure who the audience is for this interview," said Mercieca about the Trump interview. "I assume MTP viewers are high information voters. Highly engaged/high information voters in the reality-based community would see through his lies. Low-information voters wouldn't know better, but they're not watching this."

"Fascism throughout the interview," she continues. "He calls himself a hero, a martyr. Everything is corrupt, according to him. He is the only truthteller, according to him. The only one who has common sense and wants what is good for the nation. Consuming fascist propaganda like this makes you even more vulnerable to fascist propaganda. It is engineered/designed to create the conditions under which fascism flourishes. You cannot put Trump on TV without normalizing fascism in America."

She cited his tactics including "ad hominem, tu quoque, conspiracy, lies, false accusations of corruption, attacking the interviewer, [and] frame warfare."

"Every response he gives is an evasion," she closed. "He will never answer your questions to your satisfaction. You cannot hold him accountable. You just can't. Trump using anchoring (they like me, we're the same) to talk about his relationship with fascist leaders while also claiming that he wants peace is the kind of rhetorical trick that confuses the brain and makes it difficult to understand what he actually believes."
But, of course, this argument works both ways. Anyone reading this, save perhaps JKB, knows damn well that Trump is a liar. They know damn well what the facts are on January 6. So he's not only not fooling anybody, he's repelling high-information voters who are open to an alternative to a geriatric sitting President.
Mercieca is likely right that folks who don't pay regular attention to politics are less likely to be able to spot the obvious lies. But they're not watching MTP. (Then again, neither am I.) Who is it that watched the program and thought to themselves, "You know . . . I really miss this guy being my President"?