Final 2020 Debate Less Awful Than Worst Debate Ever
Less Trumpy Trump still Trump.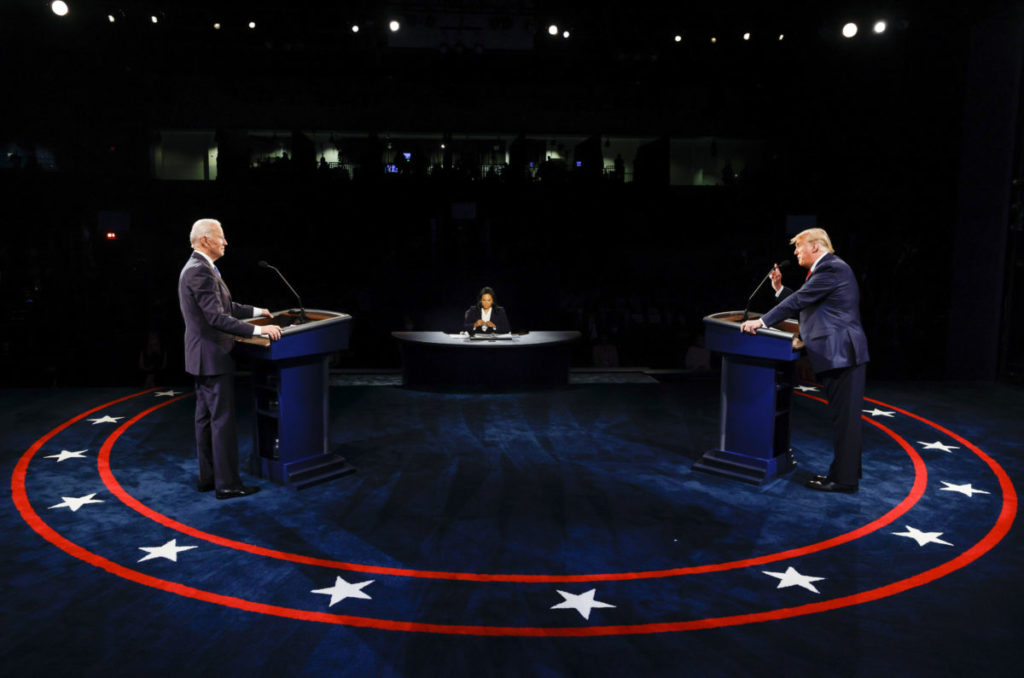 By all accounts, last night's final debate between President Trump and Democratic challenger Joe Biden was more dignified and substantive than the previous outing. Of course, that's a low bar, indeed.
The Associated Press' report ("Debate Takeaways: Round 2 highlights policy over petulance") is typical:
For Trump, the matchup at Tennessee's Belmont University Thursday was perhaps the final opportunity to change the dynamics of a race dominated, much to his chagrin, by his response to the pandemic and its economic fallout. For Biden, it was 90 minutes to solidify an apparent lead less than two weeks before the election.

Trump's difficulty articulating a defense of his handling of the coronavirus remains a drag on his campaign. The opening topic of the debate was entirely predictable — Trump has received variations of the same question in interviews and has rarely delivered a clear answer.

Asked to outline his plan for the future, Trump instead asserted his prior handling was without fault and predicted a rosy reversal to the pandemic that has killed more than 220,000 Americans.

"We're rounding the turn, we're rounding the corner," Trump claimed, even as cases spike again across the country. "It's going away."

Biden, who has sought to prosecute Trump's handling of the virus in his closing pitch to voters, came prepared. "Anyone who's responsible for that many deaths should not remain as president of the United States of America," he said.

Biden added: "He says we're, you know, we're learning to live with it. People are learning to die with it."

Trump and Biden each sought to position himself as the defender of American's health care, keenly aware that it ranked among the top issues for voters even before the coronavirus pandemic struck the nation.

But Trump's efforts to repeal and undermine the Obama-era Affordable Care Act proved to be a liability, as Biden hammered his efforts to strip coverage from tens of millions of Americans and his lack of a plan to cover those with preexisting conditions.

Biden, by contrast, fended off Trump's attack that his plan to reinforce the Obama-era law with a "public option" amounted to a step toward socialized medicine by relying on his well-established public persona — and his vanquishing of Democratic primary rivals with more liberal health care policies.

"He thinks he's running against somebody else," Biden said. "I beat all those other people."

Three weeks after drawing bipartisan criticism for his frequent interruptions and badgering of his Democratic rival, Trump adopted a more subdued tone for much of the debate.

Trump took to asking moderator Kristen Welker for the opportunity to follow up on Biden's answers — "If I may?" — rather than just jumping in, and he thanked Welker repeatedly to boot.

From the first question, this debate seemed different from round one, when Trump's incessant interruptions and flouting of time limits derailed the 90-minute contest from the outset.

Sure, there still were digs.

"We can't lock ourselves up in a basement like Joe does," Trump said, reprising his spring and summer attacks on Biden staying at his residence rather than campaigning in-person amid the pandemic.

Biden smirked, laughed and shook his head. He mocked Trump for once suggesting bleach helped kill coronavirus.

The two men had a lengthy back-and-forth about their personal finances and family business entanglements.

But on the whole, voters at home got something they didn't get on Sept. 29: a debate.

It marked a recognition by Trump that his bombastic side was a liability with the seniors and suburban women voters who have flocked from the GOP to Democrats.
There's quite a bit more, including what most agree was the awkwardness of two old white men debating race relations, but otherwise a relatively unremarkable event.
Early polling indicates that Biden won. But even a draw would be more than good enough given the magnitude and steadiness of his lead in a race where tens of millions have already voted and the final votes must be cast in ten days.
Even favorable outlets seem to agree on that much.
Indeed, John Podhoretz of the New York Post, which last week run a widely-discredited agitprop piece on Joe Biden's son, proclaims "Trump has debate of his life" before wondering "but is it too late?"
With his back against the wall, Donald Trump pulled himself together and had the debate of his life. For the most part, he was focused, contained and determined to get his message across and not just be the alpha male.

His defense of his coronavirus response and his argument that the country cannot long survive living under perennial lockdown constituted the most eloquent he's ever been on the pandemic.

Trump did make a few of those jaw-dropping assertions about a vaccine — that one is coming in a few weeks and or by the end of the year and that two pharmaceutical firms were almost done with one before naming not two but four firms.

That could really come back to bite him over the next few weeks as others in the know throw cold water on these claims and he is forced to defend them.

But where he really drew blood was in returning to the line of attack that helped get him elected — the idea that he had to enter politics because politicians hadn't done the job.

"You're all talk and no action," Trump said to Joe Biden in his best line — and in the best moment of any debate of this cycle. He made sharp and deserved fun of Biden when the he turned to the camera to talk about voters at the kitchen table in order to shift the topic away from corruption and China.

Mostly, though, this debate made it clear what an incredible mistake Trump made in the first debate by behaving like a jerk. Had he been this Trump, rather than that Trump, he would be in a stronger position today.
Trump has been President nearly four years now and Jerk Trump is decidedly the modal Trump. Still, even Podhoretz' decidedly rose-colored outlook admits it probably wasn't enough.
But just because Trump did so much better doesn't mean Biden did worse than he did in the first. He was fine. He didn't win, but if he lost, he lost on points, and not many points.
The only reed that Podhoretz can grasp is that Trump scored points in fracking and that, combined with an ad blitz, it could put Pennsylvania back in his camp. Fine.
Even Fox News analyst Doug Schoen concedes that one night of quasi-normality is unlikely to stop the bleeding. At best, some Republicans thinking about voting for Biden may have been given pause.
In the second and final presidential debate Thursday night, Americans witnessed a much less raucous, more coherent, and more substantive — in other words, a more normal — discussion than the first debate just three weeks ago.

That being said, it is safe to say the 96-minute exchange between President Trump and former Vice President Joe Biden will likely not fundamentally alter the presidential race. Over 48 million Americans have already voted, and few people remain undecided.

However, in my view, President Trump's performance was measured, on message, and controlled. Thus, for any remaining undecided voters and Republican-oriented voters who may have been discouraged by the president's chaotic first debate, Trump's performance Thursday night likely reassured them and may even have led some to resolve to cast ballots in his favor.
The best hope he can offer Trump supporters is an assertion that Biden's performance dropped as the debate wore on, suggesting that he's old and tired. But even he concedes that Trump is going to have a tougher sell than in 2016 of himself as an outsider, what with having been the ultimate insider for four years.