Coronavirus Could Kill Trump Presidency
We may be seeing the beginning of the end.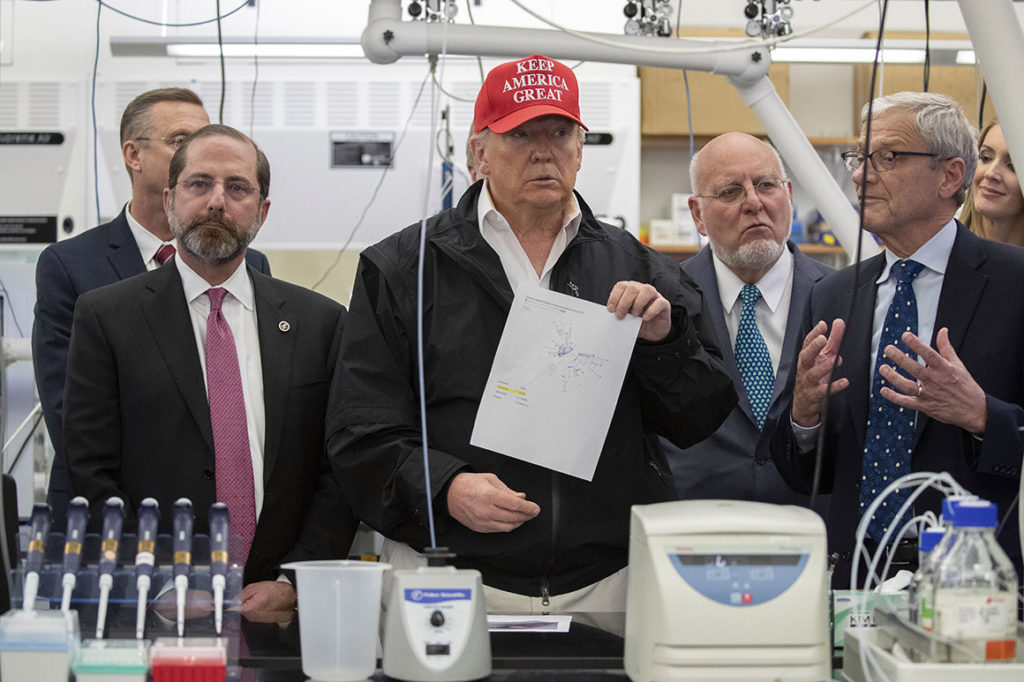 The US Presidential election is still eight months away but we may be living in the week that ensures there is not a second term for Donald J. Trump.
The election will come eight months to the day from Super Tuesday, which all but assured that the Democratic nominee will be steady, likable Joe Biden and not cranky, angry Bernie Sanders.
The panic over Coronavirus and COVID-19 got started in earnest, sending shockwaves through both the stock markets and the economy as a while, especially the travel and hospitality industries.
And the Russian-Saudi spat that has sent crude oil prices plummeting will exacerbate the economic shocks. Not only is a serious recession likely but it's quite probable that we're already in it.
Neither the Federal Reserve nor the Treasury have much in the way of ammunition to fire, with interest rates already at near-historic lows and runaway deficit spending already the norm.
These trends would weaken the re-election prospects of any President but it's becoming clear to all but Trump's most rabid fans that his own ineptitude and bad decisions have made all these crises more severe than they had to be.
Dan Drezner points to "The unique incompetence of Donald Trump in a crisis."
There are, unfortunately, three important differences between the Obama administration's Ebola response and the Trump administration's covid-19 response. They are all related to the unique incompetence of President Trump coping with a crisis not of his own making.

First, Trump's toddler traits have exacerbated the mismanagement of the situation. The president's short attention span and quick temper compromised his administration's ability to handle the crucial weeks when containment was still possible.

[…]

Which leads to the second difference: Trump's staff has now adopted some of the president's worst toddler traits. According to Politico's Dan Diamond, back in January "Trump's aides mocked and belittled Azar as alarmist, as he warned the president of a major threat to public health and his own economic agenda."

[…]

Trump cannot focus, and he has denuded his staff's ability to do the same. Neither of these differences is good. Nor is the last the most important difference. Whatever mistakes were made back in 2014, the Obama administration kept Ebola contained. The novel coronavirus is now beyond containment, however. We are now in the mitigation phase. Trump's go-to impulses of closing borders and blaming foreigners will not work, because the virus is now as American as apple pie.

Over the next week, as testing becomes more widely available and as community spread continues, the number of reported infections and deaths will rise. People who have not panicked yet will begin to freak out. And the federal government has squandered the good will it had among most of the country.
Jonathan Chait proclaims "We Are Watching the Probable Demise of Trump's Reelection in Real Time."
President Trump's political career has consisted of a series of self-generated crises that he has improbably survived, from insinuating that John McCain was a coward for having been captured during the war that Trump himself dodged to the three-year-long high-crime (and misdemeanor) spree. Throughout these disasters, Trump has maintained a floor of support that is apparently immutable and just high enough to give him a plausible chance of reelection. Yet the pair of crises now enveloping the administration appear to be of a completely different political magnitude than anything that has faced Trump to date. It may now really, finally, truly be over for him.

The obvious factor distinguishing the coronavirus and the probable recession from the Access Hollywood tape, firing James Comey, and all the rest is that they have a tangible impact on the lives of Americans. (Or, to put it more precisely, Americans who have voting representation, unlike Puerto Ricans.) Trump's continuous din of scandals and gaffes is unintelligible to many Americans who either do not follow the news closely, or follow Trump-controlled news organs, and who have instead judged his presidency by the direct experience of peace and prosperity. Trump has done one very big thing very well: He rebranded the economic expansion he inherited as his own creation, like the licensing deals he makes to splash the Trump name over hotels and resorts other people built. Trump's handling of the coronavirus turns his greatest strength into perhaps his greatest liability.

A somewhat less obvious factor is that Trump's own mismanagement has demonstrably contributed to these disasters. The entire crisis has grown out of Trump's constitutional aversion to long-term planning. In his autobiography, Trump boasted that he does not even plan his days, but simply reacts to events as they happen. That process is now dominated by cable news, and especially the stock market, which is Trump's narrow and highly distorted prism for understanding the entire economy. He dissolved the skilled team of pandemic experts he inherited from Obama on the overt calculation that it wasn't a priority. "Who would have thought … we'd be having this subject?" he mused.
Brian Klaas proclaims "The coronavirus is Trump's Chernobyl."
On Saturday, April 26, 1986, the No. 4 reactor at Chernobyl power station exploded just outside the town of Pripyat in the Soviet Union. During the crucial early hours of the disaster, a cascading series of mistakes exacerbated the emergency. Subordinates who feared their superiors kept quiet. Superiors who feared contradicting the prevailing mythology of the state — and its leader — bent and broke reality. They made a series of smaller lies to protect the big lie: that the Soviet Union had everything under control.

During crises, ideology kills. Protecting myths, rather than people, is deadly.

The rapidly worsening coronavirus outbreak is President Trump's Chernobyl. By putting dangerous myths above objective facts, Trump has turned the crucial early phases of government response into a disaster. Some public health experts in government have undoubtedly kept quiet, having seen repeatedly what happens to those who publicly contradict this president. And Trump himself, along with those who surround him, has tried to construct a reality that simply does not exist.
Peter Baker piles on with "For Trump, Coronavirus Proves to Be an Enemy He Can't Tweet Away."
Defending against criticism of his handling of the coronavirus, President Trump suggested the other day that he could hardly have been expected to be ready for such an unexpected crisis.

"Who would have thought?" he asked during a visit to the Centers for Disease Control and Prevention, the nerve center for the government's response to the outbreak. "Who would have thought we would even be having the subject?"

Actually, quite a few people would have thought, and did — including the officials in his own White House who were in charge of preparing for just such a pandemic only to have their office shut down in a reorganization in 2018. "The threat of pandemic flu is the No. 1 health security concern," one of the officials said the day before that happened two years ago. "Are we ready to respond? I fear the answer is no."

For a president who lives in the moment, rarely planning too far ahead, the coronavirus has proved to be a leadership challenge he was not prepared for either. The outbreak that has rattled the nation does not respond to Mr. Trump's favorite instruments of power: It cannot be cowed by Twitter posts, it cannot be shot down by drones, it cannot be overcome by party solidarity, it cannot be overpowered by campaign rally chants.
All indications are that Trump himself understands that things are spiraling out of control. Gabriel Sherman ("'HE'S DEFINITELY MELTING DOWN OVER THIS': TRUMP, GERMAPHOBE IN CHIEF, STRUGGLES TO CONTROL THE COVID-19 STORY"):
Since the coronavirus exploded outside of China at the end of January, Donald Trump has treated the public health crisis as a media war that he could win with the right messaging. But with cases now documented in 34 states and markets plunging, Republicans close to Trump fear his rosy assessments are fundamentally detached from reality in ways that will make the epidemic worse. "He is trying to control the narrative and he can't," a former West Wing official told me.

The problem is that the crisis fits into his preexisting and deeply held worldview—that the media is always searching for a story to bring him down. Covid-19 is merely the latest instance, and he's reacting in familiar ways. "So much FAKE NEWS!" Trump tweeted this morning. "He wants Justice to open investigations of the media for market manipulation," a source close to the White House told me. Trump is also frustrated with his West Wing for not getting a handle on the news cycle. "He's very frustrated he doesn't have a good team around him," a former White House official said. On Friday he forced out acting chief of staff Mick Mulvaney and replaced him with former House Freedom Caucus chair Mark Meadows. Trump thought the virus was "getting beyond Mick," a person briefed on the internal discussions said. Trump has also complained that economic adviser Larry Kudlow is not doing enough to calm jittery markets. Last week Kudlow refused Trump's request that Kudlow hold an on-camera press briefing, sources said. "Larry didn't want to have to take questions about coronavirus," a person close to Kudlow told me. "Larry's not a doctor. How can he answer questions about something he doesn't know?"

Trump found a willing surrogate in Kellyanne Conway, but Conway's dubious claim on Friday that the virus "is being contained" only made the P.R. situation worse.

Trump's efforts to take control of the story himself have so far failed. A source said Trump was pleased with ratings for the Fox News town hall last Thursday, but he was furious with how he looked on television. "Trump said afterwards that the lighting was bad," a source briefed on the conversation said. "He said, 'We need Bill Shine back in here. Bill would never allow this.'"

Trump's press conference on Friday at the CDC was a Trumpian classic, heavy on braggadocio and almost entirely lacking a sense of the seriousness of the crisis. "I like this stuff. I really get it," Trump told reporters, his face partly hidden under a red "Keep America Great" hat. "People are surprised that I understand it. Every one of these doctors say, 'How do you know so much about this?' Maybe I have a natural ability. Maybe I should've done that instead of running for president." At another point Trump compared the situation to the Ukraine shakedown. "The [coronavirus] tests are all perfect. Like the letter was perfect. The transcription was perfect," he said.
I think it's safe to say things will get worse before they get better.