Trump Refused to Call Off Capitol Rioters
Details of a heated phone discussion with the top House Republican have emerged.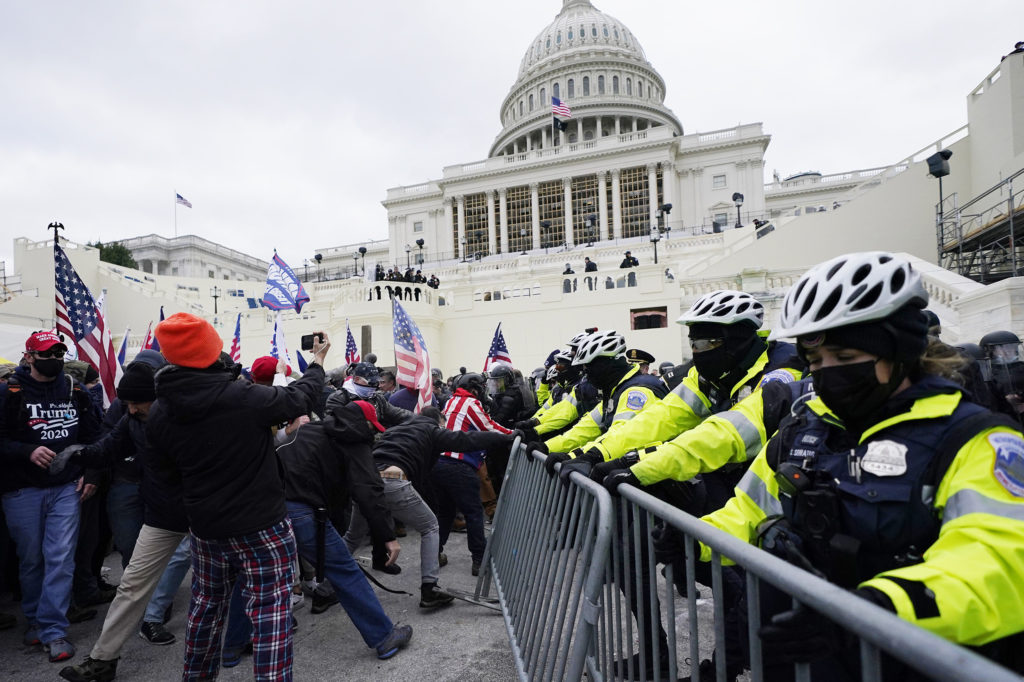 A story out overnight casts even more sinister light on former President Donald Trump's complicity in the violence of January and adds more damning evidence of the cowardice of Republican Congressional leadership.
CNN ("New details about Trump-McCarthy shouting match show Trump refused to call off the rioters"):
In an expletive-laced phone call with House Republican leader Kevin McCarthy while the Capitol was under attack, then-President Donald Trump said the rioters cared more about the election results than McCarthy did.

"Well, Kevin, I guess these people are more upset about the election than you are," Trump said, according to lawmakers who were briefed on the call afterward by McCarthy.

McCarthy insisted that the rioters were Trump's supporters and begged Trump to call them off.

Trump's comment set off what Republican lawmakers familiar with the call described as a shouting match between the two men. A furious McCarthy told the then-President the rioters were breaking into his office through the windows, and asked Trump, "Who the f–k do you think you are talking to?" according to a Republican lawmaker familiar with the call.

The newly revealed details of the call, described to CNN by multiple Republicans briefed on it, provide critical insight into the President's state of mind as rioters were overrunning the Capitol. The existence of the call and some of its details were first reported by Punchbowl News and discussed publicly by McCarthy.

The Republican members of Congress said the exchange showed Trump had no intention of calling off the rioters even as lawmakers were pleading with him to intervene. Several said it amounted to a dereliction of his presidential duty.

"He is not a blameless observer, he was rooting for them," a Republican member of Congress said. "On January 13, Kevin McCarthy said on the floor of the House that the President bears responsibility and he does."

Speaking to the President from inside the besieged Capitol, McCarthy pressed Trump to call off his supporters and engaged in a heated disagreement about who comprised the crowd. Trump's comment about the would-be insurrectionists caring more about the election results than McCarthy did was first mentioned by Rep. Jaime Herrera Beutler, a Republican from Washington state, in a town hall earlier this week, and was confirmed to CNN by Herrera Beutler and other Republicans briefed on the conversation.

"You have to look at what he did during the insurrection to confirm where his mind was at," Herrera Beutler, one of 10 House Republicans who voted last month to impeach Trump, told CNN. "That line right there demonstrates to me that either he didn't care, which is impeachable, because you cannot allow an attack on your soil, or he wanted it to happen and was OK with it, which makes me so angry."

"We should never stand for that, for any reason, under any party flag," she added, voicing her extreme frustration: "I'm trying really hard not to say the F-word."

Herrera Beutler went a step further on Friday night, calling on others to speak up about any other details they might know regarding conversations Trump and Pence had on January 6.

"To the patriots who were standing next to the former president as these conversations were happening, or even to the former vice president: if you have something to add here, now would be the time," she said in a statement.

Another Republican member of Congress said the call was problematic for Trump.

"I think it speaks to the former President's mindset," said Rep. Anthony Gonzalez, an Ohio Republican who also voted to impeach Trump last month. "He was not sorry to see his unyieldingly loyal vice president or the Congress under attack by the mob he inspired. In fact, it seems he was happy about it or at the least enjoyed the scenes that were horrifying to most Americans across the country."
It's unclear when Beutler and Gonzalez first learned of the call but, if they learned about it shortly after it happened, it would certainly explain their courage in voting to impeach an outgoing President of their own party. Yet you think they would have made this public before now.
McCarthy is another story entirely. On the one hand, he at least stood up to Trump while the riot was unfolding and tried to get him to put an end to it. Then again, he was in immediate physical danger, so it's hard to give him much credit for that.
But how, having Trump not only rebuff a request to call off a mob that was putting McCarthy and his fellow members in peril but question McCarthy's loyalty for even asking, could he possibly not led the impeachment proceedings himself? I'm not sure I can imagine a more cowardly dereliction of his duty.
Certainly, the details of this call should have been a central part of the impeachment presentation at the Senate trial. At least it's coming out before the vote—not that I expect it to actually change anything.
An opinion piece by NYT columnist Maureen Dowd ("Trump's Taste for Blood") provides related insights.
The first time I realized that Donald Trump took pleasure in violence was back in March 2016. In an interview, I asked him about the brutish rhetoric and violence at his rallies and the way he goaded supporters to hate on journalists and rough up protesters. Even then Mitch McConnell was urging Trump to ratchet down the ferocity.

I told Trump that I had not seen this side of him before and that he was going down a very dark path. With his denigrating mockery of rivals and critics, he had already taken politics to a vulgar place, and now it was getting more dangerous.

Shouldn't parents be able to bring children to rallies without worrying about obscenities, sucker punches, brawls and bullying, I wondered?

He brushed off the questions and blithely assessed the savage mood at his rallies: "Frankly, it adds a little excitement."

A couple weeks later, I pressed him again on his belligerence and divisiveness, and, with utter candor, he explained why he was turning up the heat.

"I guess because of the fact that I immediately went to No. 1 and I said, why don't I just keep the same thing going?" he said. "I've come this far in life. I've had great success. I've done it my way." He added, "You know, there are a lot of people who say, 'Don't change.'"

Dear reader, he didn't change.

And everything bloodcurdling that happened at the Capitol on Jan. 6 flowed from his bloodthirsty behavior. He had always been cruel and selfish, blowing things up and reveling in the chaos, gloating in the wreckage. But it was only during his campaign that he realized he had a nasty mob at his disposal. He had moved into a world that allowed him to exercise his malice in an extraordinary way, and he loved it.

He became his own Lee Atwater, doing the dirty stuff right out in the open. He embraced the worst part of his party, the most racist, violent cohort.

The faux-macho, Gotti-esque air of menace he cultivated as a real estate dealer, the Clint Eastwood squint, just seemed like performance art; mostly he was around New York, acting genial at parties and courting the press. He would say stuff sometimes; after Sacha Baron Cohen pulled a prank on Ryan Seacrest at the Oscars, Trump said that Seacrest's security guard should have "pummeled" and "punched" Baron Cohen "in the face so many times" that he'd end up in the hospital.

But once Trump got into politics, he realized, with growing intoxication, that the more incendiary he was, the more his fans would cheer. He found that he could really play with the emotions of the crowd, and that turned him on. Now he had the chance to command a mob, so his words could be linked to their actions.

Trump never cared about law and order or the cops. He was thrilled that he could unleash his mob on the Capitol and its guardians, with rioters smearing blood and feces and yelling Trump's words and going after his targets — Nancy Pelosi and Mike Pence.
Conceding that everything is much more obvious in hindsight, it's noteworthy the neither of the two linked columns, both written toward the tail end of the 2016 primaries, from said interviews conveyed anything like this message. The first ("Will Trump Be Dumped?") at least notes that he's being "labeled a menace, misogynist, bigot and xenophobe by [his] own party" and that SNL skits are comparing him the Hitler and the KKK. Still, it's only remembered for Trump's quote, "I have people, very good people, the best people." The follow-up ("Trump Does It His Way") just portrays him as a misogynistic boor.
Frankly, most of the political press covered him the same way. For them—and for me—the fact that he was too stupid, boorish, and narcissistic to be President was so obvious that they did everything they could to shine the spotlight on those traits. Because he lacked the discipline and strategic mind to advance most of his agenda, too much of the reporting and analysis was along the lines of "Trump Does It His Way."
Many of us predicted that violence would be a natural result of the climate he was creating. But I'm not sure we gave him enough agency.