Trump's Foreign Policy Ignorance
More than any recent President, Donald Trump displays a tremendous amount ignorance about the world. Even worse is the fact that he seems proud of it.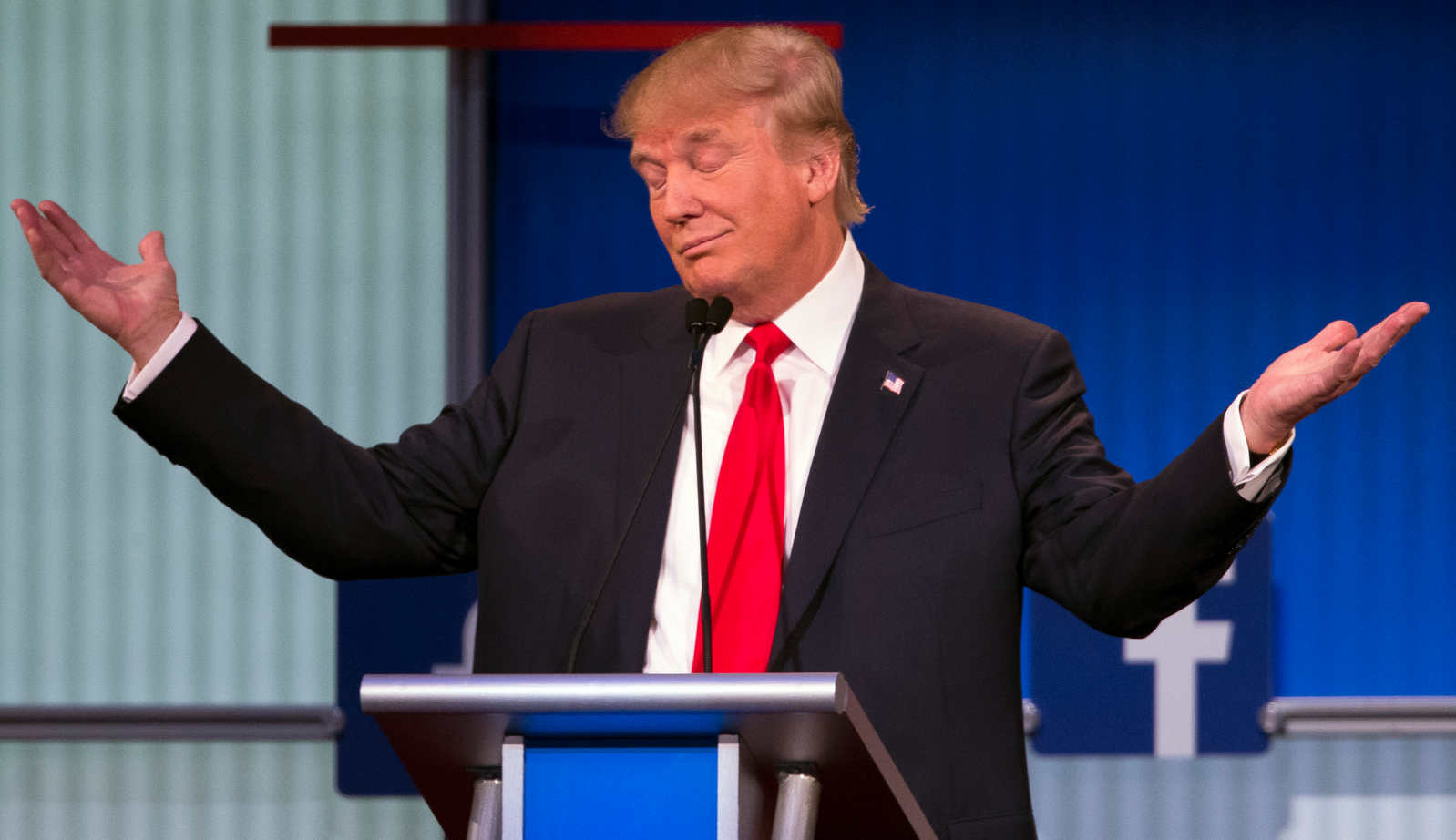 The latest issue of Time Magazine offers a troubling glimpse into the President's intelligence briefings and the extent of his ignorance about foreign policy and the world:
In the wake of President Donald Trump's renewed attacks on the U.S. intelligence community this week, senior intelligence briefers are breaking two years of silence to warn that the President is endangering American security with what they say is a stubborn disregard for their assessments.

Citing multiple in-person episodes, these intelligence officials say Trump displays what one called "willful ignorance" when presented with analyses generated by America's $81 billion-a-year intelligence services. The officials, who include analysts who prepare Trump's briefs and the briefers themselves, describe futile attempts to keep his attention by using visual aids, confining some briefing points to two or three sentences, and repeating his name and title as frequently as possible.

What is most troubling, say these officials and others in government and on Capitol Hill who have been briefed on the episodes, are Trump's angry reactions when he is given information that contradicts positions he has taken or beliefs he holds. Two intelligence officers even reported that they have been warned to avoid giving the President intelligence assessments that contradict stances he has taken in public.

That reaction was on display this week. At a Congressional hearing on national security threats, the leaders of all the major intelligence agencies, including the Directors of National Intelligence, the CIA and the FBI contradicted Trump on issues relating to North Korea, Russia, the Islamic State, and Iran. In response, Trump said the intelligence chiefs were "passive and naïve" and suggested they "should go back to school."
As if contradicting the actual experts wasn't bad enough, the reports make it seem as if the President isn't interested in the details of foreign policy and largely ignorant about relatively simple matters like geography:
In another briefing on South Asia, Trump's advisors brought a map of the region from Afghanistan to Bangladesh, according to intelligence officers with knowledge of the meeting and congressional officials who were briefed on it. Trump, they said, pointed at the map and said he knew that Nepal was part of India, only to be told that it is an independent nation. When said he was familiar with Bhutan and knew it, too, was part of India, his briefers told him that Bhutan was an independent kingdom. Last August, Politico reported on president's mispronunciation of the names of the two countries during the same briefing.
He also doesn't seem interested in hearing facts that contradict the rosy view he likes to present about his foreign policy "achievements," particularly with respect to North Korea:
But the disconnect between Trump and his intelligence briefers is no joke, the officials say. Several pointed to concerns regarding Trump's assessment of the threat posed by North Korea's nuclear capabilities. After Trump's summit with North Korean leader Kim Jong-Un last summer, the North claimed to have destroyed its major underground nuclear testing facility at Punggye-ri, and Trump has gone out of his way to credit the claim.

The National Geospatial-Intelligence Agency (NGIA), which oversees the spy satellites that map and photograph key areas, had tried to impress upon Trump the size and complexity of the North Korean site. In preparing one briefing for the President on the issue early in his administration, the NGIA built a model of the facility with a removable roof, according to two officials. To help Trump grasp the size of the facility, the NGIA briefers built a miniature version New York's Statue of Liberty to scale and put it inside the model.

Intelligence officials from multiple agencies later warned Trump that entrances at the facility that had been closed after the summit could still be reopened. But the president has ignored the agencies' warnings and has exaggerated the steps North Korea has taken to shutter the facility, those officials and two others say. That is a particular concern now, ahead of a possible second summit with the Kim Jong-Un later this month.
Daniel Larison comments:
Trump's lack of knowledge and dismal understanding of major issues have always been some of his biggest weaknesses, but the problem here is even worse than that. The president is not merely ignorant and unfamiliar with the relevant issues. We have known that all along. According to this report, he is determined to remain ignorant and fixed in his mistaken views about a wide range of issues, and the officials serving under him are enabling this so that they don't make him angry at them. The point isn't that intelligence agencies get everything right (they don't), but on the issues where the president has publicly differed from their assessments he is consistently getting things wrong because that makes it easier for him to pretend that his policies are succeeding when everyone else can see that they aren't.

That invincible ignorance has serious consequences for U.S. policies and interests and for our relations with other states. One of those consequences was the decision to renege on the nuclear deal with Iran because the president wrongly believed that they aren't complying with the deal when all evidence shows that they have been complying from the beginning. Trump declared the deal to be "horrible," and so he refuses to consider the proof that shows his opposition to be baseless. At the same time, he imagines that there has been great progress with North Korean disarmament because it flatters him to think that this is true.
As Larison notes, all of this poses particular dangers for American foreign policy and our relationship with the rest of the world. For example, the President continues to appear to see NATO as some kind of club into which the members are required to pay "dues" and has repeatedly harangued member states for not meeting their obligations to the alliance. The obligation that he's referring to, of course, is the agreement that was reached during the Obama Administration whereby member states would strive to increase their defense spending to an amount equal to 2% of the Gross Domestic Product, a goal that doesn't have to be reached until 2020 at the earliest. Despite this fact, which the President has no doubt been made aware of numerous times, he has continued to push the false idea that NATO members are not paying their fair share into the alliance and that the alliance itself doesn't benefit the United States. Trump also appears willing to ignore other facts, such as the brutality committed on a daily basis by regimes like Russia, Saudi Arabia, and others with whom he has chosen to have a better relationship than he seems willing to maintain with long-standing allies in Europe and around the world.
The fact that the President is so obviously ignorant when it comes to foreign policy in general, about the history of some of the most volatile areas of the world such as the Middle East, and surprisingly ignorant when it comes to the basic facts of geography is hardly surprising, of course. From the time that he became a candidate for President in 2015 right up until his election victory in 2016 and beyond, the President has demonstrated time and again that he lives in a seemingly alternate reality where facts are essentially made up and the truth doesn't matter. This, perhaps, is why he has developed such an astonishing track record of lies and half-truths in matters of both foreign and domestic policy, and why he's been recording more verifiable lies than any President before him. It's easy to lie when you live in a world where you make up your facts, ignore the experts around you, and display no desire at all to learn about the rest of the world. Indeed, Trump clearly seems to be the least intellectually engaged President we've had in quite a long time, perhaps the most intellectually disengaged in history. It's not just that this President doesn't know things, it's that he doesn't seem to want to learn and has no desire to listen to the advisers around him or anyone else who might question his judgment for that matter. What's worse is that Trump not only doesn't seem to care that he doesn't know things, he seems proud of that fact, and his fan base clearly believes him more than they believe anyone who dares to disagree with him no matter how much of an expert they might be and regardless of the fact that, in many cases, there is evidence that he's wrong.