Donald Trump's First Television Ad Hits Anti-Immigrant, Anti-Muslim Themes
Donald Trump is out with his first television ad, and it's about what you'd expect.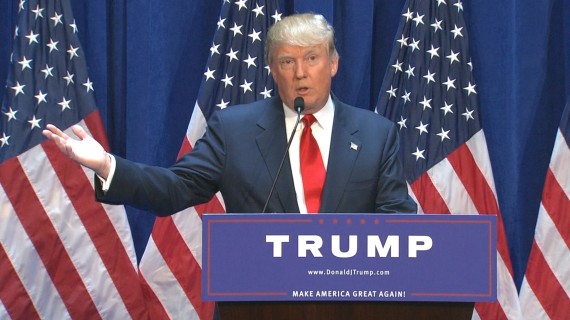 Now that we're in the final month before the Iowa Caucuses mark the beginning of the 2016 Presidential campaign, candidates are likely to begin unveiling their high-dollar media campaigns that will hit airwaves in Iowa, New Hampshire and beyond, and the first Republican out of the gate is Donald Trump, whose first ad is full of the anti-immigrant, anti-Muslim rhetoric that has marked much of his campaign so far:
NEW YORK — Donald Trump's ad begins with a shot of President Obama and Hillary Clinton. Then comes a U.S. battleship launching a cruise-missile strike. It moves swiftly through an explosive montage: The suspects in the recent California terrorist attack. Shadowy figures racing across the U.S.-Mexico border. Islamic State militants.

The narrator, a deep-voiced man, speaks ominously: "That's why he's calling for a temporary shutdown of Muslims entering the United States, until we can figure out what's going on. He'll quickly cut the head off ISIS and take their oil. And he'll stop illegal immigration by building a wall on our southern border that Mexico will pay for."

The spot closes with the image of Trump thundering at one of his rallies, "We will make America great again!"

The Republican presidential candidate's long-awaited and hotly anticipated first ad, which was shared exclusively with The Washington Post, is set to launch Monday as part of a series that will air in the final month before the Iowa caucuses. Trump has vowed to spend at least $2 million a week on the ads — an amount that will be amplified by the countless times they are likely to be played on cable news and across social media.

The decision to air television ads — which Trump hinted at for months, though the billionaire mogul has been loath to spend more than he deems necessary — represents a tightly produced new act for a candidate who has fed largely off free media attention.

In an interview Sunday with The Post, Trump said that he has six to eight ads in production and that his was a "major buy and it's going to go on for months." He said he hopes the spots impress upon undecided voters that the country has become "a dumping ground."

"The world is laughing at us, at our stupidity," he said. "It's got to stop. We've got to get smart fast — or else we won't have a country."

Trump has risen to the top of a chaotic Republican field in part because he embodies voters' rejection of the professional political class. By taking to the airwaves, he is turning to one of the traditional tools of a modern political campaign.

Trump watched last fall as rival campaigns and their allies spent tens of millions of dollars on TV ads that did not give them much bounce. He said he figured that advertising would be a waste for him, too. Yet as the race tightened with the approach of the new year, some of Trump's supporters, including former ­adviser Roger Stone, publicly urged him to compete on the air.

Trump said he concluded that he may end up regretting not spending more of his own money to secure the nomination. He said he recalled thinking, "I'm $35 million to $40 million under budget, and to be honest, I don't think I need [ads] because I have such a big lead. But I don't want to take any chances, and I almost feel guilty not spending money."

The first ad, titled "Great Again," makes clear that Trump's closing pitch to voters will be as visceral and arresting as the one he delivers at raucous rallies. It is a full embrace of the most incendiary of his proposals, as opposed to the more biographical spots that some other candidates favor.
Here's the ad:
As with everything associated with Trump, starting out a media campaign with an ad like this is, to say the least, unconventional. Typically, candidates start their media campaigns with some kind of a positive ad that introduces the candidate to a wider audience, presents him or her in a positive light, and lays forth their vision for the campaign going forward. This is even more typically true of candidates who are considered front-runners, which Trump most assuredly is based on the polling at the national level, as well as in New Hampshire and South Carolina (in Iowa, Trump finished out 2015 narrowly trailing Texas Senator Ted Cruz but still in a very strong position.) Conventional wisdom also tells us that going negative, although, not negative against a particular opponent, is not generally the best way to start out a media campaign and not something that a frontrunner generally does right out of the gate. But, of course, Trump has not run a conventional campaign and, so far, it hasn't seemed to hurt him so far, indeed negativity and acrimony towards immigrants, Muslims, and others seems to be central to what Trump's campaign is all about, and he knows it:
Although Sen. Ted Cruz (Tex.), New Jersey Gov. Chris Christie, Kasich and other Republican presidential candidates have at times echoed Trump, none has gone as far as Trump in recommending that Muslims be barred from entering the country or that a massive, impenetrable border wall be built.

Trump said he wants his ads to hammer that distinction for voters who may still be torn between two or more candidates.

"It's about immigration and safety, and they play hand in hand," he said. "If you look at every poll, I'm the leader on the economy, but it's immigration and ISIS, too. I'm bringing them all together."

Alex Castellanos, a longtime GOP ad creator who is unaligned in the 2016 race, said Trump ought to use his January ads to make a closing argument. He even came up with a slogan: "The strength we want for the change we need."

"Sum it up before the jury," Castellanos said. "I would make the case that America is in decline, about to slip over the precipice, and we need a president as big as our fears and as strong as our adversaries — and only one man has demonstrated that strength."

Trump and Lewandowski declined to name the firm or person responsible for producing the ads. When pressed, Trump said, "He's somebody who's respected very much, somebody's who's had a good record of ads."

Trump said his advertising blitz is being financed chiefly out of his own pocket, although his campaign had raised $3.9 million through the third quarter of last year, much of that in small-dollar donations.

"All me, 100 percent me — 100 percent," Trump said. "I'm self-funding my campaign. We do have small donors that send in $12, $25, $100, but they just send it in. We're not asking for it."

Discussing his vision for the ads, Trump sounded more like a media strategist than a politician. He said that television has a unique aesthetic and that rather than speaking directly into the camera, his ads would intersperse rally footage with images designed to draw viewers to focus on the issues of his campaign.
At the very least, Trump's opening shot in the ad wars is likely to appeal to his supporters, and probably will resonate with most of the conservative GOP base as well regardless of whether or not they are currently backing Trump. The fact that he went so aggressive on the themes that have been a part of his campaign since the beginning of his campaign last June is a sign that his campaign is unconcerned with the idea that he may 'go too far' and end up alienating voters that he needs to support him in the primaries.  As we've seen repeatedly over the past six months, though, there's pretty much nothing that Donald Trump can say that will turn off his supporters, and that every 'controversial' thing he says ends up helping him in the polls rather than hurting him. At this point, the only real question is whether Trump will be able to turn his support in the polls into voters, and with ads like this one it seems likely he'll at least be able to fire them up.