Trump's Purging Pentagon of Perceived Enemies?
Presidents have appointed loyalists since time immemorial. Has this one gone too far?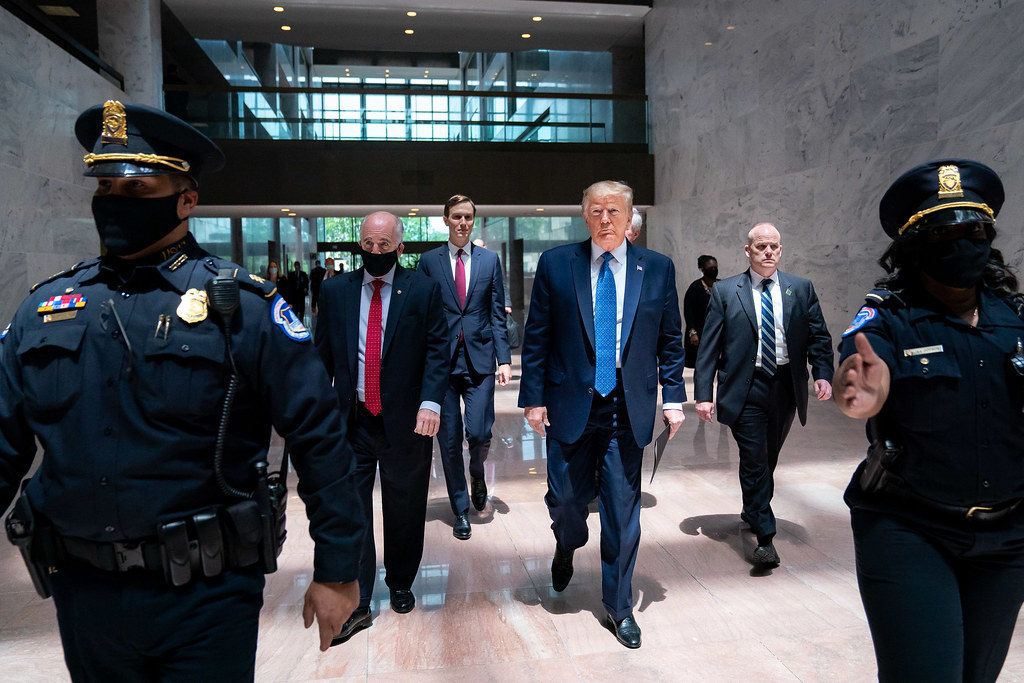 Jeff Schogol, the Pentagon reporter for Task & Purpose, reports that "Trump is purging the Pentagon of perceived enemies and installing loyalists in their place, critics say." The allegations are rather murky.
President Donald Trump has always prized loyalty in his subordinates, but news about pending personnel moves at the Pentagon could indicate the president is determined to root out perceived enemies within the Defense Department.
Every President has prized loyalty. Indeed, most pack their staff with people who worked on their campaign. Even Barack Obama, whose first cabinet was famously "a team of rivals," including his chief opponent Hillary Clinton, mostly relied on people like Ben Rhodes, who had been with him from his Senate days.
Jonathan Swan of Axios first reported in February that the White House had compiled a list of civil servants across the government who should be dismissed because they allegedly had not been loyal enough to the president. The ousted government officials will reportedly be replaced by people who are more ardently pro-Trump.
As described, it would be both outrageous and illegal. But all Swan actually reported was that someone in the Trump administration may or may not be compiling a list of Never Trumpers at senior levels of government and considering ways to not promote them to more senior positions. Frankly, if you're a civil servant,* your political views should be largely unknown.
And, for that matter, I haven't seen follow-up reporting indicating that anything has actually materialized from this. Indeed, Swan noted that the plan may be to wait until after the November election. At which time, hopefully, it will all be moot.
Since then, it has emerged that Trump intends to nominate retired Army Brig. Gen. Anthony Tata, a Fox News contributor, to fill the No. 3 leadership position in the Pentagon. Tata left the Army after an investigation found he had affairs with at least two women while serving in uniform, the Raleigh News & Observer reported. More recently, Tata has lauded Trump for his support of Navy SEAL Eddie Gallagher.
Tata is already serving as a senior advisor to Defense Secretary Mark Esper, a defense official confirmed following a May 15 news story by Foreign Policy's Jack Detsch and Robbie Gramer.
Filling a vacant appointed position with a nominee of the President's choice isn't a "purge" but the routine operation of government.
The two Foreign Policy reporters also first revealed that Michael Cutrone will move from Vice President Mike Pence's office to the Pentagon, raising concern from some administration officials that Cutrone will undermine Esper by vetting political appointees to the Defense Department based on how loyal they are to Trump.
It would be odd, indeed, for a subordinate appointed official in the DoD to undermine its Secretary. It's bad governance, especially in an organization that functions under a tight chain of command. But Esper, too, is a Trump appointee. If Trump isn't happy with him, he doesn't need subterfuge, he can simply fire him.
Similarly, it's odd to have a Pentagon official, rather than a White House staffer, vetting candidates for political loyalty. But the President is entitled to loyalists in appointed positions.
Peter Singer, of the New America think tank in Washington, said he has doubts that either Tata or Cutrone are qualified for senior leadership roles in the Pentagon and he doubts they would have been appointed to the Defense Department under previous administrations, both Republican and Democrat.

"I don't think I am out on a limb saying neither would be the 1st, 2nd, or 23rd choice for those roles in a Reagan, Bush 1 or 2 administration," Singer told Task & Purpose
But that's really irrelevant. The President gets to pick the people he wants to nominate for these posts. So long as the Senate confirms them, they're "qualified."
I can't find much information on Cutrone and it's not clear from the FP report what post it is he's purportedly being appointed to, other than it being "behind-the-scenes." Later in the T&P story, it's given as deputy assistant secretary for international security affairs. That's a fairly low-level post, of the sort that was often held by 30-somethings in the last administration. It's not particularly behind-the-scenes, though.
Tata is, from many accounts, a hack on Fox News. But his resume is rather solid: A West Point and School of Advanced Military Studies graduate who made brigadier general and "later served as a school district administrator for two large school districts in the District of Columbia and North Carolina" and "as Secretary of Transportation of North Carolina." He's more than qualified, on paper at least, for the job.
And, frankly, the Obama, Bush 43, and Clinton administrations were all packed with loyalists who were less-than-qualified by previous standards. All manner of 20- and 30-somethings were placed into key appointed roles. Most notably for this comparison, Jack Sullivan, who held the equivalent post to Tata's at the State Department, was only 34 or 35 years old and had zero relevant experience other than being a Hillary Clinton loyalist.
While the recent personnel moves may signal a more aggressive push by the president to exert direct control over the Pentagon, the White House has been deeply involved in selecting officials for defense jobs since the beginning of the Trump administration.

Under then-Defense Secretary James Mattis, several defense officials faced a protracted vetting process because the White House felt that their social media posts were not sufficiently loyal to Trump, a former Defense Department official told Task & Purpose.
I would prefer a President that's less think-skinned. But scores, if not hundreds, of Republican-leaning national security professionals, myself included, repeatedly went on the record with assertions that Trump is mentally and morally unfit for the Presidency. I believe we have been vindicated. But it's hardly shocking that he didn't want us on his team.
But since the Senate acquitted Trump in February of allegedly withholding $250 million of military aid to Ukraine in an attempt to get that country's government to investigate former Vice President Joe Biden, the president has been particularly vindictive against defense officials over any sign of disloyalty — real or perceived.

If confirmed by the Senate, Tata would replace John Rood, who was fired in February. Rood had certified in May 2019 that Ukraine had made enough progress fighting corruption to allow for the military assistance package to go through, thus undermining Trump's arguments about why he withheld the aid.

Trump has also withdrawn Elaine McCusker's nomination to be the Pentagon's comptroller. McCusker had reportedly raised concerns with the Office of Management and Budget about whether the president's freeze of military aid to Ukraine was legal.

Likewise, The White House removed Army Lt. Col. Alexander Vindman from the National Security Council in February. During the president's impeachment inquiry in November, Vindman told lawmakers there was "no ambiguity" that Trump had asked Ukraine's president to investigate former Biden during the July 25 phone call between the two leaders.

The president is retaliating against defense officials who argued in favor of providing the military aid Ukraine and anyone who stood up to Trump himself, said Evelyn Farkas, a former Defense Department official in the Obama administration whose purview included Russian and Ukraine.
So, again, I would prefer a President who didn't commit crimes and force those working for him to defend the indefensible. But the Senate, on essentially a party-line vote, acquitted him of the charges. He is, therefore, entitled to carry out the powers of his office.
"People are not being picked here based on their deep expertise, based on their experience, and their judgment," Farkas sad. "They are being picked here based on the loyalty they have already demonstrated to the president and the president is satisfied they will do whatever it is he decides, whether or not it's in the best interest of the United States of America or the men and women in the military or the civilian service of the Department of Defense."
Again, see Ben Rhodes and Jake Sullivan.
Near the end of the very long story, Schogol acknowledges the reality:
Not everyone believes the personnel moves at the Pentagon are egregious or unusual.

President Trump has the right to expect that the people who work for him will either carry out his policies or resign if they disagree with their commander in chief, a former Pentagon official told Task & Purpose on condition of anonymity.

And since many defense experts have voiced their opposition to Trump, the president has a limited pool of candidates to draw upon, said the former official, who added he does not think the president is placing loyalty above competence when appointing civilians to the Pentagon.

The official said Cutrone's position as deputy assistant secretary for international security affairs should not include vetting Pentagon officials, which is normally handled by the White House liaison office.
Moreover, Cutrone's job should keep him so busy that he is not expected to have time to focus on personnel decisions, the official said.
Still, the official said he does have concerns about Tata over his reported extramarital affairs because it raises questions about his honesty.

Meanwhile, the vice president's spokesman Devin O'Malley disputed how Foreign Policy characterized Cutrone's role at the Pentagon.
"Michael Cutrone has decades' worth of foreign policy and national security experience that will be an asset to Secretary Esper as he continues to build on President Trump's success of rebuilding the military, combating terror, and protecting America's interests abroad," O'Malley told Task & Purpose.
I disagree with the anonymous official above: Trump is clearly sacrificing quality for loyalty. I just think that's SOP.
The difference here is one of magnitude. Partly, that's a function of Trump's mindset. Mostly, though, it comes down to the point made in that last excerpt: there's a rather small pool of otherwise qualified people willing to work for Trump is a key one that was noted early on. That has magnified, as Trump has become ever-more-toxic in elite circles. And, indeed, few of the honorable people have been willing to serve escaped the Trump administration with their reputations intact.
_____________
*I am a government employee and, indeed, a Defense Department employee, and have made my views on President Trump and all manner of things political a matter of public record here and elsewhere for most of my adult life. But I'm not a traditional civil servant charged with executing administration policy but a college professor with academic freedom.