Truthers, Birthers, And, Now, Meet The "Deathers"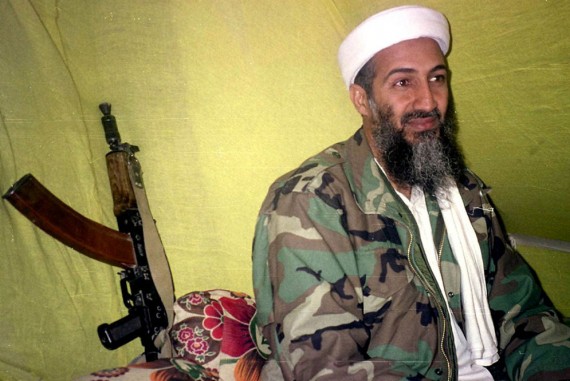 Less than 48 hours after the mission that ended in the death of Osama bin Laden took place, the conspiracy theories are already in full bloom:
In an age of mistrust for authority, and when the mainstream media has lost its ability to damp down discredited theories, bin Laden's death is already in dispute.

An arm of a Pakistani Taliban group led the charge Monday, according to Pakistan's GEO TV, insisting that Bin Laden is still alive. Supporters rallied around a new Facebook group called, "Osama bin Laden NOT DEAD." Meanwhile, the Pakistani and British media Monday fell prey to a recycled and faked photograph of a dead Bin Laden.

In the United States, suspicious voices rose across the political spectrum. Radio host Alex Jones, a powerful hub of anti-government sentiment and leader of those who believe the American government was behind the September 11 attacks, instantly floated his own theory: "Government had Osama bin Laden frozen for years."

Anti-war activist Cindy Sheehan wrote her supporters, "I am sorry, but if you believe the newest death of OBL, you're stupid. Just think to yourself—they paraded Saddam's dead sons around to prove they were dead—why do you suppose they hastily buried this version of OBL at sea? This lying, murderous Empire can only exist with your brainwashed consent—just put your flags away and THINK!"

And on the conservative site Big Peace, J. Michael Waller demanded that Obama lay the corpse out in lower Manhattan. "I'll believe it when I see it," he wrote.

Others speculated that perhaps bin Laden had never existed at all. And throughout a Muslim world in which bin Laden's guilt in the 9/11 attacks remains, according to polls, widely doubted, the stealthy American incursion could only stir more conspiracy theorizing.
This is one of the reasons, no doubt, that the Administration is weighing releasing photographic evidence of bin Laden's death, a decision that Matt Drudge says has already been made. Of course even photographs won't convince some people:
Even photographs, in an age of digital trickery, may not convince everyone. The faked photos that re-emerged yesterday after circulating in 2009, for instance, are dramatic and compelling.

"The photos of Saddam Hussein's sons did not really quiet the doubts about their death," said Jon Alterman of the Center for Strategic and International Studies, who noted that the White House will probably avoid releasing photographs over the same propaganda concerns that prompted the burial at sea.
There will always be crazies, of course, but I think it serves the Administration well to at least release some photographic evidence of what happened on Sunday to satisfy the world, and to point out just how crazy the doubters actually are.