Two Crazy Aspects of Trump's Fraud Allegations
Granted, there are more than two. But from a political science/political history POV, these two stick out in my mind.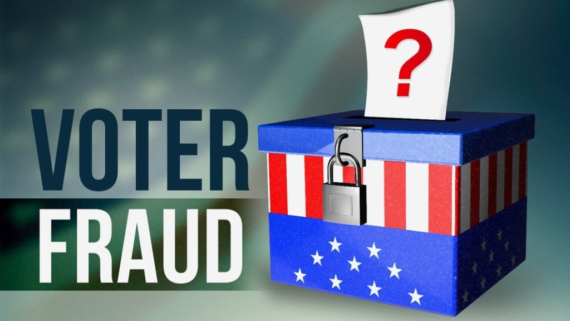 Speaking of electoral fraud, there are, of course, any number of insane, if not simply inane, elements of the narrative that has been spun by Trump and the fraud truther minions. A lot is nonsense like how can the guy who won "The most [votes] EVER for a sitting President!" lose? (Easy answer: if the challenger wins even more votes than the incumbent). Or, "No candidate has ever won both Florida and Ohio and lost." (Except, of course, JFK did it in 1960–not to mention that there are multiple routes to 270, and several bypass Ohio and Florida). This doesn't even get into issues of "massive dumps" or the ghost of Hugo Chávez.
Beyond those kind of things, two aspects of the allegations keep striking me.
First, if the fraud that Trump alleges happened, it would easily be the biggest and most significant electoral fraud of all time. I cannot think of anything that would rival it in a functional democratic state.*
I am not a historian of electoral fraud, but studying elections in a comparative sense leads one to encounter such things over time. I can think of no fraud at the scale of electing the national executive that has ever taken place in a functional democracy (either in terms of a president or fraudulently producing a legislative majority needed to elect a Prime Minister). Nor, for that matter, any such fraud of any consequence in such countries at any level. Indeed, the lack of substantive fraud is a foundational part of any definition of a functional democracy.
One can find some limited examples of local elections scandals (such as a Former Labour councillor jailed for election fraud in the UK) but nothing on a scale of stealing a presidency.**
One can look to quasi- and non-democracies for cases of stolen/wholly fraudulent elections. The ruling party of Mexico until democratization in 2000, the PRI, engaged in a number of tactics to remain in power to include ballot-box stuffing and various other techniques over decades. The most flagrant example, and the one most suited to this conversation, was in 1988 when the computers "crashed" as vote counting was underway and the results were fixed to conform to needed outcomes of the regime.
Another example of stealing a presidential election was in Colombia in 1970. There was a power-sharing agreement in place that required the alternation of the presidency between the two main parties. When a dissident candidate appeared to be winning, chicanery was employed to make sure the official candidate won.
We can also find blatant examples of militaries simply voiding an election, such as in Peru ins 1963.
But all these examples were in places that we would not have called fully democratic, and indeed most would have been categorized as fully authoritarian.
Second, it is absurd to think that a challenger could pull off a stolen election. To the degree to which we see such things, they are pulled off by incumbent regimes, since they have greater access to the mechanisms of election. If one is out of power, how does one get access to the voting apparatuses in such a way as to perpetrate massive fraud?
Think about it: electoral fraud, specifically massive fraud, is hard to pull off as a general matter. Indeed, my previous post indicates that minor fraud is hard to pull off. Truly massive fraud of the scale that team Trump is alleging has historically only been possible in cases like Mexico and Colombia noted above, wherein the incumbent regime had control of key parts of the state apparatus.
It is noteworthy that substantial parts of the jurisdictions that team Trump disputed are controlled by Republicans, the incumbent party.
Republicans control the national executive, and at least some significant amount of power in the six states that took the longest to be settled: AZ, GA, MI, NV, PA, and WI. It is important to note that state executives have overseen elections but under the guidance of state legislatures and the rulings of state courts (often with specific measures in place for this election).
Here's a breakdown of partisan control of the governor's office, both chambers of the state legislature, the secretary of state's office, and the state supreme court (for those states with partisan elections for the court):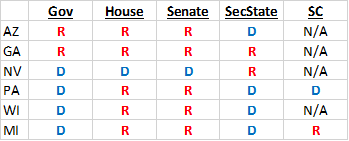 Georgia is the most striking here, as the entire state government is controlled by the incumbent party in the election. And yet, counts and recounts all clearly confirm a Biden win. I know many on the right consider Stacey Abrams a malevolent influence in Georgia with magical powers, but it is worth reminding them she is not the governor, nor the secretary of state. Indeed, she holds no position of power in state government.
Overall it cannot be stressed enough the degree to which Republicans controlled important levers of power in all these states. The notion that the challenging party and their allies would be able to perpetrate massive electoral fraud simply doesn't track (unless, of course, one is willing to believe in conspiracy theories that rival a terrible sci-fi/spy movie).
---
The TL;DR is as follows:
If Biden won via fraud, it would be the biggest such fraud of all time.
If Biden won via fraud, it would be all the harder since he was the challenger and the incumbent party controlled important aspects of government in the states being contested by Team Trump.
But, of course, if you've read this far you probably don't need to be convinced how truly absurd the allegations are.
---
*Before anyone snarks about how functional US democracy actually is, I will first readily allow it has multiple flaws. However, it has a functional electoral system and there is every reason to trust its basic results. I am thinking here of comparison between functional electoral democracies and clearly corrupt/authoritarian states where we would not trust their results in any event.
**In my poking around for examples, I did see several references to Corsica in the 1960s and subsequent banning of mail-in ballots there by France in 1975. This example shows up in several essays by anti-vote-by-mail types (for example). If you have to reach back that far, maybe that is evidence of the dearth of cases. It reminds me of people who write pieces about the threat of potential Islamic terrorism in Latin America, but the main example they conjure, time after time, is the bombing of a Jewish community center in Buenos Aires in 1994.