U.S. Drones Strike Somalia, Or As We Can Now Call It, "War Number Five"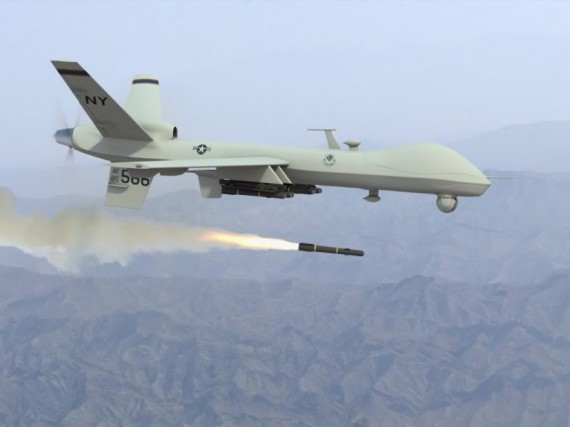 Today's Washington Post reports that  American drones have made strikes against "militants" in Somalia:
A U.S. drone aircraft fired on two leaders of a militant Somali organization tied to al-Qaeda, apparently wounding them, a senior U.S. military official familiar with the operation said Wednesday.

The strike last week against senior members of al-Shabab comes amid growing concern within the U.S. government that some leaders of the Islamist group are collaborating more closely with al-Qaeda to strike targets beyond Somalia, the military official said.

The airstrike makes Somalia at least the sixth country where the United States is using drone aircraft to conduct lethal attacks, joining Afghanistan, Pakistan, Libya, Iraq and Yemen. And it comes as the CIA is expected to begin flying armed drones over Yemen in its hunt for al-Qaeda operatives.

Al-Shabab has battled Somalia's tenuous government for several years. In recent months, U.S. officials have picked up intelligence that senior members of the group have expanded their ambitions beyond attacks in Somalia.

"They have become somewhat emboldened of late, and, as a result, we have become more focused on inhibiting their activities," the official said."They were planning operations outside of Somalia."

Both of the al-Shabab leaders targeted in the attack had "direct ties" to American-born cleric Anwar al-Aulaqi, the military official said. Aulaqi escaped a U.S. drone strike in Yemen in May.

The White House declined Wednesday night to respond to questions about the attack.

But Obama administration officials have made repeated references to al-Shabab in recent weeks, indicating that the group has expanded its aims and its operations. In a speech Wednesday unveiling the administration's new counterterrorism strategy, senior White House aide John O. Brennan included Somalia among the countries where the administration has placed a new focus on al-Qaeda affiliates.

"As the al-Qaeda core has weakened under our unyielding pressure, it has looked increasingly to these other groups and individuals to take up its cause, including its goal of striking the United States," said Brennan, Obama's chief counterterrorism adviser. "From the territory it controls in Somalia," he said, "al-Shabab continues to call for strikes against the United States."
All of this is perfectly legal, of course, thanks to the broad, open-ended, unlimited in scope, time, or place Authorization For The Use Of Military Force that Congress passed in October 2001. While it's certainly advisable that the President have discretion in going after al-Qaeda and its associates, one does wonder if it isn't about time for Congress to review that AUMF and examine whether some limits need to be placed on it. At this point, it can be used to justify virtually any action anywhere in the world as long as the President says he's going after al-Qaeda. That just doesn't seem right to me.