U.S. Economy Sputters In First Quarter
Economic growth in the first quarter was so weak, we nearly fell into a recession.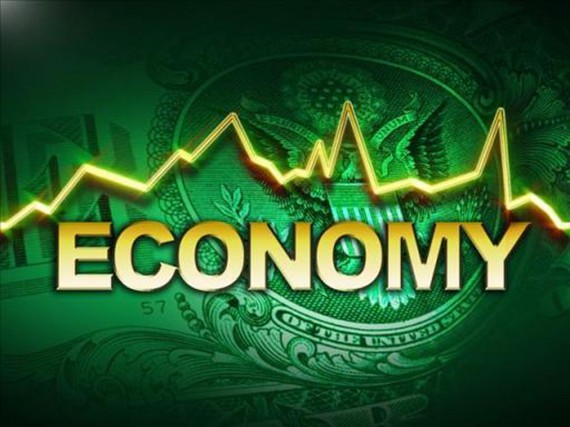 After a fourth quarter that ended up being better than expected, initial reports seem to indicate that economic growth was basically non-existent in the first three months of 2014:
The American economy slowed drastically in the first quarter of 2014, as wintry weather depressed corporate spending and housing sector activity, while weak exports and smaller additions to inventories by businesses also held back growth.

At an annualized rate of 0.1 percent, the pace of expansion in January, February and March was the weakest since the fourth quarter of 2012, when output also barely grew. It also represented a sharp deceleration from the level of growth recorded in the second half of 2013, when the economy expanded at a 3.4 percent rate.

The first-quarter pace also fell well short of the 1.2 percent rate of growth expected by Wall Street economists before the Commerce Department announcement Wednesday morning.

Still, most economists expect that many of the headwinds evident in the first quarter will fade over the course of 2014, and the growth rate will return to a range between 2.5 and 3 percent. In addition, Wednesday's report is the first of three estimates of growth by government statisticians, and the final figure could ultimately be revised substantially in either direction.

In some recent quarters, inventory swings have had an outsize effect on the overall growth number, and that was the case again in the first few months of 2014. But much of the first-quarter weakness tied to stockpiles is payback from huge inventory gains in the second half of 2013, rather than a fundamental sign of fragility.

The weakness in inventories reduced the growth rate by 0.6 percentage point, while weaker exports shaved 0.8 percentage point off the number. By contrast, exports added nearly added a full percentage point to output in the fourth quarter of 2013.

Even if growth does pick up later this year, the rate will still most likely be below the postwar average of just over 3 percent, said Dan North, chief economist at Euler Hermes North America, a larger insurer.

"We've been living in sub-3 percent land, and people have gotten used to that as the new normal," Mr. North said in an interview before the Commerce Department announcement. "But it's not. It's anemic."

Even as businesses pulled back, consumer spending actually remained reasonably healthy, rising 3 percent.
The Wall Street Journal has more detail, and is one of many media reports to point to the unusually cold, snowy winter as one explanation for the downturn in economic activity, however many of the areas that saw significant downturns are ones that should not have been impacted by weather:
The report offered the first official gauge of the economy's output from January through March, months that were abnormally cold in much of the country. The weather likely slowed consumer spending on goods, which rose at a mere 0.4% pace during the quarter. But households spent more on services—including energy to heat their homes and health care—causing total consumer consumption to rise at a 3.0% pace, only slightly below the fourth quarter's 3.3% rate.

However, business spending on items such as equipment, buildings and intellectual property fell at a 2.1% pace in the first three months of the year. That was the first decline in a year and reversed in part the 5.7% gain the prior period. The slowdown in investment coincided with weaker hiring during the quarter.

U.S. exports fell at a 7.6% pace in the first quarter. That was the largest drop since the recession ended. Declining exports show that shaky economies in Europe and Asia are generating weak demand for U.S. goods and services. Imports into the U.S. declined at a 1.4% pace, reflecting weaker consumer demand for foreign goods.

The latest numbers continue a familiar pattern. The nation's economic recovery, which started in mid-2009, has been marked as much for its choppiness as its slow pace.

At several junctures, consecutive strong quarters have raised hopes for a breakout—only to be upended by a slowdown. The overall gains have been too weak to push the unemployment rate back in line with historical norms. The unemployment rate in March stood at a still-elevated 6.7%.
Furthermore, Neil Irwin notes that there are more fundamental reasons for the slowdown:
In short: Business investment is no longer a significant driver of the expansion. And nothing else (government spending, trade, housing) has emerged to replace it.

Personal consumption, the biggest component of G.D.P., has been the mainstay of this expansion, growing steadily every quarter, driven by Americans' appetites for goods and services. Personal consumption has risen by at least a 1.5 percent annual rate for 17 straight quarters. It shows no signs of faltering.

Business investment, meanwhile, contributed quite a lot to growth from 2011 to 2013, as companies increased their investments. Companies have been adding buildings, buying new equipment and acquiring new software packages strongly enough that such investment contributed 0.84 percentage points to growth in 2011, almost precisely the same as in 2012. The contribution shifted down to a third of a percentage point in 2013.

In the first quarter of 2014, however, the corporate sector was a net negative for the economy, with investment in structures, equipment and intellectual property falling at a 2.1 percent annual rate, enough to subtract a quarter of a percentage point from overall G.D.P. That was surely in part caused by the harsh winter weather, but the basic trend is real: American business, once a major driver of the expansion, no longer is.
It's worth noting, of course, that his is the first of three estimates of economic growth in the first three months of the year, with additional estimates coming out at the end of May and June respectively, however it seems unlikely that the revisions will be significant enough to push back the conclusion that the economy was essentially flat, if not near a recession during the first three months of the year. What that means going forward, though, is unclear. Current estimates call for the economy to bounce back as we go through they year, to the extent that economic growth between 2.5% and 3% counts as "bouncing back," of course. As it is, we're likely to be caught in the same pattern we've been in for years now, with the economy expanding enough to avoid stagnation or recession, but not nearly enough to create the kind of growth that we really need, which means sustained GDP growth well north of 3% annually. That doesn't appear to be the world we're living in anymore, though.