U.S.-Russian Relations Hit a New Low
It's been a bad week for U.S.-Russian relations.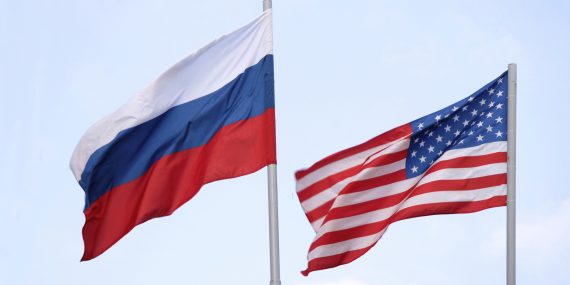 The relationship between Russia and the United States is definitely becoming sour in the wake of last week's missile strike in retaliation for Syria's use of chemical weapons, and it has both the Trump and Putin regimes scrambling:
WASHINGTON — President Trump and Secretary of State Rex W. Tillerson sought on Wednesday to isolate President Vladimir V. Putin of Russia for backing the Syrian government in the wake of its lethal chemical weapons attack on civilians, and worked to build international pressure on Moscow to change course.

In Washington, Moscow and New York, the Trump administration publicly chastised Mr. Putin but privately worked to hash out increasingly bitter differences with him. At the same time, Mr. Trump embraced NATO — a military alliance he had previously derided as obsolete — as an effective and vital force for peace and security in a region where Russia has been an aggressive actor.

During his presidential campaign, and in his early days in office, Mr. Trump's approach to foreign policy included speaking warmly of Mr. Putin and the prospects of a United States alliance with Russia. He had also questioned the usefulness of NATO, and the concept of an alliance for common defense to counterbalance Moscow's belligerence.

In an interview that aired on Wednesday, Mr. Trump said that Mr. Putin was partly to blame for the conflict in Syria and denounced him for backing President Bashar al-Assad, whom he called an "animal." Later at the White House, Mr. Trump said that Russia had likely known in advance of the Syrian government's plan to unleash a nerve agent against its own people, and asserted that the United States' relations with Moscow were at an "all-time low."

In Moscow, Mr. Tillerson came away from a two-hour meeting with Mr. Putin — the first such face-to-face session of the Trump administration — without reaching agreement on facts involving the chemical weapons assault in Syria or Russian interference in the American election. And sharply diverging from the meeting of the minds between the United States and Russia that Mr. Trump frequently aspired to when he was campaigning, there was no visible warming of the relationship.

"There is a low level of trust between our countries," Mr. Tillerson told reporters at a joint news conference with his Russian counterpart, Foreign Minister Sergey V. Lavrov. "The world's two foremost nuclear powers cannot have this kind of relationship."

The most immediate casualty of the clash was Russia's decision last week to suspend a communication channel, set up in 2015, to share information about American and Russian air operations over Syria to avoid possible conflict. Mr. Lavrov said on Wednesday that "we're willing to put it back into force" if Washington and Moscow can resolve their differences.

Further punctuating the Syria dispute, Russia on Wednesday vetoed a Western-backed resolution at the United Nations Security Council that condemned the chemical weapons attack. It was the eighth time in the six-year-old Syrian civil war that Russia, one of the five permanent Security Council members, had used its veto power to shield the government in Damascus. But in a possible sign of Russia's isolation on the chemical weapons issue, China, the permanent member that usually votes with Russia on Syria resolutions, abstained.

The vote came the day after Mr. Trump spoke by phone to President Xi Jinping of China, whom he hosted last week at a summit at his Mar-a-Lago retreat in Palm Beach, Fla. White House officials said they credited the relationship between the two leaders that was forged during the visit, and the conversation Tuesday evening, with helping to influence China's vote.

The day began with harsh words from Mr. Trump toward Mr. Putin, whom he had once praised effusively.

"I really think there's going to be a lot of pressure on Russia to make sure that peace happens, because frankly, if Russia didn't go in and back this animal, we wouldn't have a problem right now," Mr. Trump said in an interview with Fox Business Network, referring to Mr. Assad. "Putin is backing a person that's truly an evil person, and I think it's very bad for Russia. I think it's very bad for mankind. It's very bad for this world."

Later, after a meeting at the White House with Jens Stoltenberg, the NATO secretary general, Mr. Trump went out of his way to praise the military institution, which he called a "great alliance," and to express disappointment with Russia.

Asked whether it was possible that Syrian forces could have launched the chemical attack without Russia's knowledge, Mr. Trump said: "It's certainly possible; I think it's probably unlikely."

"I would like to think that they didn't know, but certainly they could have. They were there," Mr. Trump said of the Russians during a 30-minute news conference at the White House.

Even as they have intensified their criticism of Russia for backing Mr. Assad, other senior Trump administration officials, including Mr. Tillerson and Jim Mattis, the secretary of defense, have been careful to say there is no consensus that Moscow had foreknowledge that the Assad government planned to launch a chemical assault.

"Right now, we're not getting along with Russia at all — we may be at an all-time low in terms of a relationship with Russia," Mr. Trump said on Wednesday. Still, he held out hope that the United States and Russia could come to terms, suggesting that Mr. Tillerson's talks with Mr. Putin had gone better than expected.
That last comment from Trump is probably somewhat of an exaggeration, of course. One could point to any number of instances during the Cold War when our relationship with what is now Russia was far worse and far more dangerous for the world, than what we're currently dealing with. The crisis that led to the Berlin Airlift, which lasted for the better part of a year in 1948 and 1949, comes to mind, for example, as does the crisis that led to the building of the Berlin Wall in 1961 and the Cuban Missile Crisis in October 1962 come to mind most readily, as to incidents such as the Able Archer scare in September 1983, a NATO military exercise that the Soviet nearly mistakenly interpreted as preparation for a nuclear attack. Any of those incidents would arguably have been a lower point in U.S.-Russian/Soviet relations than where we stand to. Nonetheless, it certainly seems to be accurate to say that relations between the two nation. Nonetheless, it certainly seems to be accurate to say that relations between the two nations have not been worse at any point since the collapse of the Soviet Union in 1991, and that alone is significant.
This is a process that has been going on for some time now, of course. While Vladimir Putin has been trying to expand Russian influence for some time now, he has been particularly active in the past three years beginning with the moves that resulted in the annexation of the Crimean Peninsula and the decision to provide aid, equipment, and apparent on-the-ground assistance to rebels in eastern Ukraine who are still engaged in combat with the Ukrainian government. Starting in 2015, Putin began directly intervening in the Syrian civil war with the ostensible excuse that it was fighting terrorism, although it quickly became apparent that it was more concerned with protecting the regime of Bashar Assad and preserving its own interests in the country. Finally, there's the fact that Russia has essentially been caught red-handed attempting to influence the Presidential election in the United States and been accused of similar intervention in nations in Europe, including Poland, France, and Germany. Given all of this, it's no surprise that relations between the United States and Russia have reached the point that they have even under a new Administration.
All of this is somewhat ironic, of course. During the course of the campaign, President Trump derided the Obama White House in general and Secretary Clinton in particular for the state of relations with Russia, asserting that they had completely mishandled the relationship and that only he could fix things. When asked about all the positive comments that Vladimir Putin was throwing his way during the campaign, Trump made it seem as though he thought this was a good thing and a sign that he'd be able to 'make a deal' with Putin that had proven elusive for President Obama. Instead, the Russia issue has become something of an albatross around Trump's neck thanks both to the allegations of Russian interference and the allegations of alleged contact between people close to Trump and Russian officials both before and after the election. There's been at least some speculation that, with these two stories now open knowledge among the American public, the Trump Administration is likely going to feel pressure to take a tougher stand against Putin than they otherwise might have done. Whether that's the case or not only time will tell. For the time being, though, it certainly seems to be true that the situation in Syria has made the U.S.-Russian relatioship even more complicated than it already was, and there doesn't seem to be an easy solution.