U.S., South Korea Hint At Military Buildup In Response To Nuclear Test
The United States and South Korea are hinting at increased military cooperation in the wake of last week's North Korean nuclear test.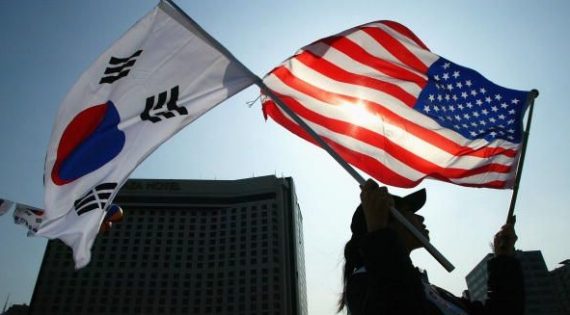 The United States responded to last week's North Korean nuclear test with a show of force, and the implication that we could be significantly increasing military cooperation with the Republic of Korea:
SEOUL, South Korea — The United States flew a nuclear-capable B-52 long-distance bomber over South Korea on Sunday in a show of force after North Korea's fourth nuclear test.

The bomber, taking off from the United States Air Force base in Guam, arrived over Osan Air Base south of Seoul, the South Korean capital, on Sunday to conduct training missions together with American and South Korean warplanes, both countries' militaries announced. The bomber returned to Guam after the exercise.

"This was a demonstration of the ironclad U.S. commitment to our allies in South Korea, in Japan, and to the defense of the American homeland," Adm. Harry B. Harris Jr., commander of the United States Pacific Command, said in a statement. "North Korea's nuclear test is a blatant violation of its international obligations."

Washington has often dispatched B-52 and B-2 bombers to South Korea over the years. It usually does not publicize their training missions, but such flyovers by nuclear-capable bombers have always drawn harsh criticism from North Korea.

But during military standoffs, as when North Korea raised tensions in early 2013 after its third nuclear test, both Seoul and Washington have made the unusual gesture of announcing their missions to demonstrate the American resolve toward defending South Korea and to help calm jitters there.

North Korea conducted its fourth underground nuclear test on Wednesday. The country said the device it detonated in the test was a hydrogen bomb, although the claim was received with widespread skepticism. Analysts and officials in the region have said that North Korea may be bluffing or may have detonated a hybrid atomic bomb that it has been suspected of developing. The test on Wednesday is said to have produced an explosion too small to be called that of an H-bomb.
In addition to the flyover, U.S. and South Korean officials are talking about increasing the U.S. commitment to the south:
South Korean media said the United States may send to South Korea B-2 bombers, nuclear-powered submarines and F-22 stealth fighter jets.

A South Koran defense ministry spokesman declined to give details.

"The United States and South Korea are continuously and closely having discussions on additional deployment of strategic assets," the spokesman, Kim Min-seok, said.

China called for all sides to avoid raising tension.

"Safeguarding the peace and stability of northeast Asia accords with all parties' interests," Chinese Foreign Ministry spokesman Hong Lei said in response to a question about the U.S. B-52 flight.

"We hope all parties can maintain restraint, proceed cautiously, and avoid successively escalating tensions."

The chairman of South Korea's Joint Chiefs of Staff warned that North Korea was likely to carry out further "sudden provocations", a South Korean defense ministry official said.

The commander of the 28,500 U.S. troops in South Korea, General Curtis Scaparrotti, urged them to be vigilant.

"I want you to maintain the highest level readiness from a long-term view as joint military exercises are coming up," Scaparrotti told U.S. and South Korean forces on a visit to a base, a U.S. military official said.

He was apparently referring to joint annual military exercises that usually begin in February or March and invariably provoke an angry reaction from North Korea.

On the diplomatic front, South Korea said its chief nuclear negotiator planned to meet his U.S. and Japanese counterparts on Wednesday to discuss a response to North Korea, and the next day, he would meet China's nuclear envoy in Beijing.

North Korea has been under UN Security Council sanctions since its first test of an atomic device. After its third test, in 2013, the Security Council took about three weeks to agree a resolution that tightened financial restrictions and cracked down on its attempts to ship and receive banned cargo.

South Korea and Japan used a military hotline for the first time after of North Korea's test, South Korea's defense ministry said, in a sign the North's behaviour is pushing the two old rivals closer together.

South Korea has also resumed anti-North propaganda broadcasts through loudspeakers along the border, a tactic that the North considers insulting. It responded with artillery fire the last time South Korea used the speakers in August.
To a large degree, of course, what we're seeing here is largely a show of strength and support for the South Koreans in the wake of the latest North Korean provocation. The B-52 that was sent to fly over the area near the DMZ, for example, came all the way from Guam and typically isn't part of the forces normally assigned to the Korean peninsula. Nonetheless, the United States was clearly intending to send a message to the North Koreans, as well as to the South itself and to Japan, that the U.S. stands prepared and fully capable of defending the area from North Korean threats and aggression if necessary. The same seems to be true regarding the possible deployment of additional military assets to Korea in the future. Even if it doesn't actually happen, the message to Pyongyang seems to be clear; if you want to continue making subtle and not-so-subtle threats, then you can expect there to be repercussions.
In addition to North Korea, there clearly seems to be a message to China at play here. By all accounts, the Chinese have long been concerned with the idea that North Korean saber rattling would result in a closer relationship between the United States, South Korea, and Japan that includes a significant military buildup on the Korean Peninsula. It's long been obvious that Beijing is the only outside force that seems to have any influence at all in Pyongyang, and also that the Chinese have been slowly losing patience with the Kim regime as it has acted with increasing recklessness both with regarding to its internal affairs and internationally. The nuclear test last week, for example, has apparently been very badly received in Beijing. So far at least, though, the Chinese have not been inclined to take action against Pyongyang or attempt to rein the North Koreans in. Perhaps the prospect of a military buildup by the U.S. on the peninsula might be enough to persuade them to act, although it's unclear whether China has the kind of influence that's needed to control the North at this point. It's something that seems to be worth a shot, though, because otherwise it's unclear what, if anything, can be done about North Korea.