Ukraine Invasion Sending History in a New Direction?
The ferocity of the global reaction to Putin's invasion is stunning.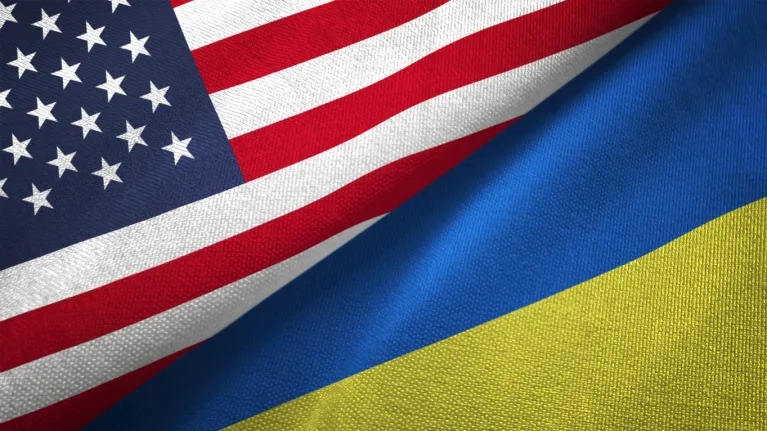 The News:
NYT ("China Asked Russia to Delay Ukraine War Until After Olympics, U.S. Officials Say"):
A Western intelligence report said senior Chinese officials told senior Russian officials in early February not to invade Ukraine before the end of the Winter Olympics in Beijing, according to senior Biden administration officials and a European official.

The report indicates that senior Chinese officials had some level of direct knowledge about Russia's war plans or intentions before the invasion started last week. President Vladimir V. Putin of Russia met with President Xi Jinping of China in Beijing on Feb. 4 before the opening ceremony of the Olympics. Moscow and Beijing issued a 5,000-word statement at the time declaring that their partnership had "no limits," denouncing NATO enlargement and asserting that they would establish a new global order with true "democracy."

The intelligence on the exchange between the Chinese and Russian officials was classified. It was collected by a Western intelligence service and considered credible by officials. Senior officials in the United States and allied governments passed it around as they discussed when Mr. Putin might attack Ukraine.

However, different intelligence services had varying interpretations, and it is not clear how widely the information was shared.

One official familiar with the intelligence said the material did not necessarily indicate the conversations about an invasion took place between Mr. Xi and Mr. Putin. Other officials briefed on the intelligence declined to give further details. The officials spoke about the report on the condition of anonymity because of the sensitivity of the intelligence.

Given the close nature of the relationship between Mr. Xi and Mr. Putin, senior Chinese officials are likely to have briefed Mr. Xi on any important exchanges between officials of their nations in the period around the leadership summit, analysts say.

When asked by email on Wednesday whether Chinese officials had urged Russian officials to delay an invasion of Ukraine until after the Olympics, Liu Pengyu, the Chinese Embassy spokesman in Washington, said, "These claims are speculation without any basis, and are intended to blame-shift and smear China."
WaPo ("Russia takes Kherson government building in siege on Ukraine's port cities"):
Russian troops have seized a key government building in the Black Sea port of Kherson, a Ukrainian governor said Thursday, as Moscow tightened its grip on Ukraine's southern coastline, slashing access to shipping hubs.

Russian state media said Russian forces have taken Kherson, a city of nearly 300,000 — a charge that Ukrainian defense officials deny. Despite heavy fighting underway, "the city is not under Russian control. They use it as a temporary base for units transfer," defense officials told The Post.

Russian forces have occupied the Kherson Regional State Administration building, Governor Hennadiy Lahuta said, but the government was still operating. The mayor of Mariupol, another seaside hub, said hours-long shelling has blocked water, power and food supplies. Estimating casualties is difficult, another local official said: "We cannot collect all the bodies, and we cannot count."
WaPo ("More than a million people have left Ukraine, foreshadowing a massive humanitarian crisis"):
More than 1 million refugees have left Ukraine, according to data from UNHCR, the U.N. refugee agency. The exodus is set to become Europe's worst humanitarian crisis in this century, already on par with the number of refugees who were displaced from Syria, Iraq and Afghanistan in 2015.

If fighting continues, as many as 4 million — roughly 10 percent of the Ukrainian population — could be displaced in the coming weeks, Filippo Grandi, the U.N. high commissioner for refugees, said Monday.

Photos and videos from the past week show packed train stations and traffic jams snaking through border towns. Crowds of refugees huddle in groups to fight the cold, sleep on cots in churches and gymnasiums and sort through boxes of donations from around the world. Many of them are women and children; Ukrainian authorities have forced men ages 18 to 60 to stay in the country to fight the invasion.
WaPo ("The gory online campaign Ukraine hopes will sow anti-Putin dissent probably violates the Geneva Conventions"):
A besieged Ukraine has adopted a gruesome tactic in hopes of stoking anti-government rage inside Russia: posting photos and videos of captured and killed Russian soldiers on the Web for anyone to see.

On Telegram, Twitter and YouTube, Ukraine's Ministry of Internal Affairs since Sunday has posted a constant stream of extremely graphic images showcasing the horrors of war and inviting Russians to examine them to determine whether the images feature a missing loved one.

In many of the images, soldiers' corpses can be seen burned, ripped apart, mangled in wreckage or abandoned in snow; in some, their faces are featured in bloody close-ups, frozen in pain.

In others, prisoners are interrogated by captors about the invasion as they shake with emotion. Some of the men sit crumpled, hands bound, eyes blindfolded with tape.

The images are viewable by anyone with a Web browser or a smartphone and have been shared widely across the Internet. The Telegram channel where they are displayed has more than 580,000 subscribers.

While not unprecedented — North Vietnam shared photos and film of imprisoned U.S. service members, including the late Sen. John McCain, in hopes of inflaming antiwar sentiment in the United States — the Ukrainian effort, thanks to the Internet, is playing to an audience rarely available in the annals of war.
NYT ("NATO Countries Pour Weapons Into Ukraine, Risking Conflict With Russia"):
The Dutch are sending rocket launchers for air defense. The Estonians are sending Javelin antitank missiles. The Poles and the Latvians are sending Stinger surface-to-air missiles. The Czechs are sending machine guns, sniper rifles, pistols and ammunition.

Even formerly neutral countries like Sweden and Finland are sending weapons. And Germany, long allergic to sending weapons into conflict zones, is sending Stingers as well as other shoulder-launched rockets.

In all, about 20 countries — most members of NATO and the European Union, but not all — are funneling arms into Ukraine to fight off Russian invaders and arm an insurgency, if the war comes to that.

At the same time, NATO is moving military equipment and as many as 22,000 more troops into member states bordering Russia and Belarus, to reassure them and enhance deterrence.

The Russian invasion of Ukraine has brought European countries together, minds concentrated by the larger threat to European security presented by the Russia of President Vladimir V. Putin.

"European security and defense has evolved more in the last six days than in the last two decades," Ursula von der Leyen, the president of the European Union's executive arm, asserted in a speech to the European Parliament on Tuesday. Brussels has moved to "Europeanize" the efforts of member states to aid Ukraine with weapons and money and put down a marker for the bloc as a significant military actor.

But whether European weaponry will continue to reach the Ukrainian battlefield in time to make a difference is far from certain. However proud Brussels is of its effort, it is a strategy that risks encouraging a wider war and possible retaliation from Mr. Putin. The rush of lethal military aid into Ukraine from Poland, a member of NATO, aims, after all, to kill Russian soldiers.

Mr. Putin already sees NATO as committed to threaten or even destroy Russia through its support for Ukraine, as he has repeated in his recent speeches, even as he has raised the nuclear alert of his own forces to warn Europe and the United States of the risks of interference.

World wars have started over smaller conflicts, and the proximity of the war to NATO allies carries the danger that it could draw in other parties in unexpected ways.

Jens Stoltenberg, the NATO secretary-general, hit his constant themes again on Tuesday as he visited a Polish air base. "Putin's war affects us all and NATO allies will always stand together to defend and protect each other," he said. "Our commitment to Article 5, our collective defense clause, is ironclad."

"There must be no space for miscalculation or misunderstanding," Mr. Stoltenberg said last week. "We will do what it takes to defend every inch of NATO territory."
Some Opinions:
Marc Fisher, WaPo ("In one week of war, Russia's invasion of Ukraine may have veered history in a new direction"):
In one week of war, life within the boundaries of Ukraine has been upended, but the brutal assault Russian President Vladimir Putin launched last Thursday has also reverberated around the globe, steering history in a new direction and switching up 75 years of relations among some of the world's most powerful and wealthy countries.

In Germany, hundreds of thousands marched in support of the NATO alliance's firm stance against Russia's aggression. Berlin decided to send military aid to Ukraine — a dramatic about-face in a country that for more than seven decades has shied away from military involvements as a kind of penance for the Nazi genocide and World War II.

Throughout Europe — even in staunchly neutral Switzerland — countries that depend heavily on Russia to heat people's homes and power their economies banded together to isolate and punish the Russians for their aggression. Countries that just a few years ago rose up in protest over the arrival of migrants fleeing wars and extremism in the Middle East and North Africa are suddenly welcoming hundreds of thousands of refugees.

In the United States, the invasion created a brief, almost disorienting moment of unity, as Democrats and Republicans alike — with the prominent exceptions of former president Donald Trump and some of his hardcore supporters in the media and politics — denounced Putin and embraced the Biden administration's crippling sanctions against Russia.

[…]

In one week, the war in Ukraine has focused the world's attention away from the coronavirus pandemic, away from inflation and supply chain problems, and away from more chronic problems such as climate change.

Regional wars often have a way of wreaking havoc well beyond the battlefields; Syria's civil war, for example, similarly sucked in the United States, Western European powers and Russia. But the war in Ukraine has almost instantly restructured global power dynamics, in part because of Putin's nuclear saber-rattling and in part because the world has become so much more interconnected in recent years — in trade, technology, media and politics.

"In less than one week, you've seen a fundamental shift as Europeans realize they have to take on more responsibility for their own defense," said Steven Pifer, a former U.S. ambassador to Ukraine who is now a fellow at Stanford University's Center for International Security and Cooperation. "In less than one week, you've seen five decades of German attitudes toward Russia turned on their head."

One day before the Russian invasion, Pifer said, "no one would have predicted this much change: the unity around strong sanctions against Russia, the German about-face, the Swiss joining the European Union in its sanctions, the American people rallying around the Ukrainians," even across party and ideological lines.
Stephen Fidler, WSJ ("How Might the War in Ukraine End? Five Factors Will Shape the Outcome"):
[…]

Although predictions are next to impossible, military strategists are focusing on several factors to provide clues, including the performance of the armies on the ground and the impact of sanctions.

One thing becoming clear is that the performance of Russia's military thus far is delivering Mr. Putin a reality check and potentially scrambling the range of outcomes. "Every day the Ukrainians don't lose, they win politically," said Michael Clarke, former director of the Royal United Services Institute, a London think tank. "And the political cost for him is going up on a daily basis."

Lawrence Freedman, a professor emeritus of war studies at King's College, London, doesn't think the Russians will succeed in installing a puppet government in Ukraine. "They can't occupy the whole country," he said. "A puppet government in Kyiv not backed by Russian arms wouldn't have any legitimacy and wouldn't survive."

That will likely make it difficult for Mr. Putin to convincingly declare victory. James Sherr, senior fellow of the Estonian Foreign Policy Institute, predicted that Mr. Putin won't take the rational step of seeking an off ramp, but will "double down."
Alexey Kovalev, the investigations editor at Meduza, NYT ("Russia Has Suffered a Crushing Moral Defeat. And Russians Know It."):
Shock and shame.

That's the response of many Russians to the sight of rockets and artillery shells hitting Ukrainian tower blocks that in their concrete uniformity could easily be in Moscow. The towns through which Russian armored vehicles are rolling, captured in shaky videos and accompanied by howls of horror, could be Voronezh or Krasnodar or any Russian city. The invasion of Ukraine is a waking nightmare, horrible and absurd.

And it's being done in our name. Feb. 24, when President Vladimir Putin announced the invasion, is the day Russia became an outcast, despised nation, not just economically isolated but actively shunned by the rest of the world — in sports, science and most other kinds of international cooperation. Whatever military "victory" Mr. Putin might find acceptable in his twisted mind, Russia has already suffered a crushing moral defeat.

And to a certain extent, it seems like the Russian people know it. Though dissent has been effectively outlawed, thousands of people have taken the risk to express their opposition to the invasion. And it's not just the usual suspects, the malcontents already known to the Kremlin. Major public figures, prominent journalists and artists have spoken out against the war.

We may be far from a large-scale antiwar movement, but the seeds have been sown. And once they flower into outright defiance, it could spell trouble for Mr. Putin.
My Two Cents:
Assessing these events as they unfold is the nature of the blogging enterprise but likely a mug's game. The news that the war may have been delayed around the Beijing Olympics is the bit I chose to highlight first because it's the most interesting new development and sheds light on the relationship between the United States' foremost adversaries. The most pressing story, surely, is the sheer humanitarian nightmare that's unfolding, both in terms of the death and destruction in Ukraine but in the migration crisis it's sparking. The most important story, though, is the potential reordering of the global security arrangement.
There is talk of removing Russia from its permanent membership in the Security Council, something I suggested at the outset of the crisis. It's next to impossible for that to happen but the fact that it's being seriously contemplated is interesting. Ditto the start of war crimes investigations, challenging though they are in the case of a great power.
That the world community has reacted so strongly, so quickly truly surprises me. I'll keep mentioning the degree to which even unlikely European allies and partners have stepped up, at no small cost or risk to their own interests. Ditto the global business community. That the Russians, who have managed to escape all but token sanctions despite generations of flagrant cheating are being banned from international sporting events over this is perhaps the most shocking of developments.