Unanimous SCOTUS Keeps Immigration Catch-22 in Place
The law and justice are frequently not the same thing.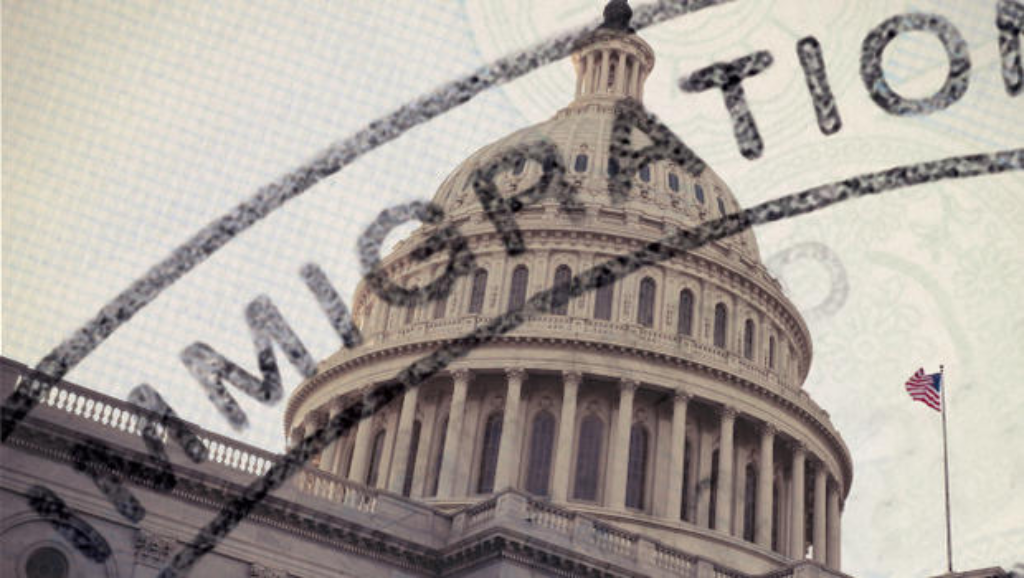 AP ("Supreme Court rules against immigrants with temporary status"):
A unanimous Supreme Court ruled Monday that thousands of people living in the U.S. for humanitarian reasons are ineligible to apply to become permanent residents.

Justice Elena Kagan wrote for the court that federal immigration law prohibits people who entered the country illegally and now have Temporary Protected Status from seeking "green cards" to remain in the country permanently.

The designation applies to people who come from countries ravaged by war or disaster. It protects them from deportation and allows them to work legally. There are 400,000 people from 12 countries with TPS status.

The outcome in a case involving a couple from El Salvador who have been in the U.S. since the early 1990s turned on whether people who entered the country illegally and were given humanitarian protections were ever "admitted" into the United States under immigration law.

Kagan wrote that they were not. "The TPS program gives foreign nationals nonimmigrant status, but it does not admit them. So the conferral of TPS does not make an unlawful entrant…eligible" for a green card, she wrote.

The House of Representatives already has passed legislation that would make it possible for TPS recipients to become permanent residents, Kagan noted. The bill faces uncertain prospects in the Senate.

The case pitted the Biden administration against immigrant groups that argued many people who came to the U.S. for humanitarian reasons have lived in the country for many years, given birth to American citizens and put down roots in the U.S.

In 2001, the U.S. gave Salvadoran migrants legal protection to remain in the U.S. after a series of earthquakes in their home country.

People from 11 other countries are similarly protected. They are: Haiti, Honduras, Myanmar, Nepal, Nicaragua, Somalia, South Sudan, Sudan, Syria, Venezuela and Yemen.

Monday's decision does not affect immigrants with TPS who initially entered the U.S. legally and then, say, overstayed their visa, Kagan noted. Because those people were legally admitted to the country and later were given humanitarian protections, they can seek to become permanent residents.
At SCOTUSBlog, Maryellen Fullerton ("Justices deny green cards to noncitizens granted Temporary Protected Status") adds:
The Supreme Court unanimously ruled on Monday that noncitizens who have been granted temporary humanitarian relief from deportation cannot use the process known as "adjustment of status" to obtain lawful permanent residency in the United States without leaving the country. The court ruled in Sanchez v. Mayorkas that adjustment of status is reserved for those who were inspected at the border and admitted to the United States by an immigration officer, thus disqualifying the majority of those granted Temporary Protected Status. Justice Elena Kagan wrote the opinion for the court.

[…]

Sanchez and Gonzalez have maintained TPS status for 20 years, during which Sanchez's employer filed an immigration-visa petition for Sanchez as a skilled worker. Immigration officials approved this petition, authorizing Sanchez to be admitted to the United States as a lawful permanent resident. They simultaneously approved Gonzalez, his wife, for admission as a lawful permanent resident.

The government, however, denied the couple's subsequent application to use the adjustment-of-status process in order to transition from temporary to permanent residency without leaving the United States. Immigration officials ruled that the couple's original unauthorized entry disqualified them from adjustment of status. The government relied on the text of Immigration and Nationality Act Section 1255(a), which restricts the in-country adjustment-of-status process to noncitizens who were "inspected and admitted or paroled into the United States." 

Sanchez and Gonzalez argued that the TPS statute includes a provision making TPS holders eligible for adjustment of status even if they had not been inspected and admitted or paroled when they originally entered the United States. Specifically, Section 1254a(f)(4) states that "for purposes of adjustment of status under Section 1255 …, the [TPS holder] shall be considered as being in, and maintaining, lawful status as a nonimmigrant." They asserted that the phrase "considered as being in … lawful status" makes the grant of TPS the equivalent of being inspected and admitted as a lawful nonimmigrant. Sanchez and Gonzalez argued the detailed vetting that accompanies applicants for TPS is equivalent to the vetting that accompanies inspection and admission at a port of entry.
The outcome is absurd and unjust but correct. That is, as a matter of public policy, it makes no sense to allow people to live in the country for decades, become productive members of society, but then require them to leave in order to become eligible for citizenship.
At the same time, Congress has the authority under the Constitution to set immigration policy and, while they created this TPS status out of a sense of mercy, they pointedly did not create a path to citizenship when they did so. It's in their power to change this and the House has done so. The ball is now in the Senate's court and, if they do so, it's up to President Biden to sign it into law. One hopes this is one of those rare cases where doing the right thing isn't thwarted by partisan politics.