Unemployment and Education
Unemployment is not equally distributed in America.
As Doug noted this morning, the recession isn't hurting everyone equally, with almost all the pain felt in the private sector.   Additionally, as Matt Yglesias and Ezra Klein have noted, the unemployment rate is quite skewed on educational attainment, too: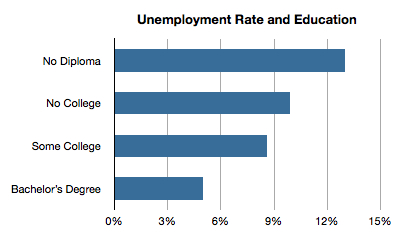 There's some overlap in these trends, of course, in that government jobs disproportionately require at least some college.  But it's just a graphic illustration of the degree we're shifting to a knowledge economy.  There just aren't that many jobs being created for high school drop-outs these days.
Matt observes:
Virtually every single member of congress, every senator, every Capitol Hill staffer, every White House advisor, every Fed governor, and every major political reporter is a college graduate. What's more, we have a large amount of social segregation in the United States—college graduates tend to socialize with each other. And among college graduates, there simply isn't an economic crisis in the United States.
While that's true as a matter of personal experience — the well educated are less likely to know a lot of unemployed people than the poorly educated — it's not as if we don't read the papers.