Unilateral Disarmament on Gerrymandering
Democrats and Republicans are playing by different rules.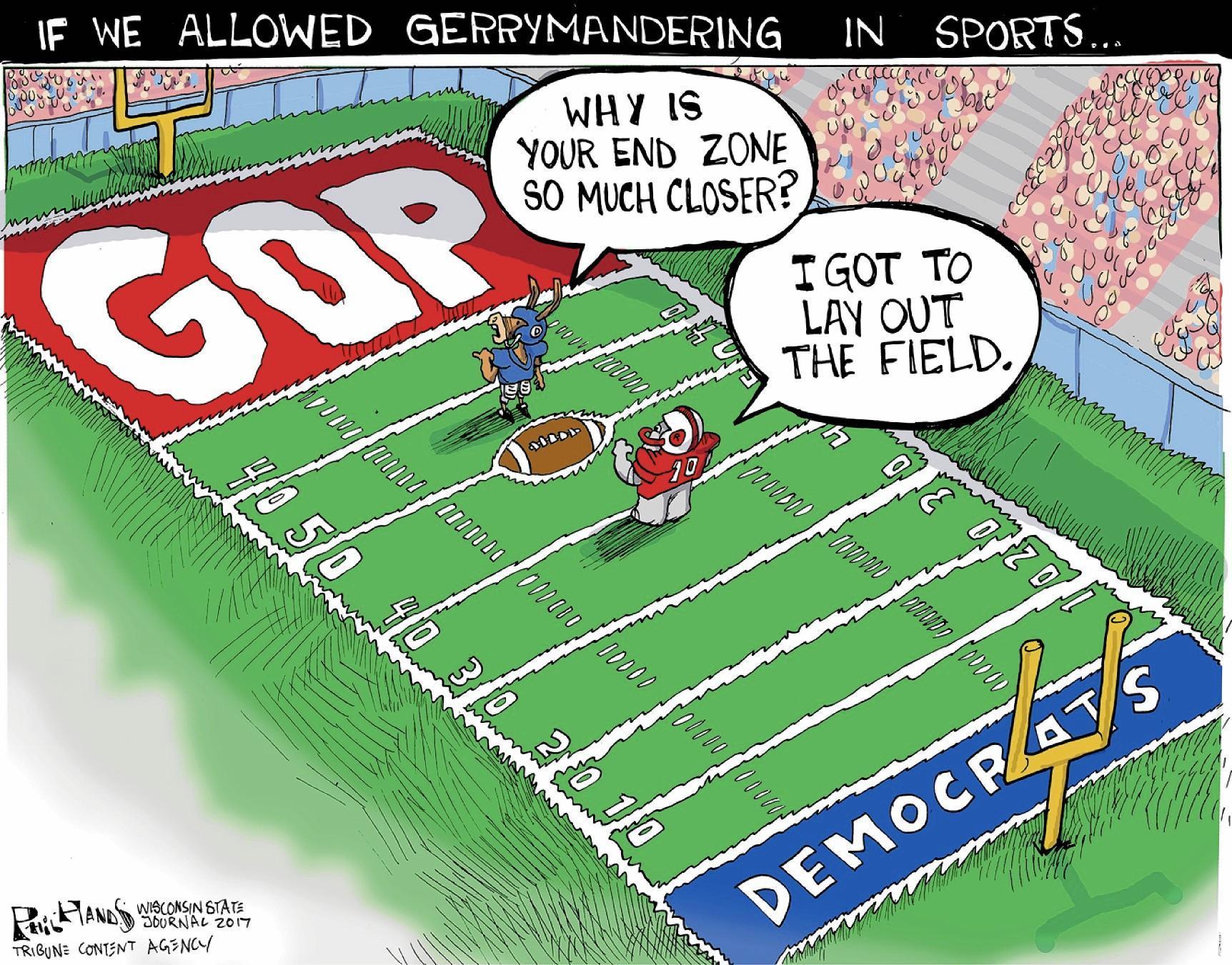 The Bulwark's Jonathan Last argues that Democrats are hurting themselves, and ultimately American democracy itself, by holding itself to different rules than Republicans on drawing Congressional districts.
Gerrymandering is poisoning our democracy by making it harder for voters to hold their representatives accountable and pushing both parties out to the extreme. (When districts become "safe," the balance of power in primary contests shifts away from the center.)

Both parties participate in gerrymandering. But not equally. And one party has been making a good faith effort to try to roll gerrymandering back, while the other party has been leaning into it.
He cites a tweet by Cook Political Report's Dave Wasserman
that, in turn, cites a September AP report headlined "Democrats see consequences from redistricting reform push."
Democrats argue that the once-a-decade process of redrawing political maps shouldn't be a partisan cage match. In the name of good government and balance, they've pushed for independent commissions to do the work of rebalancing population changes into congressional districts.

They're about to feel the consequences of their focus on fairness.

In Democratic-controlled Colorado, Virginia and Oregon, new congressional maps drawn by commissions or bipartisan power-sharing agreements are unlikely to give the party the sort of political advantages it could have otherwise enjoyed.

Republicans, meanwhile, haven't given up their power, controlling the process in 20 states, including Florida, Texas and North Carolina.

The imbalance could come with major consequences. Democrats currently control the House of Representatives by just an eight-seat margin. Choosing not to seize advantages in redistricting could cost Democrats the House.

"There should be concern within the Democratic Party that we may have been too quick to seek reform without really looking at the long-term implications," said Rick Ridder, a Democratic strategist in Denver.

This year, commissions will draw 95 congressional seats that otherwise would have been drawn solely by Democrats and only 13 that would have been drawn by Republicans.
My strong preference would be for bipartisan commissions to draw district lines that are based as much as possible on natural communities rather than naked partisan advantage or incumbent protection. But it makes no sense for one of two political parties to play the game that way while the other is doing everything the law will allow to gain an advantage.
Last observes,
Look, I don't want to get out over my skis here—and again, Democrats have not been total angels—but election reform should not be a suicide pact.

Is it bad that Dems are "giving up" some seats by not pursuing gerrymandered districts? No! It's actually good! This is what we want from our political parties.

But while unilateral disarmament can, theoretically, be part of a peaceful solution to conflict, it can also be a provocation.
The AP report gives more context for the "Democrats have not been total angels" caveat:
To be sure, not all Democratic states have sacrificed power for reform. Democratic-controlled states like Illinois and Maryland are heavily gerrymandered. And Democratic-controlled state legislatures can overrule commissions in New Mexico and especially New York, where the party could erase several GOP House seats if it controls the map.
Still, in the main, unilateral disarmament is the norm:
But given the narrow margins, the commission states matter. In Colorado, where President Joe Biden won by 13 percentage points last year, the nonpartisan commission released a preliminary map on Friday which could lead the two parties to evenly split the state's eight congressional seats. In contrast, some Democratic maps split 6-2 in their favor. The difference, a net of four congressional seats, is half the current Democratic margin in the House.

In Virginia, where Democrats control the legislature and hold the governor's office, party leaders are worried the bipartisan commission could deadlock, kicking control of redistricting to the state Supreme Court, dominated by GOP-appointed judges. The court would likely hire experts to draw the maps determining the political composition of the state's 11 congressional districts and its state legislative seats.

And in Oregon, a solidly blue state that is gaining a congressional seat, the Democrats who control a supermajority in the state legislature agreed to evenly divide their redistricting committee between Democrats and Republicans.
As a Virginia resident for almost two decades now, I've seen us go from pretty solidly red to a bluish purple. But a confluence of events has a state that went for Biden by 10 points and re-elected Democrat Mark Warner by 12 points last November with turn around and elect a Republican governor, lieutenant governor, and statehouse a year later. The previous Democratic leadership pushed through the ballot initiative for the districting commission but it was unable to come to terms and we could wind up with Republicans drawing the map.
While the House of Representatives, the only national body impacted by the gerrymander, ostensibly serves local interests, the trend in recent decades toward parliamentary-style discipline means that Massachusetts Democrats and Alabama Democrats vote the same way. Republicans already have a built-in advantage in the Senate and a modest one in the House. But Republicans leveraging all the tools at their disposal to gain additional seats while Democrats opt for fairness stacks the deck even further.