United Nations Authorizes Military Action Against Libya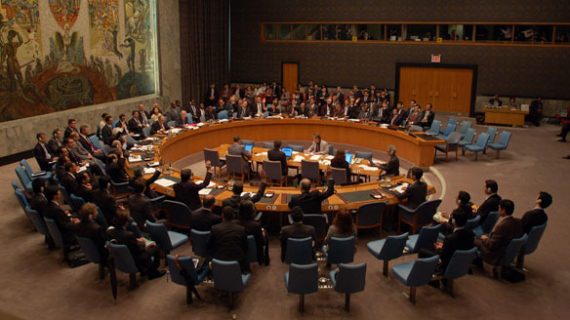 Late today, the U.N. Security Council passed a resolution authorizing military action in support of the Libyan rebellion:
UNITED NATIONS — The United Nations Security Council approved a measure on Thursday authorizing "all necessary measures" to protect Libyan civilians from harm at the hands of forces loyal to Colonel Muammar el-Qaddafi.

The measure allows not only a no-fly zone but effectively any measures short of a ground invasion to halt attacks that might result in civilian fatalities. It comes as Colonel Qaddafi warned residents of Benghazi, Libya, the rebel capital, that an attack was imminent and promised lenient treatment for those who offered no resistance.

"We are coming tonight," Colonel Qaddafi said. "You will come out from inside. Prepare yourselves from tonight. We will find you in your closets."

Speaking on a call-in radio show, he promised amnesty for those "who throw their weapons away" but "no mercy or compassion" for those who fight. Explosions were heard in Benghazi early Friday, unnerving residents there,  Agence-France Presse reported.

The United States, originally leery of any military involvement in Libya, became a strong proponent of the resolution, particularly after the Arab League approved a no-fly zone, something that Secretary of State Hillary Rodham Clinton called a "game changer"

With the recent advances made by pro-Qaddafi forces in the east, there was a growing consensus in the Obama administration that imposing a no-fly zone by itself would no longer make much of a difference and that there was a need for  more aggressive airstrikes that would make targets of Colonel Qaddafi's tanks and heavy artillery — an option sometimes referred to as a no-drive zone. The United States or its allies might also send military personnel to advise and train the rebels, an official said.

In the most strident verbal attack on Colonel Qaddafi to date by an American official, Secretary of State Hillary Rodham Clinton said Thursday that the Western powers had little choice but to provide critical military backing for the rebels. "We want to support the opposition who are standing against the dictator," she told an applauding audience in Tunisia on Thursday. "This is a man who has no conscience and will threaten anyone in his way."

She added that Colonel Qaddafi would do "terrible things" to Libya and its neighbors. "It's just in his nature. There are some creatures that are like that."

The Qaddafi government responded to the potential United Nations action with threats.

"Any foreign military act against Libya will expose all air and maritime traffic in the Mediterranean Sea to danger and civilian and military facilities will become targets of Libya's counter-attack," it said in a statement carried on Libyan television and the official news agency, JANA, Reuters reported. "The Mediterranean basin will face danger not just in the short-term, but also in the long-term."

There were reports on Thursday that warplanes were already bombarding the outskirts of Benghazi for a second day, opening shots, perhaps, in the battle. And after days of batterings at the hands of Qaddafi loyalists, the opposition forces welcomed the promise of Western assistance.
It's probable we will see the beginnings of military action within the next several hours. What happens after that is anyone's guess.