Unmasked Stupidity in Congress
Speaker Pelosi and House Republicans are waging separate battles with science.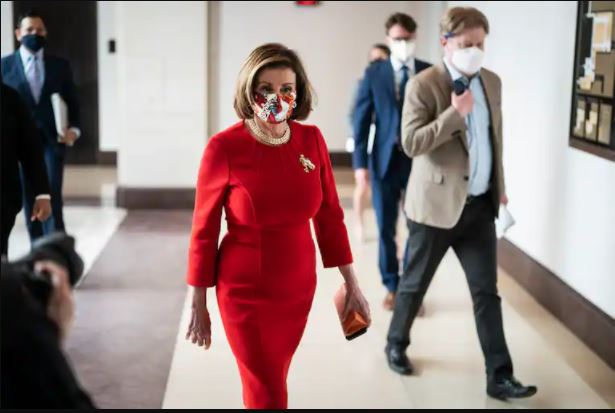 WaPo:
Under new guidance from the Centers for Disease Control and Prevention, vaccinated Americans can now mostly ditch their masks indoors. But not lawmakers on the House floor.

Asked by CNN whether the House's mask mandate would be relaxed, House Speaker Nancy Pelosi on Thursday said, "No. Are they all vaccinated?"

Her decision, which was outlined in updated guidelines issued Thursday night by Congress's attending physician, drew swift backlash from Republicans who have long bristled at mask requirements. In a letter dated Friday, 34 GOP lawmakers urged Pelosi to drop the House's pandemic restrictions.

"It's about control," House Minority Whip Steve Scalise (R-La.) told Fox News host Laura Ingraham on Thursday evening. "She wants to control the House."

The Republican pushback highlights the lingering partisan furor over mask mandates even as vaccinations and public health restrictions have helped drop coronavirus deaths and new infections to the lowest numbers since the onset of the pandemic.

[…]

But Pelosi (D-Calif.) pointed toward a lingering number of unvaccinated House members as part of the decision to keep mask rules in place on the House floor. Pelosi said last month that roughly a quarter of legislators have yet to receive a coronavirus vaccine and noted: "We cannot require someone to be vaccinated."

Some Republicans have said they aren't getting vaccinated because they've had covid-19, the disease caused by the coronavirus, and now have antibodies. Others, including Rep. Marjorie Taylor Greene (R-Ga.) and Rep. Madison Cawthorn (R-N.C.) have publicly declined to take a vaccine.

Updated guidelines issued Thursday by Brian P. Monahan, the attending physician to Congress, say that the mask mandate will continue on the House floor "until all Members and floor staff are fully vaccinated." His update also notes that per the CDC, "recovery from natural infection is not equivalent to completion of a vaccination."

Monahan did say that, thanks to the new CDC policy, fully vaccinated staffers and lawmakers can gather mask-free in other House office spaces.
This is performative stupidity, pure and simple.
Representatives who aren't vaccinated are being idiots, risking the lives of their children and grandchildren as well as those of those untold others who can't get vaccinated. Monahan is correct that having had the virus in the past is not equivalent to vaccination. Although the possibility of re-infection is speculative, CDC definitely recommends vaccination once the person is fully recovered.
Still, there's simply zero reason for vaccinated Members and staffers to wear masks at this point. The mandate is a stupid stunt. The fact that people are allowed to be unmasked in smaller spaces inside the Capitol but not in the larger, public spaces makes that clear.