Violating Yet Another Norm, Trump Attacks The Federal Reserve
Donald Trump is now attacking his own appointee to head the Federal Reserve Board.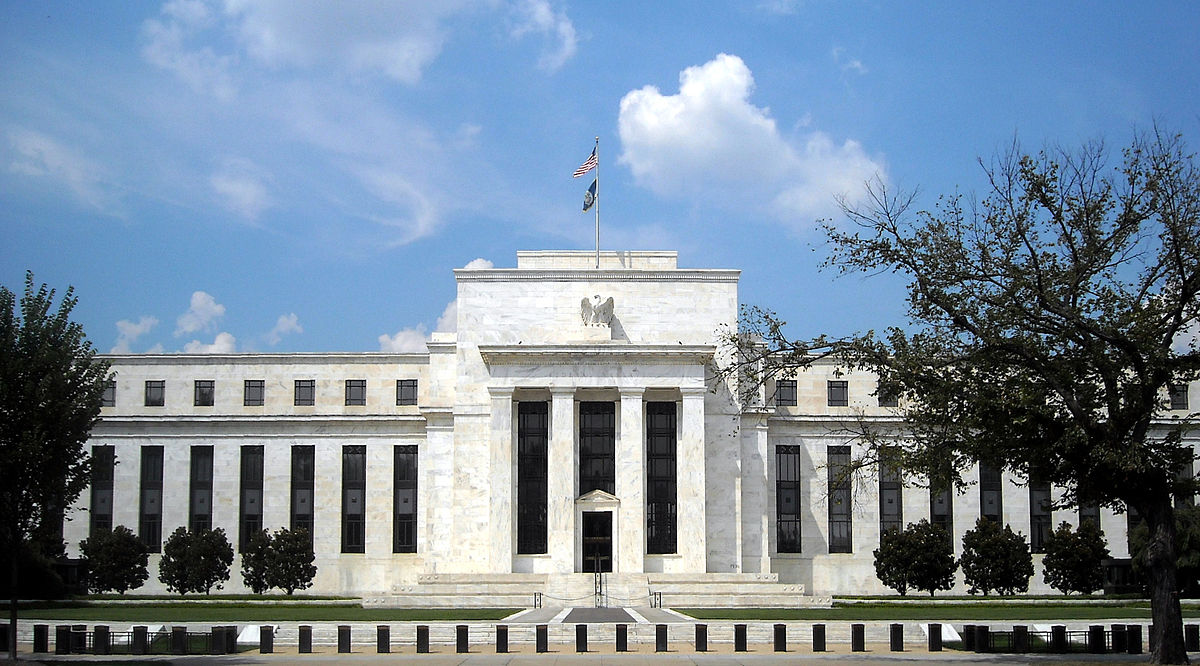 President Trump took time off from his seemingly endless rants about Special Counsel Robert Mueller's investigation into Russian interference in the 2016 election to attack his own appointee as Chairman of the Federal Reserve Board:
WASHINGTON — President Trump complained to wealthy donors at a fund-raiser in the Hamptons last week that the man he chose as chairman of the Federal Reserve, Jerome H. Powell, has disappointed him by raising interest rates, according to people who attended the event.

In the midst of a long riff on the economy, Mr. Trump said that he had expected Mr. Powell to adhere to an easy-money monetary policy, by keeping interest rates low, when he nominated Mr. Powell in November to succeed Janet L. Yellen. Instead, Mr. Powell has continued Ms. Yellen's pace of gradual return to historically normal rates, by raising rates twice this year.

On Monday, Mr. Trump complained about the Fed chairman publicly, telling Reuters "I'm not thrilled with his raising of interest rates, no. I'm not thrilled." Mr. Trump, in an interview, added "I should be given more help by the Fed" through more accomodative monetary policy. "The other countries are accommodated," Mr. Trump said, saying that both China and the European Union are manipulating their currencies.

Mr. Trump previously criticized the Fed this summer, breaking with decades of presidential convention. "I don't like all of this work that we're putting into the economy and then I see rates going up," Mr. Trump told CNBC in a televised interview in July. "I am not happy about it."

The next day, Mr. Trump appeared to criticize the Fed again on Twitter:

Aides have said that Mr. Trump worries that additional rate increases could slow economic growth, which is on track to reach 3 percent this year for the first time since 2005. They have insisted that Mr. Trump was not trying to intervene in Fed policy, which has historically operated independently from the executive branch, and was simply expressing his opinion. Mr. Trump also criticized Ms. Yellen as a presidential candidate in 2016, saying she should be "ashamed of herself" for keeping interest rates low.

Mr. Trump's comments about Mr. Powell were first reported by Bloomberg. A Fed spokeswoman declined to comment on Monday afternoon.

Mr. Powell's moves as Fed chairman have not surprised markets, nor struck Fed watchers as unexpected. In a confirmation hearing last year, shortly after Mr. Trump nominated him to the position, he told senators he expected the Fed to continue raising interest rates in the near term.

Fed officials, including Mr. Powell, have long said they are gradually raising interest rates in order to balance the need to support economic growth — and the return of the economy to maximum employment — and guard against a rapid increase in inflation, which can occur when growth runs too hot with very low unemployment.
Powell, of course, has not responded to the President's comments, nor is it likely that he or anyone else affiliated with the Federal Reserve will respond. The Board has long been careful about maintaining independence from the political branches of government and that is unlikely to change notwithstanding the fact that we now appear to have a President who has no qualms about violating the traditional norms of American politics on a regular basis. What is puzzling about Trump's comments, of course, is the fact that he specifically selected Powell to replace Janet Yellin as Chairman of the Federal Reserve Board and that he presumably did so knowing full well what Powell's record actually was. Specifically, of course, there's the fact that Powell was a member of the Federal Reserve's Board of Governor since 2012 and had been on the Board at the time that it was agreed that the Fed would end the easy money policies it had adopted since the start of the Great Recession, policies that kept interest rates at historic lows for an extended period of time and which, when adjusted for inflation, likely resulted in negative interest rates for at least some short-term obligations. As a result, the Federal Reserve decided in December 2015 to raise rates by a very small amount for the first time in a decade. This increase has been followed by roughly a half-dozen subsequent increases in lending rates over the course of the past thirty-two months, including similar increases that have taken place since Powell took Janet Yellin's place as Chairman. According to Board of Governor's meeting records released after each of these increases, Powell was fully in support of the policy put in place by Yellin back in December 2015 and that he has been a strong advocate for the modest interest rate increases that have taken place since he took office earlier this year. Trump obviously should have been aware of all of this when he appointed Powell, so for him to express surprise or regret at the fact that his appointee is following a policy he has supported from the beginning and which he and the other members of the Board of Governors have adhered to since he took office.
As a general rule, previous Presidents have refrained from directly criticizing Federal Reserve Board policy even in cases where there might be legitimate grounds to do so. For example, the current Federal Reserve policy is calling for relatively small increases in rates that have been spaced out over what is now nearly a three-year period and these increases have been so modest that it can't really be said that they've had a major negative impact on economic growth. If the Fed were to decide to engage in a more aggressive policy of increases that started having an impact on the economy, then there might be legitimate grounds to criticize the policy. As things stand, though, the current policy seems entirely appropriate under the circumstances and Trump's complaints without merit.
Beyond the merits of the Fed's decision, though, the main problem with Trump's comment is that it interferes with the historic independence that institution has enjoyed from the political branches of government and threatens to turn monetary policy. Ever since the Federal Reserve was created in the 1910s, and even more so in the wake of reforms that were enacted after the Great Depression, the understanding and the norm has been that the Federal Reserve has been recognized as being independent of the political system. This is why the members of the Board of Governors, while appointed by the President and confirmed by the Senate, serve staggered terms that generally do not coincide with the terms of Presidents, Senators, or Members of the House of Representatives. Additionally, while the President does have the statutory authority to remove a member of the Board of Governors, presumably including the Chairman, that dismissal must be "for cause." Additionally, Congress could move to impeach a member of the Board of Governors if the proper grounds exist, or to change the charter of the Board to grant greater authority over monetary policy to the political branches. None of that has happened over the course of the Fed's existence, though, and that's why the President's comments have raised more than a few eyebrows.
It's unclear if these comments were just another example of President Trump ranting, or if it signals that he has a new target in mind. We'll have to see if this happens again in the future to know for sure. Given this President's consistent habit of violating the norms of American politics, though, it wouldn't be surprising to see him focus on Powell the same way he has on Jeff Sessions, Robert Mueller, and others who are acting in ways he doesn't approve of. The difference here, of course, is that what the President says could end up having a serious impact on financial0 markets, on the value of the dollar, and on the U.S. economy. If that happens, then all bets are off in terms of the damage that Trump could do.