Violence Erupts In Wake Of Decision To Forego Indictment In Shooting Of Michael Brown
Not surprisingly, last night's announcement that there would be no state court indictment in the Michael Brown shooting led to violence and confrontations with police. That's not going to solve any of the real problems that face Ferguson, or any other community in the United States.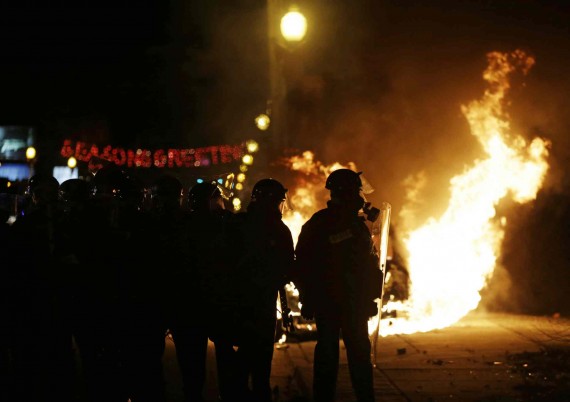 Immediately in the wake of the announcement last night that Officer Darren Wilson will not face state criminal charges in connection with the fatal shooting of Michael Brown, the crowds that had gathered in the area quickly became violent in a night of protesting that seems to have left the situation on the ground there far worse than it was at any point after the protests in August in the wake of the shooting itself:
As the night went on, the situation grew more intense and chaotic in several locations around the region. Bottles and rocks were thrown at officers, and windows of businesses were smashed. Several police cars were burned; buildings, including a Walgreens, a meat market and a storage facility, were on fire, and looting was reported in several businesses. Gunshots could be heard along the streets of Ferguson, and law enforcement authorities deployed smoke and gas to control the crowds. In St. Louis, protesters swarmed Interstate 44 and blocked all traffic near the neighborhood where another man was shot by police this fall.

Before midnight, St. Louis County police officers reported heavy automatic gunfire in the area where some of the largest protests were taking place. Flights to Lambert-St. Louis International Airport were not permitted to land late Monday as a safety precaution, officials said.

Mayor James Knowles III of Ferguson, reached on his cellphone late Monday, said he was there and wanted to see National Guard troops, some of whom were stationed at a police command center, move to protect his city. "They're here in the area," he said. "I don't know why they're not deploying."

Just after 1 a.m., Gov. Jay Nixon called up additional members of the National Guard to Ferguson, where they will provide security for the police headquarters.

At a news conference around 1:30 a.m., Jon Belmar, the St. Louis County police chief, said at least a dozen buildings had been set on fire.

"As soon as Mr. McCulloch announced the verdict, the officers started taking rocks and batteries," said Chief Belmar, who said he personally heard about 150 shots fired. He said the police did not fire a shot.

But outside the police station, Lesley McSpadden, Mr. Brown's mother, voiced frustration with the decision. "They wrong!" she yelled, pointing toward the police officers standing outside of the station. "Y'all know y'all wrong!"'

He added that 29 people were arrested.

"I didn't foresee an evening like this," Chief Belmar said. The night's damage had been far worse than any of the nights of unrest that had followed the shooting in August, he said.m

Mr. Brown's family issued a statement expressing sadness, but calling for peaceful protest and a campaign to require body cameras on police officers nationwide. "We are profoundly disappointed that the killer of our child will not face the consequence of his actions," the statement said. "While we understand that many others share our pain, we ask that you channel your frustration in ways that will make a positive change. We need to work together to fix the system that allowed this to happen."

(…)

Protests, often well organized and orderly, also occurred in cities across the country, including Los Angeles, Seattle, Philadelphia and Chicago, where about 200 mostly young and mostly white protesters gathered at police headquarters, despite frigid temperatures and light snow.
At the start, it goes without saying that the violence that erupted in the immediate aftermath of the announcement of the decision last night is both inexcusable and counterproductive. Based on the reporting on the ground from CNN reporters such as Jake Tapper and Don Lemon, it is clear that this violence and rioting erupting essentially sua sponte as a reaction to the announcement rather than in response to some provocation by police officers on the scene. Within less than an hour after the announcement, for example, there were police cars on fire, local businesses being looted, and other local businesses on fire. The police, of course, responded the only way they could to try to restore order, by using smoke devices and other means, possibly including tear gas but that has yet to be verified even at this point in the morning. This contrasted with protests in other parts of the country which apparently remained largely peaceful, and which authorities allowed to continue until well into the early morning hours of Wednesday. In Ferguson, though, things had gotten out of control so quickly, that there didn't seem to be any semblance of a peaceful protest at all even before the hour after District Attorney McCulloch's announcement was up. There may be, indeed one could argue that there are, reasons why a violent reaction might at least be understandable, but that doesn't mean that its acceptable.
Before shutting things down last night, I got into a somewhat extended discussion about this with several people on Twitter about this, and I think the central point is that, while one can  agree that there may be legitimate complaints that the people of Ferguson, and other minority communities across the country, may have with the way they are treated by police, reacting in this manner is not likely to do much of anything to help to bring these issues to the attention of the rest of America. The average American who woke up this morning to images of burning police cars is not likely to react positively to the idea that there might be some legitimate issue behind the rage that they see on their television screens. This is especially true given the fact that it's likely that many of the people who  erupted in violence last night weren't there because they cared about Michael Brown, his parents, or the issues of police treatment of minorities. They were there to cause trouble. We know this to be true in no small part because, in the days leading up to last night's protests there were arrests made of people trying to sneak guns and explosives into Ferguson as well as other reports in the media by reporters who had been privy to what they called "planning meetings" for violence in the wake of the announcement of the Grand Jury's decision regardless of what they decision ended up being. The people behind those acts don't care about "social justice," they just, in the words of one movie character, want to watch the world burn.
Whoever was responsible for the violence, though, it's clear that even people who were there to protest peacefully got caught up with it, and that they didn't accomplish anything. Hopefully, people in Ferguson will take a step back as they wake up this morning and realize that reacting violently is exactly what those who think that the police who treat minorities harshly expect them to do, and what they see as justification for that harsh treatment. Nothing they did last night helped their cause, nothing at all.
Photo via The Washington Post