Virginia GOP Picks Ed Gillespie To Run Against Mark Warner
The establishment wins one in Virginia, but that's unlikely to help the GOP in November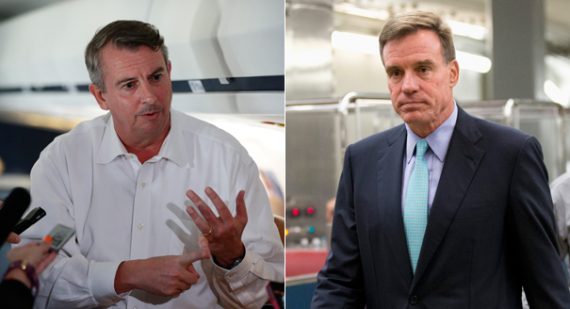 After a 2013 election cycle in which they saw a trio of candidates with ties to the far right go down to defeat, Virginia Republicans decided to go in a different direction when they met in Roanoke yesterday to pick a candidate to run against Senator Mark Warner:
ROANOKE — In a victory for establishment Republicans, political strategist and former lobbyist Ed Gillespie handily secured the GOP nomination at the party's state convention Saturday, winning the chance to face Sen. Mark R. Warner (D-Va.) in the general election.

The vote reflected the party's desire to coalesce around a candidate with wide appeal and the best chance of unseating Warner, a popular former governor and one-term senator.

Gillespie is a favorite of donors and party insiders, yet he has also won over many tea party-influenced conservatives who last year chose candidates who struggled to appeal to Virginia's changing electorate.

Now the one-time Republican National Committee chairman turns his attention to an uphill battle against Warner, who already has a huge leg up in fundraising and name recognition. But in a year when Democrats are vulnerable and the GOP is hoping to retake the Senate, the race will draw attention and money from across the country.

"We have come into this hall through different doors, but we will leave this hall through one Republican door united in our principles to defeat Mark Warner and take back the Senate," Gillespie said during his convention speech, bringing much of the crowd to its feet. "I will take your fight to Mark Warner, I will lead us to victory in the fall and we can turn our great country around again."

(…)

Virginia Republicans — still smarting from the loss of all three statewide races on the ballot last year — came to Saturday's convention with winning on their minds.

Gillespie's leading rival, retired Air Force pilot Shak Hill, conceded before all the votes were counted, allowing the convention to nominate Gillespie by acclamation. Gillespie was leading by over 60 percent with about 90 percent of the votes counted, and he touted his rivals' concession as a show of unity in an often-fractious party.

The outcome was a disappointment to some conservatives.

"I really think Gillespie is a Washington insider and lobbyist," said Rosanne Reddin, a retired teacher from Williamsburg who wore a homemade T-shirt that read, "We need Shak on the Hill." "Voting for him [Gillespie] is like voting for Warner. He's the establishment."

(…)

In his speech before Saturday's vote, Gillespie tapped into Republican anger with Obama and linked Warner to the president and to Senate Majority Leader Harry M. Reid (D-Nev.), who would lose his leadership role in the chamber if the GOP picks up enough seats in November.

"We see the damaging effects of Obama-Reid-Warner policies all around us," he said. "We know that our policies based on free markets and free people and our constitutional principle of limited government would make things better for ourselves and our families and our fellow Americans."

In addition to his opposition to the Affordable Care Act, Gillespie said he will "fight any effort to increase our taxes" and will stand with coal miners — a reference to new emissions standards rolled out by the Obama administration last week.
The 2013 election left a lot of bad blood inside the Virginia GOP. The manner in which Ken Cuccinelli and his supporters used their power inside the party to force a convention rather than a primary, thus making it next to impossible for the Lt. Governor Bill Bolling to mount a campaign in the face of a committed grass roots base that could take over a convention but would likely have been swamped in a primary, was bitter enough that Bolling refused to endorse anyone in the November election and several long time Republicans openly backed Terry McAuliffe in the election. When the convention ended up choosing E.W. Jackson Jr, a "Bishop" with no political experience and a long history of making bizarre statements in public, the damage became even worse. Given that, the powers-that-be in the Republican Party of Virginia were determined to make sure that the same thing didn't happen this year, and they were largely successful.
Given the rather weak bench of contenders that the RPV had going into 2014, Gillespie is a good choice. He's got ties to the parties conservative wing but isn't the kind of right-wing radical that someone like Ken Cuccinelli came across as last year. On the whole, he's a decent candidate. However, it's going to be next to impossible for the GOP to make this a competitive race. Mark Warner remains one of the most popular politicians in the Commonwealth and while it's been some time since there has been any polling of the race, his lead over Gillespie seems insurmountable . The only way Virginia becomes competitive is if this turns into a massive Republican wave election or if Mark Warner makes a serious political mistake. Right now, I don't see either one of those things happening.