Walker, Jindal, And Graham Endorse Donald Trump's Plan To End Birthright Citizenship
It will never actually happen, of course, but some of Donald Trump's fellow candidates for President have been eager to endorse his idea to abolish birthright citizenship.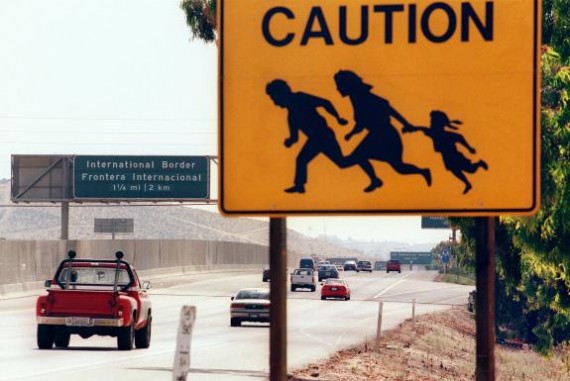 Donald Trump's immigration plan, and specifically his endorsement of the idea of repealing birthright citizenship, seems to be gaining some favor among his fellow candidates. Yesterday, Scott Walker was presented with the question of whether or not he agreed with Trump's proposal, and while he tried to weasel out of his comments later in the day, said that the children of illegal immigrants should "absolutely" not be automatically granted American citizenship. South Carolina Senator Lindsey Graham, who had previously endorsed the idea notwithstanding his reputation as an advocate for immigration reform, said that birthright citizenship was a "bad practice" that should be ended. Perhaps the most ironic response, though, came from Louisiana Governor Bobby Jindal, who said in a Tweet that "we need to end birthright citizenship for illegal immigrants." Jindal, of course, is the child to two immigrants to the United States from India, and while his parents came here legally he became a citizen the day he was born in Baton Rouge, Louisiana because of the same provision of the 14th Amendment that he now wishes to repeal.
As Philip Bump notes in The Washington Post, though, actually accomplishing what Trump, Walker, and Jindal are advocating here is next to impossible:
As Wonkblog's Max Ehrenfreund noted Monday, there are probably only two ways that the practice could be overturned.

The first would be to somehow persuade the Supreme Court to overturn the 1898 ruling, United States v. Wong Kim Ark, which established how the 14th Amendment would be enforced. The first clause in the amendment states that "All persons born or naturalized in the United States, and subject to the jurisdiction thereof, are citizens of the United States and of the state wherein they reside."

Ratified in 1868, the clause was meant to ensure that freed slaves were considered American citizens. Wong was born in San Francisco to Chinese parents, which the court ruled was sufficient to make him a citizen.

But the Supreme Court is hard to steer, as many presidents have learned. That has left one alternative recourse for Trump or any other person hoping to end birthright citizenship: amending the Constitution again.

Amending the Constitution is notoriously hard, which is why it has happened only 27 times in American history — 10 of which were passed en masse when our country was founded. It requires either 1) two-thirds approval in the House and Senate, followed by ratification of three-quarters of the states, or 2) the development of amendments at a constitutional convention called by two-thirds of the states and then ratified by three-quarters. Only the former method has been used.

To pass such an amendment, President Trump would need to convince 13 Democratic senators and 44 Democratic representatives to join his cause, to get the two-thirds approval needed on both sides of Capitol Hill. That's more than a quarter of Democratic senators, for what it's worth, and a fifth of House Democrats. (It's a little easier if he convinces the independent senators, shown in yellow. One of them, however, is Bernie Sanders, who seems unlikely to join Team Trump.)

Even if Trump managed to persuade those 57 people to join with him — or however many it is after the 2016 election, which will probably move the Senate back toward the Democrats — he still has the much larger hurdle of getting the amendment ratified.

The Constitution provides for ratification by either state legislatures or "ratifying conventions" in the states. If states go the legislature route and the vote is partisan, Trump would need five non-GOP-controlled states to fall in line, even with the Republican dominance in state legislatures. (Meaning state houses and assemblies, not state senates.)

Trump would need to twist arms in slightly Democratic legislatures (of which there are four) and get technically nonpartisan Nebraska on board to hit the required 38-state total. That's assuming he held nominally Republican-controlled states such as Colorado and Minnesota, which is not a fair assumption.
Graham, Walker, and Jindal, and yes even Trump, are intelligent enough to know that the odds that birthright citizenship in general, or even just in the limited case of ending birthright citizenship for the children of illegal immigrants, are exceedingly low. Getting a Constitutional Amendment passed in this situation would be so difficult as to be effectively impossible, especially given the fact that Bump's analysis assumes that every Republican member of the House and Senate, and every Republican state legislator in the country, would vote to approve the Amendment. We've already seen that this isn't the case, since even the candidates who support Trump's aren't exactly eager to make that support public. Additionally, the fact that we haven't seen a Constitutional Amendment originate in the House and be ratified by the states since the 26th Amendment was ratified in 1971 and that our politics are far more polarized than they were back then, especially on the issue of immigration, means that its highly unlikely that anyone would be able to get the kind of mass political agreement needed for a Constitutional Amendment. As for the legal strategy, the Supreme Court has not dealt with this issue in nearly 120 years but it seems highly unlikely that they would be willing to overturn such a long -standing precedent, especially since so many millions of people have relied upon that interpretation of the law in the century has passed.  In the end, then, when you hear Trump and others talking about repealing birthright citizenship, it's important to remember that they're talking about something that in all likelihood is never going to happen.
None of this is to suggest, of course, that the fact that this idea is being advocated by the frontrunner for the Republican Presidential nomination, and that it has been endorsed by at least three of his fellow candidates so far, isn't important. Regardless of whether or not the idea is implemented, it reveals quite starkly the state of affairs inside the Republican Party when it comes to immigration. This isn't to say that everyone supports Trump's plan, of course, because there have already been several leaders on the right who have spoken out against it, and particularly against his crusade against birthright citizenship. Just today, for example, Jeb Bush and Marco Rubio both came out against Trump's proposal, and conservative pundit Ben Domenech penned a strong piece at The Federalist in favor of birthright citizenship for all regardless of the immigration status of the parents of the child. Additionally, as I've noted before when you poll these immigration issues it's quite apparent that Republican voters as a whole are quite open to the idea of what the anti-immigrant activists call "amnesty"  for illegal immigrants. At the same time, though, the Trump phenomenon and the fact that candidates such as Scott Walker have flip-flopped on their past support for immigration reform and even appeared to come out against legal immigration, demonstrates that the anti-immigration crowd holds considerable sway in the party. The problem that creates for Republicans, of course, is the same it created back in 2012 when this issue came to the forefront during the race for nomination and even Mitt Romney was led to endorse ideas as silly as "self-deportation" while Rick Perry was vilified for arguing against breaking families up and denying in-state tuition to children who had spent the vast majority of their lives in Texas. As a result, the party was painted with an image of being hostile to Latinos and other immigrants. If that happens again during this election cycle, which seems likely if Trump and those who agree with him are allowed to dominate the conversation, then the GOP is likely to face the same consequences it did in 2012.