WaPo Fact Checker Gets Three Pinocchios
A bizarre hatchet job on Carly Fiorina's autobiography.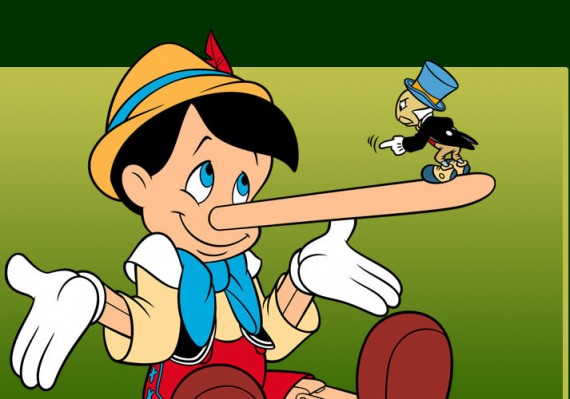 WaPo's Fact Checker has a very long report titled, "Carly Fiorina's bogus 'secretary to CEO' career trajectory."
While I've somehow never noticed Fiorina's claim that, "I started as a secretary, typing and filing for a nine-person real estate firm. It's only in this country that you can go from being a secretary to chief executive of the largest tech company in the world, and run for president of the United States," she's made variants of it a cornerstone of her public personae from her autobiography to her stump speeches. It being "bogus" would be troubling.
Michelle Ye Hee Lee documents, in extensive detail, that Fiorina did indeed serve as a secretary, not only for the real estate firm but for Hewlett-Packard and other firms.
She worked as a receptionist at a hair salon to pay for college room and board. During summers off from Stanford, she says she worked secretarial jobs through the temp agency Kelly Services (then Kelly Girls). One of her temp jobs was typing bills of lading in the shipping department of Hewlett-Packard. (Kelly Services declined to confirm her employment or provide any details, citing employment regulations.)

After Stanford, Fiorina went off to law school at University of California-Los Angeles to please her father, who had expected that she would follow in his footsteps. But she hated it, and dropped out after one semester. When she broke the news to her father, he responded: "I'm very disappointed. I'm not sure you'll ever amount to anything," she wrote.

She began looking for jobs in want ads, and was hired as a receptionist at Marcus & Millichap, a commercial property brokerage firm with nine or ten employees at the time. She became known as "the Stanford student," and the brokers at the firm were impressed with her.

Fiorina wrote of a broker named Ed Dowd, who began giving her more responsibilities beyond secretarial work, such as writing proposals and participating in strategy sessions about upcoming negotiations. Dowd, who still lives in Santa Clara County, confirmed this account to The Fact Checker. George Marcus and Bill Millichap said in a statement that they encouraged her "to pursue a career as an investment real estate agent with our company. She ultimately went back to school and her career took a different path. Our experience with her was very positive."
So, then, why is her claim "bogus" and worthy of "Three Pinocchios"?
[T]he description glosses over important details. Her father was dean of Duke Law School when she was at Stanford, meaning Duke would have paid for most of her college tuition. She graduated from Stanford, and her elite degree played a role in the stories of her at Marcus & Millichap (she was the "Stanford student") and her convincing the business school dean to accept her into the MBA program ("So, can a liberal arts student from Stanford compete with the analytical jocks you have around here?").

She worked briefly as a secretary in between law school and business school, but she always intended to attend graduate school for her career. She moved up through AT&T with her MBA, and was placed on a fast track to senior management after her company sponsored her to attend one of the most elite mid-career fellowships in the world. Her role as senior executive at Lucent caught the attention of HP recruiters, to become the company's chief executive.

Fiorina uses a familiar, "mailroom to boardroom" trope of upward mobility that the public is familiar with, yet her story is nothing like that. In telling her only-in-America story, she conveniently glosses over the only-for-Fiorina opportunities and options beyond what the proverbial mailroom worker has. As such, she earns Three Pinocchios.
But the claim being tested has nothing to do with how she paid for school, let alone that she didn't graduate from elite schools. Indeed, her autobiography—as detailed by this very report—goes into exhaustive detail of what she studied, how she got into an elite business school, and how those experiences impacted her.
The closest we get to an actual prevarication is this:
When Fiorina uses this phrase, she often pairs it with saying she came from a "modest and middle class family," or "challenging the status quo," which frames her story as an unlikely upstart. She also pitches it as an uniquely American experience.
Her father having been a law school professor and later dean at elite universities would indeed put her into the "middle class" by most standards, although certainly not what most would consider "modest." Presumably, though, "challenging the status quo" refers to her unprecedented success as a woman in a male-dominated field. As the first woman to lead a Fortune 20 company, I think she's entitled to the claim.
I'm not a big Fiorina fan and haven't paid enough attention to her candidacy to have a strong sense of how she's played this up in her speeches. But given that the details WaPo uses to impeach her claims come directly from Fiorina's autobiography, it's journalistic malpractice to portray the shtick as "bogus," let alone three quarters up the lie meter.
She was a smart, hard-working girl whose dad had connections and the means to send her to the best schools she could get into—which was to say, the best schools. Clearly, though, she actually worked low level jobs along the way in order to get experience, earn money for incidental expenses, or whatever. That's more than most children of the well-off do.  And one would imagine that doing so provided her with some insights into what it's like at the bottom of the ladder, even if she knew she wouldn't be there for long.