What Is Iran Up To, If They're Up To Anything?
What's the logic behind Iran's alleged plot to commit terrorist attacks inside the United States?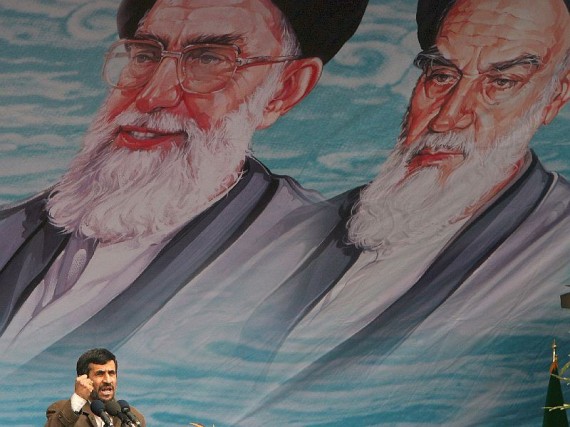 The near universal reaction among analysts who study Iran for a living to the news that broke yesterday of an apparent terrorist plot inside the United States seems to be a combination of deep concern and utter confusion. As more than one of the analysts I've watched speak about this over the past 24 hours has said, there's nothing more dangerous than the idea that an element of the Iranian government was plotting what could only be described as an act of war against the U.S., and there's nothing more puzzling then trying to figure out the answer to the question why would they take such a risky, dangerous step?
As Max Fisher noted at The Atlantic yesterday, this plot, if true, would be inconsistent with the way the Islamic Republic has acted in the recent past:
The Iranian leadership, for all their twisted human rights abuses and policies that often serve the regime at the cost of actual Iranians, are not idiots. Though they use terrorism as a foreign policy tool, the attacks in Iraq and Lebanon and elsewhere have clearly been driven by just that — a cool-headed pragmatic desire to further Iranian foreign policy interests. Unifying the U.S. and Saudi Arabia at a time when they are drifting apart with a plot that would galvanize American publics and policymakers to support Saudi Arabia, and all without actually doing much strategic damage to either country, would be monumentally stupid. They've made serious, ideology-driven mistakes before — as government often do — but this plot comes so far out of left field that it should raise more questions than accusations.

If they would go through all the trouble to organize a bombing attack on U.S. soil — no easy thing to do — why target someone so low-level? For that matter, why launch an attack on U.S. soil at all, something Iran has never done in the tumultuous decade since September 11? Why now, as opposed to, for example, during the height of the Iraq war? Why incur the wrath of the U.S. now, so soon after releasing the U.S. hikers detained in Tehran? (Their release was a modest and long overdue concession, but one that suggests the path of Iranian diplomacy.)

And why get involved with Mexican drug cartels? Is that really someplace where Iran has good contacts these days? As Ken Gude of the Center for American Progress asked, "Wiring money into US? Talking about plot on phone? Does that sound like an intel service to you?"

All that said, it really is possible that this is exactly what Holder says it is. Stranger things have happened, and Iran may have simply made an enormous, if out-of-character and obviously self-hurting, blunder. It's also possible that the two Iranian men really were planning to bomb the ambassador, but are either rogue members of the Revolutionary Guards or not really members at all. Clearly, there is much more information in this story that has not yet been made public. Maybe that information, if it ever comes out, will back up the official U.S. version — which the White House already says it will use to escalate sanctions — and maybe it will tell a different story. But the plot as we now know it doesn't seem like something that Iran's leaders would think was a good idea.
That last point is an important one to keep in mind. So far, the only evidence we have to support the idea that the Iranian government, or some element of the Iranian Revolutionary Guards, are the allegations in the Criminal Complaint and the statements made by various U.S. officials. Just based on this alone, there are some elements who seem to be ready to start beating the drums of war, or at least calling for retaliation in the form of enhanced sanctions or some kind of military action. It may turn out that this is exactly what is necessary. In fact, despite being generally reluctant to back foreign intervention, I'd have to say that if we have clear and definitive proof that Iran or one of the elements inside it was plotting to commit a terrorist attack inside the United States, we're under an obligation to retaliate in some form. But, it's worth noting that the publicly available information doesn't put us there yet, and if we're going to go down that road we need to make sure our public officials justify their actions.
As for Fisher's basic point, he does make a good point. It's hard to see what rational basis there would be for Iran to escalate tensions with the United States to this level, and to potentially unite the U.S., Saudi Arabia, and Israel against them. Unlike many on the right, I don't subscribe to the theory that the Islamic Republic is inherently irrational and willing to act in a manner that would be suicidal. They may have goals that are what some of us would call insane, but it's still possible for them to pursue those goals in a rational manner. Furthermore, engaging in a strategy that puts the survival of your nation at stake would seem to be inconsistent with previous Iranian policy.
Steve Clemons offers a quick theory as to why Iran might do something like this, though:
Iran sees the US stuck in a quagmire in Afghanistan and still to some degree, tied down by Iraq — whose temperature is more controlled by Tehran than Washington.  The US financial crisis, a frustrated American population that wants to deal with issues at home rather than abroad, and diminishing returns to the US from playing global cop have factored in to Iran's probably incorrect assessment that the US is weak and could be hit hard now.

Bottom line is that Iran is feeling its oats and could see some value in striking right into the heart of the US-Saudi relationship on US soil as a sign of its strength.  From their viewpoint, the Iranians may feel that Saudis may be more angry at the US for having failed to prevent the assassination rather than becoming best friends again.  The US options for responding to Iran would be as constrained after the assassination as before.

An assassination of an official like Adel Al-Jubeir who was both Ambassador and close confident of King Abdullah would be calculated so as not to kill a royal — but rather someone who mattered more than any other to the King's strategic gamble at the moment.

A combination of perceived American weakness combined with wanting to knock the Saudis off balance might have been enough to justify this strike, which I agree is highly unusual.  The Iranians do not believe that they have a track forward with the US.  They believe that China and Russia will not automatically line up with the US and Saudis even if they were able to align their actions after the assassination might have taken place.

This plot, if true and not just a badly executed plan by rogues or a fabrication by others, could have a logic in what it did to destabilize an anchor relationship at a key economic inflection point for the US and the world.
If that's what the Iranians are thinking, it strikes me as a massive miscalculation along the same lines of the one that Osama bin Laden and the Taliban made ten years ago. It's fairly clear that bin Laden did not believe that the United States would retalitate as massively as it did for the September 11th attacks, based in part on the piecemeal retaliations of the past. Why the Iranians would think that we would act differently in this case, especially given the long and bitter history between us, is somewhat baffling.
Finally, James Kittfield offers another theory, and it's one that may make the most sense of all:
One possible explanation is an increasingly tense power struggle inside Tehran between Supreme Leader Ayatollah Ali Khamenei and President Mahmoud Ahmadinejad. Given that he is losing that battle, a desperate Ahmadinejad could conceivably believe that provoking an attack by the United States could allow him to consolidate power as the defender of Iran against "the Great Satan." But even given Ahmadinejad's history as a firebrand and ideologue, the plot to launch multiple bombings in Washington at this time seems uncharacteristically reckless.
There have been plenty of stories about tension between Ahamdinejad and Khameni in the past (which has always made me raise an eyebrow at the "Ahmadinejad is the next Hitler" arguments), so this wouldn't be entirely surprising. And if it were rouge elements of the Revolutionary Guard assisting him, then it might explain why this plot reads like something that the scriptwriters for 24 would have rejected as too implausible.
There is another theory, of course. It's entirely possible that this wasn't an Iranian government operation at all, or at least not an officially sanctioned one. Given the Austin Powers -esque nature of the plot here, that would almost seem to be the most plausible theory even. Furthermore, the fact that so much of the "operation" was conducted under the auspices of an FBI sting operation leads one to wonder if these were actual foreign agents were talking about, or just a couple guys who thought they were hatching a plot. A crime is committed in either case, of course, but it's only in the first case that this goes from being a crime to an international incident.
Where this will lead can't be known at this point, but the allegations are certainly serious enough to raise concerns. If they're true, then we may be headed down a road of confrontation. If that's the case, then one hopes the American people won't let themselves get fooled a second time around.