What Lies Past October 17th? A Big Unknown, And That's The Problem
If Congress isn't able to reach a deal, the big problem going forward would be uncertainty.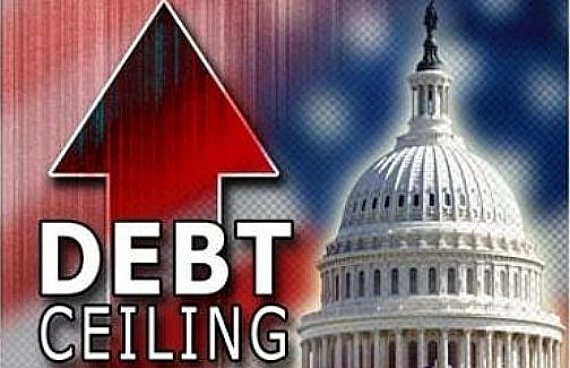 Tomorrow, October 17th, is the date that the media is focusing on in connection with the debt ceiling largely because that is the date that the Treasury Department has stated the United States will officially run out of the authority to borrow money and will have to rely solely on cash-on-hand and cash receipts to finance the bills that will coming due in the ensuing weeks, including everything from financing the National Debt to paying Social Security benefits, salaries, and government contractors. In reality, though, the real question is when the Treasury Department actually might run out of cash, because that won't necessarily happen on Thursday. One calculation from the BiPartisan Policy Center puts the date somewhere between October 22nd and November 1st:
Updated data on Treasury cash flows through the first week of October show that the range for the Bipartisan Policy Center's (BPC) X Date – the date on which the United States will be unable to meet all of its financial obligations in full and on time – has narrowed to between October 22 and November 1. The updated range is consistent with BPC's earlier estimate.

No one can predict with absolute certainty the date and time when Treasury will have exhausted all its extraordinary measures and run out of cash on hand. Therefore, policymakers should not assume that they have until October 22 to make decisions concerning the federal debt ceiling. In all likelihood, markets will begin to demand higher interest rates to bid on and hold United States debt. In fact, this behavior is already apparent in short-term Treasury debt interest rates. The U.S. Treasury will roll over at least $302 billion in outstanding federal debt between October 15 and October 31; $120 billion of debt is scheduled to mature on October 17.
Here's one chart showing the expected cash flow situation over the remainder of October: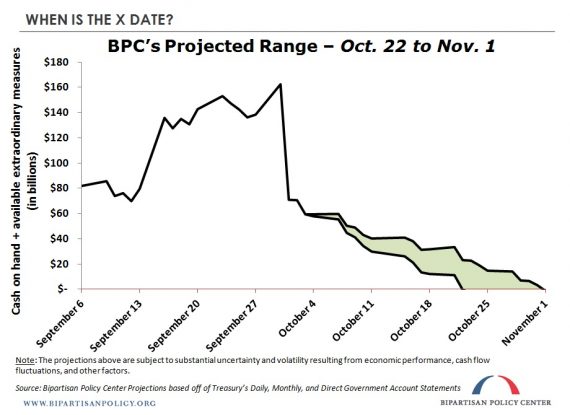 And, as this table shows, there are a whole host of obligations coming up during that time period: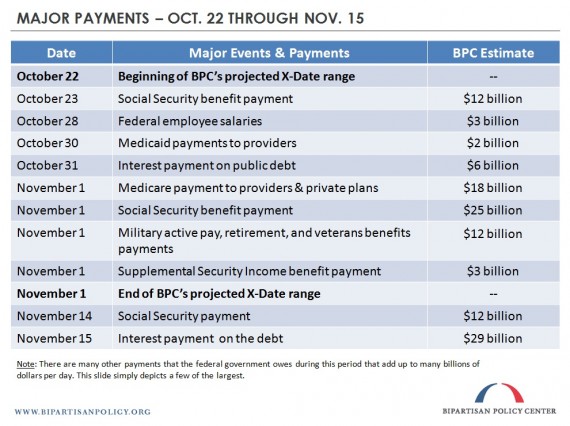 Now, obviously, there will be cash coming into the government during this time period, although we can't be sure how much, so it's not at all clear at one point we might reach the point where there is literally no money in Uncle Sam's bank accounts and, as the report notes, that uncertainty actually makes the situation more dangerous.
Moreover, as I've explained before, even if we manage to keep being able to service the debt, there's still going to be a serious problem:
Interest obligations on the national debt and paying off redeemed bonds is only one of the many payments that the Treasury Department is required to make on a regular basis. In addition to those payments, there's everything from salaries for Federal Employees, Social Security payments to beneficiaries, Medicare payments to providers, obligations owed to contractors who have provided services and supplies to the Federal Government, and any number of other obligations that the Federal Government owes that come up on a regular basis. As a simple matter of mathematics, it is quite often the case that the money that the Federal Government owes under all of these obligations is more than the amount of revenue (from tax payments and other sources) that comes into Federal coffers. Under ordinary procedures this isn't a problem because the Treasury Department regularly floats new bonds to cover ongoing obligations.

If the debt ceiling is not raised, the Treasury Department's authority to issue new debt to cover these already-incurred obligations would would be in serious legal doubt to say the least. Some have argued that the provision of the 14th Amendment which states that the public debt of the United States "shall not be questioned," authorizes the President to order Treasury to issue new debt. However, as I noted in two posts that examined the issue (see here and here), that issue is by no means settled and it would appear that the most this provision would authorize Treasury to do is to issue sufficient new debt to ensure that it can meet its obligations to pay existing debt, not that it could issue new debt to cover obligations that don't fall under the category of "public debt." Furthermore, even if that interpretation of the law is correct, it would still have the potential to create vast legal uncertainty about the validity of any debt obligations issued after the debt ceiling is breached. For financial markets, uncertainty like that would be nearly as bad as an actual default.

So, that leaves us with the probability that tens of thousands of Federal obligations that don't fall under the "sovereign debt" category would go unpaid if the nation went along for an extended period of time without raising the debt ceiling. That means, potentially, Social Security and pension recipients not being paid, Federal employees not being paid or being paid late, and Federal contractors and suppliers not being paid. For better or worse, the Treasury Department will be forced to make choices about who gets paid and who doesn't, and those who don't get paid are going to suffer real economic harm even if it just means that there is a delay in receipt of payment. The economic implications of this should be blindingly obvious.
You would think that a political party that claims to pride itself on its economic prowess would understand these things.