What's Wrong with this Picture?
We spend more per capita than any other country in the world and yet we are outperformed on a key metric, life expectancy, by a large number of countries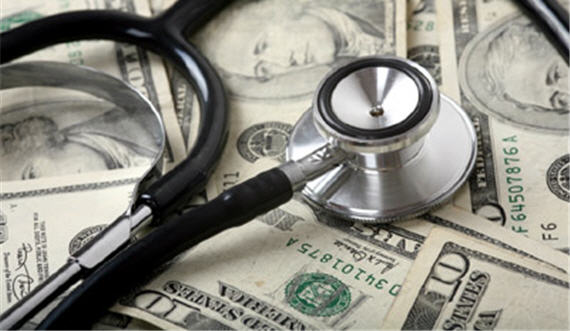 From HuffPo (and, The Atlantic, for that matter):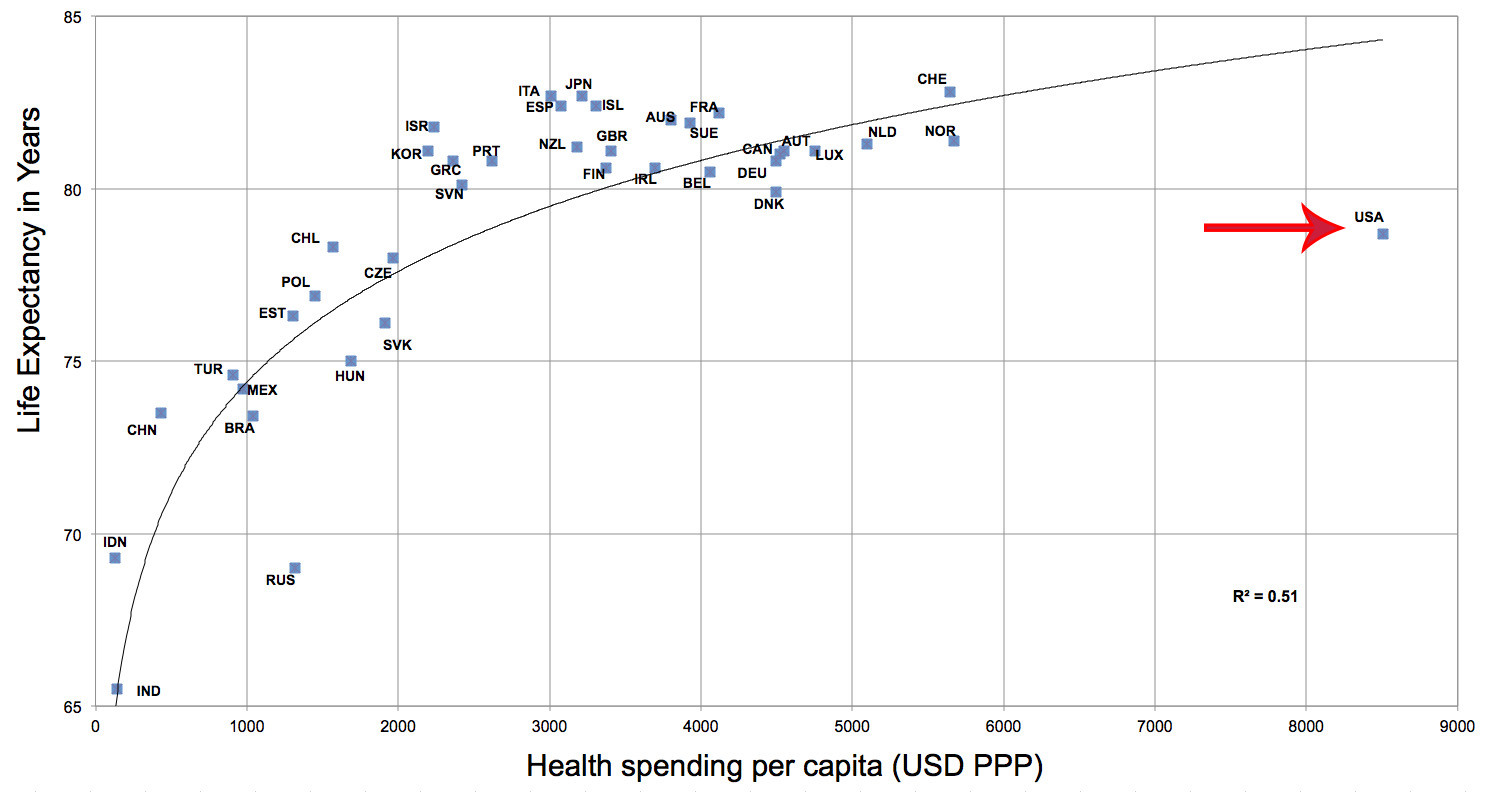 This graphs US per capita health spending per capita to life expectancy.  The bottom line is this:  we spend more per capita than any other country in the world and yet we are outperformed on a key metric, life expectancy, by a large number of countries.  Indeed, as my co-authors and I note in our upcoming book, the US compares poorly with other democracies on a number of health indicators:
Not only is the US below the median in life expectancy and above the median in infant mortality rate and maternal mortality, it clusters with states that were classifiable as developing within the last two decades (or in some cases that still do): Brazil, Colombia, and Mexico are all in the second tier of the Human Development Index (i.e., "High Human Development") and India and South Africa are in the third tier ("Medium Human Development").
Note that our comparison is based on a smaller set of cases than is true of the graph above.*  Indeed, the only health metric that we found that the US excelled at (so to speak) in our comparison set was obesity (we're #1!).
Aaron Carroll (Professor of Pediatrics and Assistant Dean for Research Mentoring at Indiana University School of Medicine) has an interesting post concerning the graph above that is worth a read, which includes the following:
What bothers me most is not that we're all the way on the right, or even that we are lower than we should be. It's that we are all alone. We are spending so, so, so much more than everyone else. It's not an even spread. I don't want to get into arguments about the fit of the line, or about the fact that there's a cutoff. It's that those countries – representing lots more people than the US, by the way – are all in a reasonable relationship of more spending correlated with more life, to a point. Then there's us. The difference is so large, it must be defended. It must be justified. What are we spending the money on, if not extending life?
Fair observations, I would say.  The US' position on the chart should, at least, raise questions.  Carroll also has a post on the life expectancy metric itself (linked in the post linked above) that is worth reading as well.
Another metric worth a look, as linked from the HuffPo piece:  Bloomberg's health efficiency index.  The US sits in a cluster with Turkey, Iran, Serbia, and Brazil.  Countries that do better than the US include  Mexico, China, and Colombia.
That there is something profoundly wrong with our system should be obvious.  And, I would note, that the PPACA only deepens the flaws that lead to high per capita spending.  Really, this is an area of policy where a more comparative understanding is needed.  If huge chunks of the world are out-performing us, then perhaps we should look outward for solutions, yes?
And yes, I am aware that life expectancy alone is not the sina qua non of health stats (and some objections are addressed in the second Carroll post linked above–not to mention that we do poorly in other areas, comparatively speaking, as well).  Still, the truly exceptional location of the US on the graph above should be enough to make one pause for thought.
*The countries in our study are as follows: Argentina, Australia, Austria, Belgium, Brazil, Canada, Chile, Colombia, Czech Republic, Denmark, Finland, France, Germany, Greece, Hungary, India, Israel, Italy, Japan, Korea, Mexico, Netherlands, New Zealand, Poland, Portugal, South Africa, Spain, Sweden, Switzerland, the United Kingdom, and the United States.