Where Huntsman Went Wrong
Huntsman's tactics reinforced his fellow Republicans' natural skepticism of his candidacy.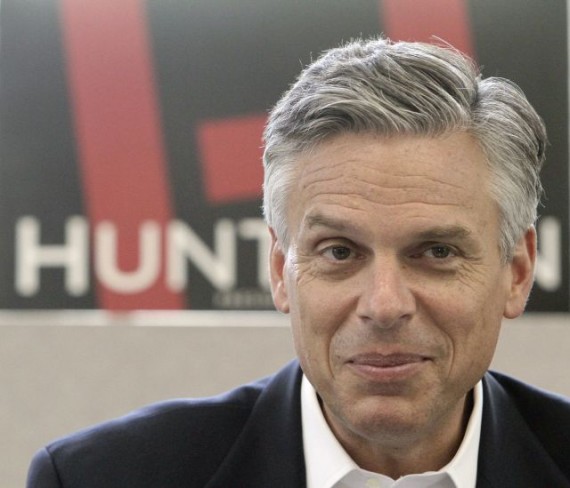 While I generally agree with Doug below that Jon Huntsman's departure from the presidential contest removes one of the more capable and qualified candidates to potentially replace Barack Obama, nonetheless I do have to object to the idea that Huntsman's choice to serve in a Democratic administration ought to be uncritically accepted by his fellow Republicans.
Doug and others have noted myriad examples of Republicans and Democrats alike who have served in the administrations of the other major party; however, what most have failed to note is that in virtually all of these cases, the person in question did so at the conclusion of their partisan political careers. Huntsman's choice to return to partisan politics after serving as part of an administration, on the other hand, is relatively unprecedented—and to run against the president who appointed him is almost unheard of. The one prominent Republican who attempted such a feat, Wendell Wilkie, suffered a rather ignominious fate in the 1944 Republican primaries that reminds one of Huntsman's current national polling numbers quite eerily.
One might reasonably argue that Huntsman was only serving his country, rather than the administration of the day, but the charge of an ambassador (like that of a cabinet secretary, but in contrast to the role of a military officer or enlistee) is primarily to represent the administration's political positions, to the extent that any departure from the administration's stated policies is grounds for immediate dismissal.
In this regard, Huntsman's duty as ambassador was first and foremost to advance the foreign policy agenda of the Obama administration, even in circumstances where fellow Republicans (or even he) might reasonably argue the administration's position was incorrect. This is most notable in the stance to take in enlisting the aid of China in containing the nuclear ambitions of its client state North Korea and other countries where it has substantial influence and ties such as Pakistan. More broadly, an ambassador represents the government of the day on all issues, large and small; thus, to serve as an ambassador, one has three choices: agree with all of those positions; disagree with some but not air those disagreements; or decide that the depth of their disagreement is so profound that they cannot faithfully serve in the position.
Given the length of Huntsman's service, and given that he has not taken the position that he resigned because he could not faithfully represent the president's policies to China, his fellow Republicans might reasonably be skeptical of his partisan and conservative bona fides. That skepticism was unlikely to be dampened by Huntsman's statements on global warming and evolution. Regardless of their veracity, many in the Republican base might reasonably have viewed these statements as needlessly antagonistic or an effort to shore up support from the establishment media as the "reasonable alternative" to the other candidates. That Huntsman gained the endorsements of liberal-leaning editorial boards, at least in part on the basis of those statements, lends some credence to the idea that he was more interested in appeasing the "liberal media" than his fellow Republicans.
All of this is not to say that it is right that Republicans rejected Huntsman's candidacy. If the American political culture historically had more of a tradition of cross-partisan coalitions in the cabinet and ambassadorial corps, perhaps some of the initial skepticism of Huntsman's bona fides would have been dulled, but the reality is that most of these cross-partisan appointments (with the notable recent exception of Obama's retention of former secretary of defense Robert Gates from the Bush 43 administration) have been to rather dull, generally apolitical positions that primarily exist to ladle out pork, most notably the Department of Transportation.
However, Huntsman also made tactical mistakes that reinforced the critique, particularly by seemingly going out of his way to criticize the views of his party's base. For example, he might have argued that regardless of whether global warming is human-caused, or even if it isn't, that the U.S. needs to cooperate with other countries lest they use global warming as an excuse to erect non-tariff barriers against American companies like the recent imposition of Europe's emissions trading scheme (a cap-and-trade system that has been beset with serious technical and political problems since its creation) on U.S. air carriers.
Similarly, while the scientific evidence for evolution is irrefutable (and the competing "theories" of young Earth creationism and intelligent design are non-falsifiable, and thus inherently unscientific), nonetheless it is difficult to identify what part of the president's job requires him to make pronouncements on the veracity of it or what policy consequences there would be of such statements at the federal level (given that school curricula are properly the responsibility of the states). He also failed to secure sufficient financial and political backing for a successful campaign, instead jumping in late like the similarly ill-fated Rick Perry; had he not taken the ambassadorial appointment, in addition to no longer being handicapped by association with the incumbent president, he would have been freer to secure the backing he needed to be a serious contender.
Like Doug, in my case Huntsman was never my first choice, at least while Gary Johnson remained in the contest (and, given that both of us now reside in Virginia, our upcoming choice is rather circumscribed anyway). That said Huntsman seemed to be an honorable man, and the Republican field is worse off for his impending departure from it, but frankly his campaign and the candidate should take their shares of the blame for the campaign's inability to gain any traction with Republican primary voters and caucus-goers.