Where Is The Midwest?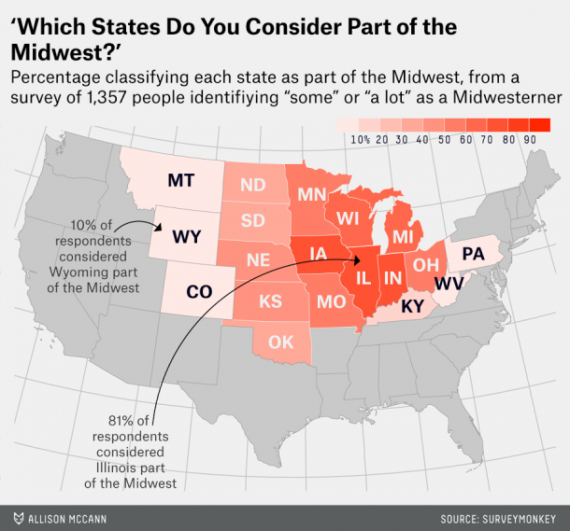 The American Midwest is referred to numerous times a day in political conversations, weather reports, and other such places. However, as FiveThirtyEight found, there isn't necessarily a lot of agreement on what states make up "the Midwest":
To get this broad-based view, we asked SurveyMonkey Audience to ask self-identified Midwesterners which states make the cut. We ran a national survey that targeted the Midwest from March 12 to March 17, with 2,778 respondents. Of those, 1,357 respondents  identified "a lot" or "some" as a Midwesterner. We then asked this group to identify the states they consider part of the Midwest.

There are a lot of things here worth looking into. First, many people aren't too sure about where the core of the Midwest is. Everybody selected at least one state for the question. But even Illinois — home of the preeminent Midwestern city, Chicago — was identified as Midwestern by just about 80 percent of respondents.

Contrast this with our soon-to-be-released Southern survey, in which people were somewhat adamant about which states make the group.

One potential, albeit anecdotal, source of this? Several self-proclaimed Midwestern sources I spoke with have a very limited definition of the Midwest: namely, their state and any state bordering it. Minnesotans thought they made up the true Midwest; Hoosiers thought they did. I can't say either way.

Second, the potential Midwest spans further south than I thought. If half of our respondents thought Missouri and a quarter thought Oklahoma were in the Midwest, I probably should have asked about Arkansas, if only to pinpoint how far south people think the region expands. This Yankee regrets the error.

Indiana, Iowa and Illinois appear to be the core of the Midwest, each pulling more than 70 percent of the vote (that may partly be because of their substantial populations). Michigan, Wisconsin and Minnesota each pulled at least 60 percent of the vote, so we can probably put them in the Midwest without too much fuss. Ohio, Missouri and Kansas each got more than half.

As for the rest of the states, it seems unclear whether they're in the true Midwest.
Personally, when I think of the "Midwest," I'm thinking of Minnesota, Wisconsin, Illinois, Indiana, Ohio, Iowa, and Michigan. Missouri, I guess, would also qualify as "midewestern," but the rest of the states here seem to me to clearly belong in other geographic groupings. Pennsylvania has traditionally been thought of as a Mid-Atlantic state, although its western border does bump up against Ohio. Kentucky and West Virginia have always been traditionally part of the south as far as I knew. The Dakotas, Nebraska, Kansas and Oklahoma? That's the Plains States. And Montana, Wyoming and Colorado? Why anyone would think that's part of the same "Midwest" as Ohio and Michigan is entirely behind me.