White House Corporate Tax Plan Leaves Much To Be Desired
The Obama Administration introduced a corporate tax reform plan that doesn't go nearly far enough.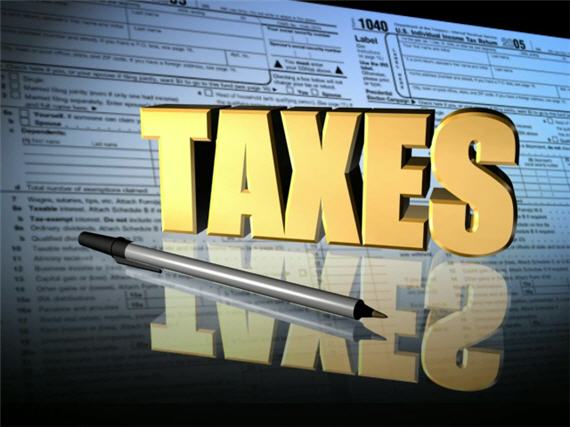 Earlier today the Treasury Department unveiled a plan to reform corporate taxes that's not likely to go anywhere, at least not this year:
WASHINGTON — President Obama asked Congress on Wednesday to scrub the corporate tax code of dozens of loopholes and subsidies to reduce the top rate to 28 percent, from 35 percent, while giving preferences to manufacturers that would set their maximum effective rate at 25 percent.

Mr. Obama's proposal, being outlined by Treasury Secretary Timothy F. Geithner at a midday briefing, also would establish a minimum tax on multinational corporations' foreign earnings, to discourage "accounting games to shift profits abroad" or actual relocation of production overseas, a senior official said before the briefing.

With this framework for changes, Mr. Obama will enter an election-year debate with Republicans in Congress and in the presidential race who seek even lower taxes for businesses, as well as lower individual tax rates than Mr. Obama has embraced.

(…)

The administration plan to revamp a corporate code that is widely derided as inefficient and anticompetitive has been in the works at Treasury for two years, and is a priority of Mr. Geithner. Yet he has been preoccupied with crisis management, and is unlikely to see the project through since he plans to leave office after this year.

"The current tax code was written for a different economy in a different era," Mr. Geitner said, citing such changes as the Internet revolution, cellphones, the rise of China and other emerging markets and a global trend to lower corporate rates. "It needs to be reformed and modernized."

Republicans and business groups complain that the 35 percent corporate tax rate is among the highest in the world, leaving American companies at a competitive disadvantage. They typically seek a 25 percent rate, with many of them saying that the current tax breaks should be kept in place as well.

Earlier this year, Mr. Obama proposed to end tax breaks for companies that move jobs overseas and to create new breaks for those that bring jobs back.

Mr. Obama is proposing that the simplification of the corporate code should not add to the deficit, and that most or all revenue raised by closing tax breaks should be used to lower rates or offset the cost of new or existing tax breaks favoring manufacturing, clean energy, and research and development activities, according to administration officials.

For tax purposes, however, the administration would face a challenge in defining manufacturing to determine which companies would benefit from a lower rate.

While details were sketchy, an official said Mr. Obama's tax framework would "refocus the manufacturing deduction and use the savings to reduce the effective rate on manufacturing to no more than 25 percent, while encouraging greater research and development and the production of clean energy."

For multinational corporations, officials say the administration will oppose any shift to a territorial system of taxing offshore profits, which could exempt most of corporations' foreign earnings from American income taxes.
The Cato Institute's Dan Mitchell notes that there are some good elements in the President's plan, but that on the whole it amounts to little more than rearranging the deck chairs on the Titanic:
Let's look at President Obama's planfor corporate tax reform.

The good news is that he reduces the tax rate on companies from 35 percent to 28 percent (still more than 32 percent when state corporate taxes are added to the mix).
The bad news is that he exacerbates the tax burden on new investment and increases the second layer of taxation imposed on American companies competing for market share overseas.

In other words, to paraphrase the Bible, the President giveth and the President taketh away.

This doesn't mean the proposal would be a step in the wrong direction. There are some loopholes, properly understood, that are scaled back.

But when you add up all the pieces, it is largely a kiss-your-sister package. Some companies would come out ahead and others would lose.

Unfortunately, that's not enough to measurably improve incomes for American workers. In a competitive global economy, where even Europe's welfare states recognize reality and have lowered their corporate tax rates, on average, to 23 percent, the President's proposal at best is a tiny step in the right direction.
James Pethokoukis is far less charitable, calling the plan a total bust:
Real pro-growth corporate tax policy would eliminate tax breaks, dramatically lower tax rates, and only tax profits earned at home. The Obama plan would actually make the corporate tax code and the U.S. economy less competitive and less productive. But the proposal does neatly fit into the president's Occupy-inspired campaign theme that wealthy Americans and greedy corporations are to blame for the Great Recession and rising income inequality. Besides, how can Democrats ever raise taxes on the middle-class to pay for all their spending ideas without first socking it to the 1 percent and to business?
Instead of doing as Pethokoukis recommends, though, the Administration is putting forward a plan that replaces a corporate tax plan with one set of loopholes with a slightly lower corporate tax with a completely different set of loopholes. As The Washington Post notes in it's wrap up of the plan, "Obama will target oil and gas companies for tax hikes while promising special breaks for manufacturing companies." Now, this isn't to defend the tax breaks for oil and gas companies; as I've said several times before, I think those should be eliminated just as the Obama plan suggests. However, replacing tax loopholes for one set of favored industries with a different set of tax loopholes for different favored industries doesn't really constitute rational tax reform at all, it merely shifts the tax burden from one segment of industry to another.
More important, though, is the point that Mitchell makes. If the United States is going to boost its economy, we're going to have to find a way to attract more businesses to American shores. One way to do that is through the corporate tax code. If we've got a higher tax burden than Europe, and we will even if this plan were adopted, then what exactly have we accomplished here? Nothing of substance, it would seem. The better alternative would be to eliminate the corporate loopholes and lower the rate to the point where it's actually more competitive with the rest of the world. In the end, the result would be higher tax revenues as the new rates attract businesses from overseas eager to take advantage of the lower tax rates and the other advantages that doing business here in the U.S.  As Dan Mitchell put it, the President's plan is a step in the right direction but it's a very, very small one that wouldn't accomplish much of anything.
Of course, it's worth realizing that this tax plan isn't going anywhere. Not only is it unlikely that Republicans in Congress are going to be all that sympathetic to the ideas that Secretary Geithner put forward today, largely for the reasons that Pethokoukis notes in his detailed post, but the simply fact of the matter is that tax reform like this just isn't going to happen in an election year. Consider it, perhaps, an opening bid, or more likely a campaign plank. Just don't bet on this plan ever being taken up by either House of Congress any time between now and the election.