White House Press Corps Bristles As Obama Limits Access
It's been two months since the President has taken questions from the reporters who cover him.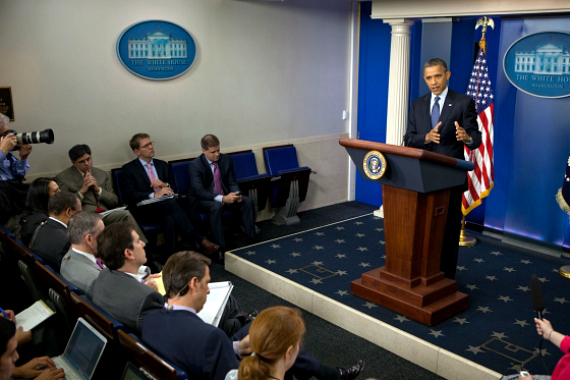 Journalists are starting to notice that the President is being very selective in the kind of media he's allowing himself to be exposed to, and especially the fact that he seems to be spending a lot of time talking to "soft" media while avoiding anything resembling a format White House Press Conference, the last of which was two months ago:
 Forget Chris Matthews — he'll take Nancy O'Dell.

President Barack Obama has been taking a lot of questions in the two months since his last press conference or national news interview. He's just been doing them with ESPN, Entertainment Tonight, People Magazine and FM radio stations around the country, mostly to talk local sports and regional cuisine.

This isn't a mistake. Even at the height of a campaign in which they've been firing hard at Mitt Romney and trying to keep hold of the news cycle, Obama's reelection staffers are pretty sure most voters aren't tuning in.

"People get their news in many different ways," Obama campaign spokeswoman Jen Psaki told POLITICO. "Sometimes it's turning on 'Entertainment Tonight' and seeing what the latest news is out there."

Psaki said the president will be doing a variety of media appearances in the coming weeks with both national and local outlets, but for now, "We're reaching an audience that may not be paying attention to the day-to-day political back and forth."

That also lets them avoid the back-and-forth with the national press corps for much lighter outlets. Friday, Obama was behind closed doors at the White House to cap off a week in which Mitt Romney announced his running mate and Obama's own vice president lit up controversy. But he was on the air: Obama called in to a New Mexico morning radio show to weigh in on "Call Me Maybe," his favorite work-out songs and his ideal super power (he chose speaking any foreign language, though "the whole flying thing is pretty good"). The exchange ended with one co-host Kiki Garcia giggling, "I just flirted with the President of the United States of America."

(….)

The decision to grant interviews to People and "Entertainment Tonight" after eight weeks without a news conference is proving to be a slight even the most high-profile, fair-minded White House reporters are not willing to suffer privately.

"I hate the fact that they have made me worry more about access than reporting. Why build a press briefing room if the president isn't going to brief the press?" NBC News chief White House correspondent Chuck Todd told POLITICO, who said the White House's disregard for the press has "reached a new low." "Both campaigns say the press doesn't cover them seriously. But the more they cordon us off, the harder it is for us to report on the issues."

ABC News chief White House correspondent Jake Tapper made his frustrations with the White House known in a terse blog post hammering home how much time has elapsed since the president's last presser.

"I know that defenders of the president will say the White House press corps is just being whiny. But the bottom line is presidents set precedents," Tapper told POLITICO. "So President Romney, or Ryan, or whomever the next Republican president will be, will be able to use President Obama as a benchmark. And today's defenders of today's president may not find tomorrow's president's avoidance of questions not about chili or fave songs as acceptable."
Some will say that the White House Press Corps is just being whiny, but I think Tapper and Todd both have a point here. Other than polishing his own image, nothing in the public interest is accomplished by the President answering questions about chili peppers, or some stupid pop song, or any other number of trivial nonsense that one gets from from the likes of Entertainment Tonight, Jay Leno, or some nameless morning radio host in New Mexico. One can understand perfectly why the White House and the campaign are doing this, of course, and it has nothing to do with reaching out to voters who frequent "non-traditional" news sources. As I wrote back in June, it's all about controlling access to the President and limiting the opportunity for reporters to ask potentially problematic questions:
This is problematic primarily because it's really not in the public interest for the White House to be able to control the press in this manner since allowing them to do that allows them to control the news cycle. If they don't want the President to answer questions about the ongoing conflict between Eric Holder and Congress over Fast & Furious, for example, they just need to make sure that there aren't many opportunities for the President to be confronted with questions. If there's a story in the news cycle that they don't want the President to answer, then they can just make a particular even a "no questions" event.  Even at the Daily Press Briefings, reporters other than those with the major television networks and news outlets struggle to get the opportunity to ask even a single question a month.
Indeed, as Jake Tapper noted in his blog post, the last time the President took a question from the press that wasn't one shouted out while he was walked away was back in June when he said the private sector was "doing fine," a comment for which he was instantly pillorried and which he retracted before the day was over. While there's little evidence that this comment hurt the President in the polls, it was a distraction for the campaign and one can understand why the campaign would want to limit the probability of similar events as the election draws near, especially in light of last week's gaffe-tastic performance by Vice-President Biden.
For a President who pledged transparency as a candidate, a pledge that he most emphatically lived up to in many respects having nothing to do with the press, it's rather ironic that Obama is now hiding from the press via the old candidate's trick of selective interviews and soft news appearances. What's surprising, though, is the extent to which the press itself is quite clearly getting frustrated by the phenomenon.  Today, for example, Obama campaign spokeswoman Stephanie Cutter actually attempted to defend the rather obvious manner in which the President is avoiding the press:
(CNN) - Interviews with People magazine and Entertainment Tonight are just as important as sit-downs with national news media, President Barack Obama's deputy campaign manager Stephanie Cutter said Sunday.

"Not more important, but equally important, and that is where a lot of Americans get their news," Cutter said on CNN's "State of the Union." Obama answered questions from both People and ET this week, and while the questioning included some softballs, both interviews probed Obama about Vice President Joe Biden's remarks in Virginia when he told a crowd that Mitt Romney's regulatory policies would "put y'all back in chains."

(…)

On Sunday, Cutter told CNN national political correspondent Jim Acosta that doing interviews with local outlets was as important as taking questions from national media.

"The president was talking to the reporters to the ground in Iowa. Do you think that is less important than talking to somebody like you? Everywhere that the president goes he is talking to reporters," Cutter said.
I'll cut Stephanie Cutter some slack for the comments about the availability to local press, but it strikes me that there's still some value in the national press, the reporters most familiar with what's going on in the White House and national politics, being able to question the President and the fact that he continues to avoid them suggests that he doesn't want to answer the questions they might asked. However, now that his not talking to the press has itself become a news story, I don't think the White House will be able to keep this up very long. Expect a press conference in the near future.