No Mr. President, The Private Sector Isn't Doing Fine
The President seems to think the private sector is doing fine. He couldn't possibly be more wrong.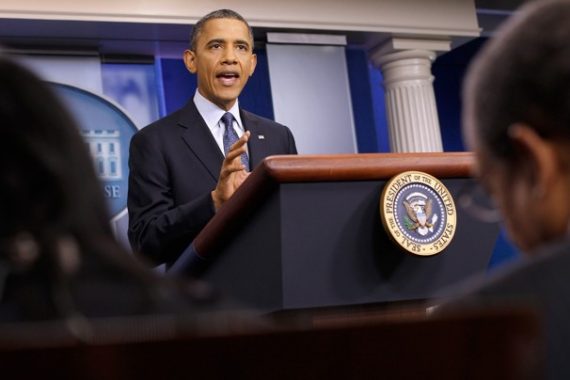 President Obama held an impromptu press conference this morning that was obviously meant to address the economic situation in the country, and the world. I can't say that he said anything new, or proposed any new ideas, other than bringing up the "jobs bills" that everyone knows aren't going to make their way through Congress any time soon once again. It was something else the President said, though, that is getting attention this afternoon:
President Obama told reporters that "the private sector is doing fine," as he attributed the high unemployment rate to a lack of government jobs.

"Overall, the private sector has been doing a good job creating jobs," Obama told reporters this morning. "The big challenge we have in our economy right now is state and local government hiring has been going in the wrong direction," he explained, citing for Congress to avert the layoffs of police, firefighters, and other public employees that have taken place at the state level.

Obama said that "the other sector that's still weak has been the construction industry," but noted that "those two areas we've directly addressed in our jobs program," citing his call for Congress to roll back the police and firefighter layoffs and the state level and to pass legislation that would increase infrastructure spending
As James Pethokoukis notes, the President seems to have a very odd definition of the word "fine":
1. Private-sector jobs have increased by an average of just 105,000 over the past three months and by just 89,000 a month during the entire Obama Recovery.

In 1983 and 1984, during the supply-side Reagan Boom, private sector jobs increased by an average of 292,000 a month. Adjusted for population, that number is more like 375,000 private-sector jobs a month

2. If the labor force participation rate for May had just stayed where it was in April, the unemployment rate would have risen to 8.4%. As it is, the U.S. economy is suffering is longest sustained bout of 8% unemployment or higher since the Great Depression.

3. Private-sector GDP rose just 2.6% in the first quarter, after rising a measly 1.2% last year.

By contrast, private-sector GDP rose 3.8% in 1983 and 6.5% in 1984 during the supply-side Reagan Boom.

4. The U.S. stock market is down 7% since early April.

5. Real take-home pay is down over the past year.

6. That first-quarter GDP report also showed that after-tax corporate profits dropped for the first time in three years. Major red flag.
I've cataloged some of the bad economic news that has come out over the past six weeks or so here at OTB. It started with a revision to the First Quarter GDP to a level below where anyone thought it would or should be in order to sustain the kind of recovery that will actually lead to strong job creation. We also learned that planned layoffs had increased by 53% in the month of May alone. Overseas, there is the ongoing Eurozone crisis along with the news that Europe's economy is contracting. China, seems to be showing signs of slowing down or at least signs that those  years of rapid economic growth may be coming to an end. We also learned that another And, just today, reports indicated that the Indian economy is also slowing down. At the start of the Second Quarter, we learned that April's Factory Orders took an unexpected drop, signalling more slowing down to come in May and June. Then, just a week ago, we got an incredibly weak May jobs report that showed only 69,000 net jobs (of which some 83,000 were from the private sector). And then there are those 23,000,000 Americans still looking for jobs, jobs that, by and large, only the private sector can provide.
Furthermore, even to accept the President's claim that he's "created" 4.3 million jobs, you have to suspend reality quite a bit:
In order to get to 4.3 million, Obama has to ignore his first full year in office. Only by comparing May 2012 to February 2010 do we get to 4.267 million private-sector jobs being created. However, that's not a net gain, certainly not counting from the launch of the $800 billion jobs stimulus plan, nor from the recovery.

Even if we assign the entirety of the recession to George Bush, as Obama argues, job growth in the private sector in this recovery amounts to only 86,300 jobs per month — not even enough to keep up with population growth, which requires roughly 125,000-150,000 new jobs per month to just tread water. Obama's spurious claim of 4.267 million jobs in 27 months as being net for his economic policies still amounts to just 158,000 per month, barely the status quo … at the bottom of the trough.
If this is Barack Obama's definition of "fine" then he has a really odd way of looking at the world. And it was a rather odd comment to make in a press conference where he was essentially argument that the economy wasn't doing fine and that it wouldn't start doing fine until the Republicans in Congress passed his jobs bill. That's called stepping on your own message and handing an easy attack line to the opposition.
Photo via The Washington Post