White House Pressured Solyndra To Delay Layoffs Until After Midterm Elections?
More revelations regarding the relationship between Solyndra and the Obama White House.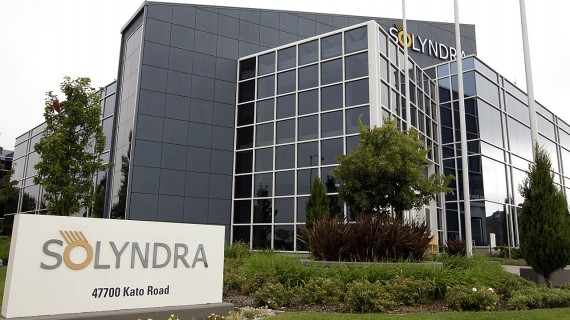 The latest revelations about the failed solar energy firm Solyndra, recipient of half a billion dollars in Federally guaranteed loans, provide yet more evidence of the extent of the incestuous nature of the relationship between the company, the Energy Department, and the Obama White House. We've already learned that the White House intervened to get the loan approved in the first place, and we've seen emails from White House officials pressuring Energy Dept. bureaucrats to act quickly so that they could schedule a political event around the announcement of the loan approval. Now, we're learning that officials in Washington pressured Solyndra one year ago to delay announcing planned layoffs until after the 2010 midterms:
The Obama administration, which gave the solar company Solyndra a half-billion-dollar loan to help create jobs, asked the company to delay announcing it would lay off workers until after the hotly contested November 2010 midterm elections that imperiled Democratic control of Congress, newly released e-mails show.

The announcement could have been politically damaging because President Obama and others in the administration had held up Solyndra as a poster child of its clean-energy initiative, saying the company's new factory, built with the help of stimulus money, could create 1,000 jobs. Six months before the midterm elections, Obama visited Solyndra's California plant to praise its success, even though outside auditors had questioned whether the operation might collapse in debt.

As the contentious 2010 elections approached, Solyndra found itself foundering, and it warned the Energy Department that it would need an emergency cash infusion. A Solyndra investment adviser wrote in an Oct. 30, 2010, e-mail — without explaining the reason — that Energy Department officials were pushing "very hard" to delay making the layoffs public until the day after the elections.

The announcement ultimately was made on Nov. 3, 2010 — immediately following the Nov. 2 vote.

E-mails describing the events were released Tuesday as part of a House Energy and Commerce Committee memo, provided in advance of Energy Secretary Steven Chu's scheduled testimony before the committee's investigative panel on Thursday. As a result of the 2010 elections, that committee is now controlled by Republicans, whose aggressive nine-month investigation into Solyndra has focused partly on whether politics played a role in the company's selection to receive a federal loan.

(…)

In the fall of 2010, Solyndra executives and investors warned the Energy Department that they needed emergency financing to keep the company operating past December.

In the Oct. 25 e-mail, Harrison warned the Energy Department's loan staff that the story of Solyndra's financial problems "is starting to leak outside Solyndra."

He said he would "like to go forward with the internal communication [to employees regarding layoffs] on Thursday, October 28."

Harrison's e-mail was forwarded to the Energy Department's loan program director, Jonathan Silver. Silver forwarded the ­e-mail to Chu's chief of staff, who then alerted White House climate change czar Carol Browner and Ron Klain, Biden's point person on stimulus efforts. Browner reportedly asked for more information, and Chu's chief of staff explained that he had left a voice-mail message on her cellphone.

Browner's spokesman, David DiMartino, said Tuesday that Browner doesn't recall the voice-mail and did not advise the Energy Department on how to handle the timing of Solyndra's layoff announcement.

On Nov. 3, 2010, Solyndra publicly announced that it would lay off 40 workers and 150 contractors and shut down its original factory. The department agreed to continue giving Solyndra loan installments despite its failure to meet key terms of the loan. In February, the agency restructured its loan to give Argonaut and other investors a chance to recover $75 million in new money they put into the company before taxpayers would be repaid.
As with the other revelations that have come out, this reveals a far closer relationship between the Obama Administration and Solyndra than official statements would like us to believe, and raises the possibility that Administration officials were attempting manipulate the news released by Solyndra to its employees, creditors, and potential creditors in order to avoid political embarassment. The White House would like us to think this is no big deal, but it seems fairly obvious that there is something worth investigating here and that, even if there was no legal wrongdoing here, what we are seeing unfold before is a classic example of Crony Capitalism.
John Hinderaker puts it well:
This is one more reason why crony capitalism is such a terrible idea. Business decisions will be made based not on economic considerations, but rather on political expediency. The result is bad for everyone-except, of course, for well-connected executives whose interests will be looked after by their political allies, and politicians who spin fables about "green energy" to fool voters. The Obama administration is less than three years old, but it is already building an impressive record of corruption.
I don't know that I'd call it corruption per se because it's not clear that anything illegal happened here. In all likelihood it didn't, and that's the real problem. When politically connected donors for the guy who happened to just be elected President of the United States are able to get senior White House officials on the phone to get help with a loan application that had been pending for over a year. Solyndra's loan was delayed because there were, understandably in retrospect, a lot of questions about the company and its technology. Solyndra had never earned a profit, and its manufacturing process was expensive and relied on materials that could fall into short supply very quickly. It wouldn't take much for the company to be pushed over the edge even it did manage to become successful.
In one of my first posts about this matter, I noted the problem with the kind of public venture capital that this loan program represents:
A private investor is only risking his own money. If he bets right, he stands to benefit big, but he could also lose everything. A venture capitalist is risking money that's been entrusted to him, and he owns fiduciary duties to his investors that, if violated, could subject him to personal liability for losses. Of course, he also stands to benefit greatly if he bets right, both from the profit his investment earns and from the additional investors he's likely to attract additional investors. These rewards of success and punishments of failure serve, hopefully, to give him the incentive to choose his investments carefully, targeting companies that are likely to most likely to make a profit rather than those that are politically popular or politically connected.

None of that exists when the investment decisions are being made by government. For one thing, it's fairly clear in this case that the decision to give guaranteed loan money to Solyndra had nothing to do with any realistic expectation that the government would be making a profit any time soon, or that it would actually be competitive in the solar energy field. Instead, it was part of the Obama Administration's "Green Jobs" initiative, which is more about politics than economics, and for which there  is very little empirical evidence to support the idea that this will be the big new source of jobs.
We've learned since then that there was also politically motivated intervention based on the entreaties of Obama bundlers like George Kaiser, a major contributor and fundraiser for Obama's 2008 campaign. That's the essence of what is wrong with our system and it's going to continue as long as things like the loan program that Solyndra participated in are a part of government. When the government acts to pick winners and losers in the economy, or to aid one industry at the expense of another, the corruption and influence peddling become inevitable. Going to war against "corporations" is only half the battle, when it is the Big Government that is enabling those corporations to benefits at the expense of the taxpayers.