Who Wins If There's No Debt Deal?
The idea that the GOP can block a debt ceiling vote and benefit politically is, quite simply, absurd.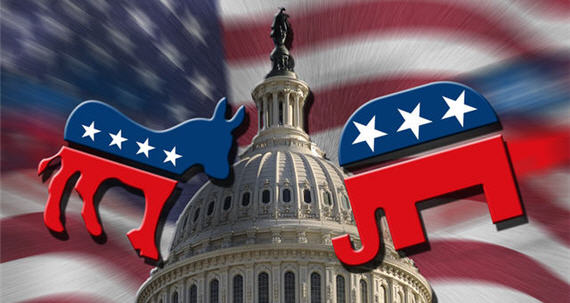 In response to Erick Erickson's contention that any economic catastrophe that results from a failure to raise the debt ceiling would be blamed on President Obama,  David Weigel makes this point:
Who actually thinks this? The polling suggests that people will blame Republicans if we lose our bond rating, because 1) Republicans demanded that this vote be used to get leverage and 2) have insisted that nothing will happen if the limit isn't raised.

(…)

About creative destruction — we need to be clear on this. The ideological, libertarian plan in September 2008 was short-term pain and collapse as a way of staving off an expensive lost decade, during which government would try to perserve the failing financial system. Plenty of Republicans look at what we got after TARP and think we would have been better off with a collapse followed by a rebuild. And there's definitely that strain of thought in the debt talks — there are Republicans who say a default or downgrade would shock us into cuts and be worth the pain. But try and square that with Erickson's point that Obama would get the blame for default. Voters can be stupid, but not this stupid.
That Quinnipiac poll that Weigel links to, where respondents say that they'd blame the GOP if there wasn't a deal and the economy tanked, was enough to convince Jonathan Podhoretz:
At some point, those who believe it will be acceptable to go to August 3 without an increase in the debt limit, as well as those who believe the politics favor the Republicans, are going to have to reckon with the fact that there are no data points supporting their beliefs. The way things are going, if August 2 comes and goes without an agreement, there will be a worldwide panic that would have catastrophic immediate consequences in the equity markets. And when Obama says, "I warned and warned and warned and they didn't listen," any attempt to offer a counterargument is going to sound very hollow.
And Megan McArdle picked up on Podhoretz's comments:
Voters are telling pollsters they're going to blame the Republicans for the shutdown.   And the spending cuts you're going to do won't even be that popular with the tea party, who aren't much more enthusiastic about Medicare/Medicaid cuts than the rest of the country.

To me that sounds like "huge Democratic victory in 2012".  I know, I know–if it's so "great for Democrats", why aren't they urging this course?  Well, one school of thought says that they are–and neatly maneuvering the blame onto the GOP, thanks to the tea party's very vocal intransigence.  But if that's a little too Machiavellian for your taste, the simpler answer is that this can be lose-lose.  If we shut down the government, key social programs get hurt, the economy contracts, and the Democrats have to cut spending in a recession in order to make the budget balance after this little contretemps raises our interest rates.  But the fact that the Democrats are worse off doesn't mean that the Republicans are better off.  The Democrats can lose while the Republicans lose even bigger.

That has implications, not just for the debt ceiling, but for a whole range of problems.  Republicans have a decent shot of taking the White House and the Senate in 2012; by throwing that away with both hands they also throw away their best chance at repealing ObamaCare before it starts irrevocably altering health care markets.  They also ensure that any deficit-reduction deal we do post election will be heavily weighted towards tax hikes; give Democrats a fresh crack at all the bits of the Obama agenda that they ignored in favor of passing health care; and probably let them preside over a mid-decade recovery that will leave the GOP in a very difficult electoral position in 2016.
Greg Sargent notes that there is already a radio ad campaign targeting three freshman Republicans over their position that they'd never vote for an increase in the debt ceiling. John Sides disagrees, and believes its President Obama that is most at risk:
For one, I'd be impressed that more Americans say they'll blame the GOP and not Obama if most Americans actually wanted to increase the debt ceiling in the first place. See Mark Blumenthal's thorough rundown of the polls.

Second, during the 1995 shutdown, Clinton's popularity went down during this time — although this fact seemingly cannot penetrate the conventional wisdom. See my earlier post. Yes, the polls also weren't kind to Gingrich and the GOP, but it is hard to claim that Clinton benefited in the eyes of voters. There is certainly no evidence that I know of that the shutdown helped re-elect Bill Clinton. It's interesting that McConnell thinks that, if only because it appears to guide his actions now. But I don't think it's true.

Finally, even though this fight over the debt ceiling is unusual, I have a hard time imagining that Obama is going to emerge unscathed if the ceiling isn't lifted and the economy suffers. After all, incumbent politicians are punished by voters for a thousand trivial things, even losses in college football games. I am hardpressed to imagine that voters will suddenly exonerate Obama from possible economic disruptions and simply blame the GOP. To be clear, I don't think either party would come out of a debt ceiling meltdown smelling like roses. But let's not pretend that Obama will somehow avoid that.

Or put it this way: what if the meltdown led to, say, 1-2 months of bond rating markdowns, stock market convulsions, disruptions of key government services, and wall-to-wall media coverage of the same? What happens to Obama's approval rating in that time? My bet is that, just as with Clinton in 1995, it goes down.

But, of course, Bill Clinton was re-elected in 1996 and, when it came to the war between Clinton and Gingrich, it was Clinton who clearly emerged from that battle as the victory. This time, it's Obama in the Clinton role, and Eric Cantor playing the role of the recalcitrant Republican. Does anyone really think that, if the debt ceiling weren't raised and the economy was thrown into a tailspin, that the GOP would walk away from this as the victor? Just the other day, I thought the answer was probably no, but I'm starting to reconsider that conclusion

At least in public, the President is putting out a position clearly designed to make him appear to be the adult in the room. He's asked for a "grand bargain" that  included entitlement reform and some tax increases, and the GOP incomprehensibly rejected it.  Instead they're beholden to a Tea Party strategy that isn't necessarily going to resonate with the public as a whole, especially when it comes to the issue of taxes on wealthier Americans. More importantly, though, if it's the GOP that comes across as the party that killed a deal, then there's simply no way that they aren't going to be blamed by the public.
McArdle is right that the 2012 elections are at stake in these negotiations. If the GOP screws up, they might not only end  up with Barack Obama still in the White House, but with Harry Reid still Senate Majority Leader.