Who's Running the Washington Post, Anyway?
Apparently, whoever has the most Twitter followers.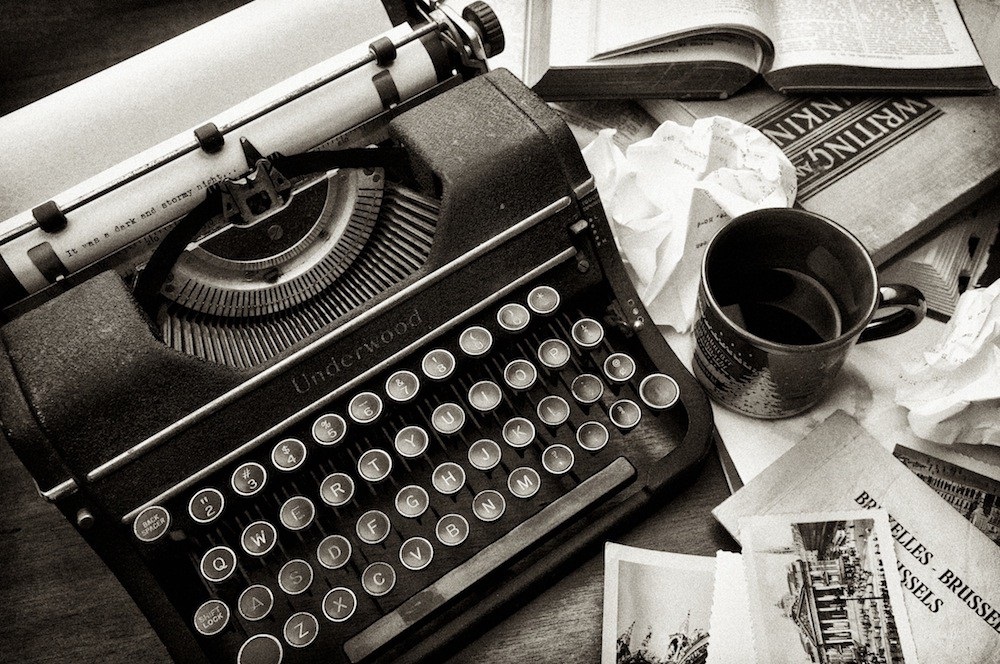 Dave Weigel is, yet again, the subject of controversy, having created a social media firestorm after retweeting a tired joke and ultimately being suspended for a month from the Washington Post. Josh Barro sees this as part of a disturbing trend:
You may have noticed a bizarre trend at organizations whose staffs are full of younger liberals: Internal disputes aren't kept internal anymore but are aired in public, on social media or in the press, with rampantly subordinate staff attacking their colleagues or decrying managerial decisions in full public view — and those actions apparently tolerated from the top.

In the most extreme cases, you get meltdowns like the one at the Dianne Morales campaign for mayor of New York, where staff went on strike to demand, among other things, that the campaign divert part of its budget away from campaigning into "community grocery giveaways." But it's especially a problem in the media, where so many employees have large social media followings they can use to put their employers on blast — and where those employers have (unwisely) cultivated a freewheeling social media culture where it's common for reporters to comment on all sorts of matters unrelated to their coverage.

One instance of that unwise culture is what started this whole mess: Politics reporter Dave Weigel retweeting a tasteless joke about women.
Here it is: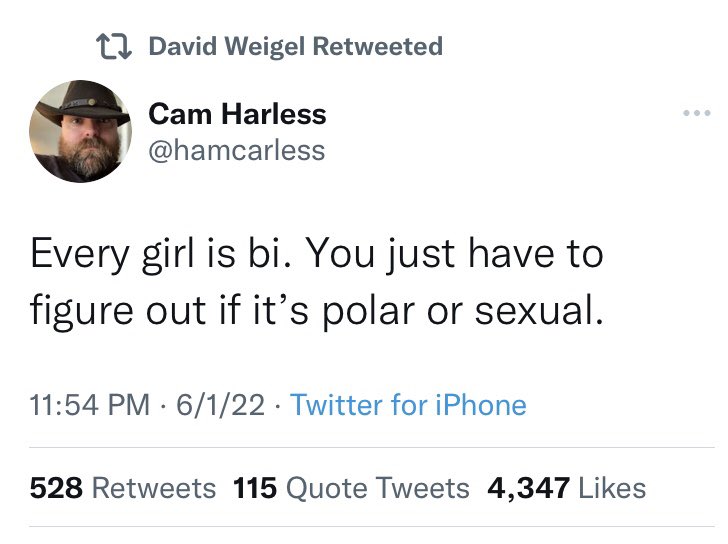 I'm less sympathetic to Dave on this point than some other critics of the Post's recent actions. This joke isn't funny, and I get why it offends people. It also doesn't serve a professional purpose. Not only should he not have retweeted this, he (like so many reporters at the Post) should tweet less in general, and Post management has a relevant interest in disciplining him for this tweet, even though the monthlong suspension they awarded him is excessive.
So . . . yeah.
Weigel is a 40-year-old man who went to an elite journalism school and has spent most of his career writing for prestige outlets in New York and DC. He knows that this kind of thing is going to create a backlash and, as Barro rightly notes, it reflects poorly on his employer.
That said, social media is, after all, social. Twitter, in particular, is often filled with snark and lame attempts at humor. Retweeting jokes isn't really intended to serve a professional purpose but rather to amuse one's followers and, perhaps indirectly, build a brand. And while any joke that has the phrase "every girl" is likely to be cringe, making fun of the opposite sex is a time-honored comedy staple. (It's also not clear from the reporting I've seen what time of day/night or state of sobriety Weigel was in when he retweeted the joke.)
And other Post employees would have had plausible reason to raise objection to the tweet — to him directly, to his editor, or to human resources. But instead of using those channels, Post reporter Felicia Sonmez — who says she has "long considered Dave a good friend" — has gone on a days-long public diatribe about the retweet on Twitter, drawing massive attention to it and asking why it is "allowed" at the paper. I am literally talking about hundreds of tweets and retweets on the subject.
He's not exaggerating. Tweeting about Dave Weigel—and defending tweeting about Dave Weigel—has apparently become her full-time job.
Weigel pulled down the retweet and apologized, but she has continued to pile on, even after the paper suspended him without pay for a month. It's been a one-woman campaign — threads of dozens of tweets attacking Post management; doing name searches for herself and tweeting screenshots of the criticism she's received for attacking her colleague in public; retweeting praise from random Twitter accounts along the lines of, "Credit to Felicia Sonmez for continuing to cover the story of the continued abuse she's receiving over the Dave Weigel tweet. She has a lot more guts than I have."
If this is her 15 minutes of fame, she might as well enjoy it, I guess.
She's been especially mad at another colleague, features writer Jose A. Del Real, for having the temerity to describe her behavior as "clout chasing" and "toxic" and urge her to stop attacking colleagues so publicly. She wants to know why Post management isn't doing something about him and his tweets.
It is, frankly, rather bizarre. I don't understand why Post management is putting up with it. It's certainly much more damaging to the paper's brand than retweeting a lame joke. Of course, she's ranting about her bosses, too, so they're in a position where they look bad regardless.
I hate that I've written so many paragraphs about this. I hate that I know so much about this dispute. It's so high school, and it ought not to be any of our business. These are all internal HR matters. But Sonmez is explicit: She wages these fights in public because management is more responsive to that than when employees complain privately. By giving her "good friend" Weigel such a long suspension and doing nothing to her, management is only encouraging her and other Post employees to put their colleagues on blast more, which she has indeed been doing.

Airing internal workplace disputes in public like this is not okay, even when you are right on the merits. My statement isn't just obvious, it's how almost all organizations work. If you think your coworker sucks, you don't tweet about it. That's unprofessional. If you disagree with management's personnel decisions, you don't decry them to the public. That's insubordinate. Organizations full of people who are publicly at each other's throats can't be effective. Your workplace is not Fleetwood Mac.
That's a good line.
And, yes, that's absolutely right. I've had minor disagreements with employers, including my current one, over personnel and policy matters. It would simply never have occurred to me to take them public—whether to Twitter, OTB, or some other venue—while still working there. It's unprofessional.
Del Real is right that Sonmez's behavior is clout chasing and toxic, but it's not his job to say so — that job falls to Post management. And just because Post management is weak and incompetent does not mean he gets to substitute his judgment for theirs, especially in a public forum. Similarly, though it displeases Sonmez that management does not always do anything about other reporters' tweets she finds "problematic," that doesn't mean she gets to appeal the decision to the Twitter mob. You don't run the paper; you don't always get what you want.

The staff apparently needs a sharp reminder that you do not air your disputes with colleagues in public. You're supposed to be a team: You keep disagreements internal, and if you find the management or strategy or editorial direction of the organization unacceptable, you leave and work somewhere else. But employees have seen for years at the Post (and The New York Times) that following those practices is optional, so it's going to take a shock to the system — one that will involve more employee discipline and the departure of employees for whom the chaos culture is an important value. They need to know that if they want to be toxic, they have to go do it at someone else's newspaper.
This seems obvious to me but maybe it's simply a generational thing. Clearly, younger employees—and this is especially true in the media business, where building a personal brand independent of one's employer is a necessary practice. I first noted the trend four years ago when New York Times staffers revolted against the paper's policy requiring them to report neutrally on the Trump phenomenon. But there have been multiple instances since. Vox staffers going ballistic when co-founder Matt Yglesias signed an open letter calling for tolerance of free expression. An even bigger revolt by NYT staffers when the paper published a really bad op-ed from a Republican Senator calling for sending in federal troops to put down rioting associated with the George Floyd protests. Not to mention uprisings everywhere from ESPN to Deadspin over "just stick to sports" mandates at outlets ostensibly dedicated to covering sports.
The whole thing is just weird to me. But the working world is different now than it was when I started decades ago. Under-40s have always been able to express themselves publicly in a way that simply wasn't possible before the late 1990s. Social media has been part of their existence as long as they can remember and it likely just seems natural to them to tweet their opinions on anything and everything the second they pop into their heads. There's likely only so much the bosses can do to contain that impulse while retaining top talent.
UPDATE (June 10): Bye, Felicia.