Why Are We Letting Them Fool Us?
There's an entire industry that profits from exploiting political controversy and division. Why do we let them get away with it?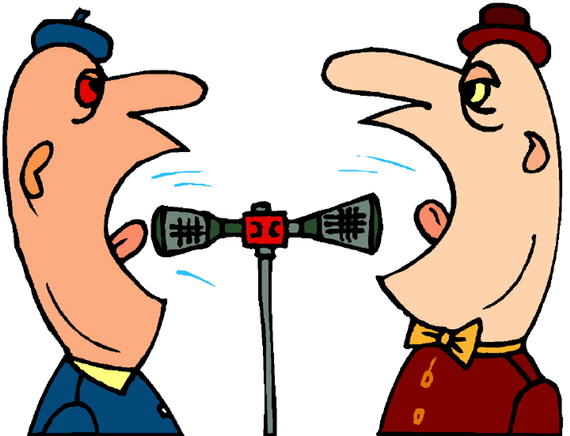 Earlier this month, I lamented the fact that there doesn't seem to be much of anything in contemporary that doesn't end up being politicized and turned into a red vs. blue, cultural conservative v. cosmopolitan, argument. In that particular case, the post was inspired by the then ongoing controversy over the Susan G. Komen Foundation and Planned Parenthood. As I noted at the time, though, that was only the most recent example of a phenomenon that has seemingly become more common in recent years where people who disagree with each other about politics feel obligated to extend that argument into seemingly non-political areas. As I noted in that same piece, we saw something similar during the just-concluded NFL season over the fortunes of Denver Broncos Quarterback Tim Tebow.  As I said, it doesn't strike me as a healthy development for either our politics or our culture, especially since it gives the impression that Americans have far less in common than they actually do. Taken to its logical conclusion, such divisions have the potential to leave America in the same shape it was in the 1850s, and we know where that led.
Along those same lines, friend of OTB and contributor at Hot Air, PJ Media, and elsewhere Jazz Shaw and I exchanged some thoughts about the extent to which our national obsession with everything political tends to blind us from the things that really matter. I reprint part of what he sent me with his permission:
You guys realize that a lot of people who disagree with you on ideology are your neighbors and they're not trying to destroy America, right?

Every election is "the most important election in history." Sadly, this one isn't going to change anything, no matter who wins. There are no winners. Only losers. While I realize that this will fall on deaf ears for the vast majority, the current state of affairs is depressing beyond words and I can't help but wonder if there might still be some way to turn it around.

If you give it a little thought you'll realize that you are surrounded in your communities by real people. When it comes to politics, some of them may agree with you, some may disagree. They may register with the same party as you or with the other party. They may consider themselves to be "liberal" or "conservative" or the dreaded "independent." Out of each group – in a real world setting – you'd be lucky to find half that could agree entirely on what those words even mean. But there is one thing you all have in common.

You're all trying to get along. You'd like to do well in life. You'd like to have a good job and a good home

and a happy family. You may have different visions about the specifics of what the government at each level should be doing to get there, but there is one thing that the vast majority of you can take for granted. None of you are trying to destroy America. Nobody is trying to turn it into a completely socialist state sold out to Castro. And nobody is trying to establish a theocracy to take away the rights of minorities, gays, Muslims or women.

And yet, for those of us who tune in to political TV shows, web broadcasts, blogs and Twitter, you'd be tempted to think that the civil war was being fought in full flare. Everyone else is the enemy. Every move they make, every comment from a spokesperson, every broadcaster from a network perceived as being "on the enemy side" is an attempt to destroy America. Far, far too many of us live in an echo chamber of those who nod their heads and agree that "the other side" is trying to drive the rest of us into extinction.

Nonsense.

It's all a game. And if you're taking part in it you are one of millions of pawns who have been sucked into a battle which does you no good and only profits a handful of people who stand to benefit from an ideological victory. You are not the winners even if your "side" wins. Everyone loses.

Barack Obama isn't trying to turn the nation into Cuba and destroy the Catholic Church. The eventual GOP nominee will not be trying to subjugate women and establish a theocracy. Nobody is trying to destroy the other half of the country. But there are a handful of movers and shakers in politics, the mainstream media and their followers in the social media who make a living (at one degree or another) from supporting such a conflict.

They are the only ones profiting. Everyone else loses. You can pick any divisive issue of the day, be it on social issues, national security or the economy, and the clean sheets of each are the same. It isn't us against them. It's us against us. And we all lose. We're getting played for suckers and we're letting them do it every day.
I've been feeling this way myself for quite awhile now. After watching more election cycles than I care to count, I can honestly say that there really is nothing new under the sun. The political battles we're fighting in 2012 are the same ones we were fighting in the 90s, which were the same ones we were fighting in the 80s. Heck, to be honest, the political battles we're fighting today aren't any different from the ones that were being fought in 1789. To the extent things have changed, it's been because the world outside the United States has changed, not because of anything that's happened domestically. Republicans still talk about free markets and limited government, even if they never actually govern in a manner designed to promote those ideas once they have power. Democrats still talk about "fairness" and equality, even though it's rather obvious that what they're actually doing is advancing the agendas of the interest groups that make up their coalition. The only thing that's really changed is that we seem to be fighting louder and longer now than we used to, and for that you can thank the so-called "new media."
There are many good things that can be said about the fact that there are now three cable news channels, talk radio, countless political news and analysis sites, even more countless numbers of political blogs on both the left and the right, not to mention social media outlets on which politics is (for lack of a better word) discussed on a daily basis. We are most assuredly better off today than we were when the only sources of information were the three broadcast networks and local newspapers. At the same time, though, it's fairly clear that most of these media outlets make their money by appealing to extremism and alarm-ism of one form or another. Fox News Channel viewers get Sean Hannity and Bill O"Reilly. MSNBC viewers get Al Sharpton and Ed Schultz. What neither one of them get, though, is a genuinely balanced and dispassionate view of the issues of the day. It grabs viewer attention, and it sells advertising space, but it also contributes to the "us v. them" attitude that seems to predominate in politics on both sides of the aisle today. It's great for the political pundits and for the politicians who profit from waving the political bloody shirt, but it doesn't strike me as being at all healthy for our body politic.
Extremism, paranoia, and conspiracy theories have long been a part of American politics, for example, but they were generally confined to the fringes. We now seem to be living in a world where they've become more or less mainstream. We've had a former Speaker of the House suggesting that the President shares a "Kenyan, anti-colonialist worldview," whatever that means. The most popular conservative commentator out there said three years ago that he hoped the President, and by logical extension the nation, turned out to be a failure. And now we have candidates for President repeating utterly false accusations and claiming that an education plan is actually a plot to indoctrinate Americans and turn them away from religion. It's all silly and absurd, and yet people believe it because it fits into the world that they've chosen to live in.
Jazz continues:
Go outside. Talk to your neighbors. Look at the problems you have in common and the various ideas for fixing them. Working together we might actually get something done. Pretending that we are two competing armies, each bent on the destruction of the nation in the eyes of the other, is getting us nowhere. Or perhaps, more accurately, it's getting us closer to the edge of the cliff.Let's stop being suckers. Let's stop playing for the two team captains who have, in the end, no interest in helping anyone but themselves. In reality, Left and Right, Conservative and Liberal, Red and Blue… they are but shadows of each other with differing theories of how to make things better. As with all things, the real answers will probably be found in a combination of the best solutions from each camp proposed for the common good.

There are a relative handful of people in this country who are focused on a massive, world changing football game. The only purpose of this game is to win the next election and control the most seats in government. None of it has a damn thing to do with actually providing the best path toward the future for the general public. It's all a dodge. Don't be part of it. We can do better. And if we don't?
If we don't, then we're never going to get around to solving the problems that this country faces, and we're going to go further down the road of division and phony, useless partisan battles. That may be good for the pundits, and for the corporate parents of Fox, MSNBC, and the radio stations that broadcast talk radio, but I have to wonder what good it is for the rest of us. This isn't an argument in favor of the agenda of the left or the right, which I would submit is an imperfect way to described the variations in political belief in the United States to begin with. It's an argument that we're all falling for a false narrative by letting ourselves be taken in by the arguments of those who want to divide us into left and right, Republican or Democrat. The truth of the matter is that neither side in this debate has anything other than their own self-interest in mind when they act, and the one thing that helps them the most is to create conflicts where they don't really exist.
There are millions of people in this country who don't spend their time reading, writing, or commenting on political issues like most of the people likely to read this post do. Instead of watching MSNBC or Fox, they're helping their kids with homework or going to their ball games. Instead of obsessively Tweeting about the latest pointless political controversy they're watching a movie or a television show. They're the ones who watch American Idol instead of Rachel Maddow, and who are more likely to visit ESPN.com than The Huffington Post.
Maybe they're the ones who have it right. Maybe those of us who obsessively follow politics and get emotionally invested in political campaigns that don't even impact us directly are the ones who are being taken for suckers. Like Jazz said, there is an entire political-media industry out there that is invested in the idea of stoking controversy and conflict on a daily basis. Some of them do it because it helps increase ratings and advertising revenue. Some of them do it because it's an easy way to gain political power and influence. Whatever their motives are, though, they surely aren't interested in what the average American worries about on a daily basis.
So why are we letting them fool us?