Why Democrats Have to Play By Different Rules
The Republicans are playing a different game.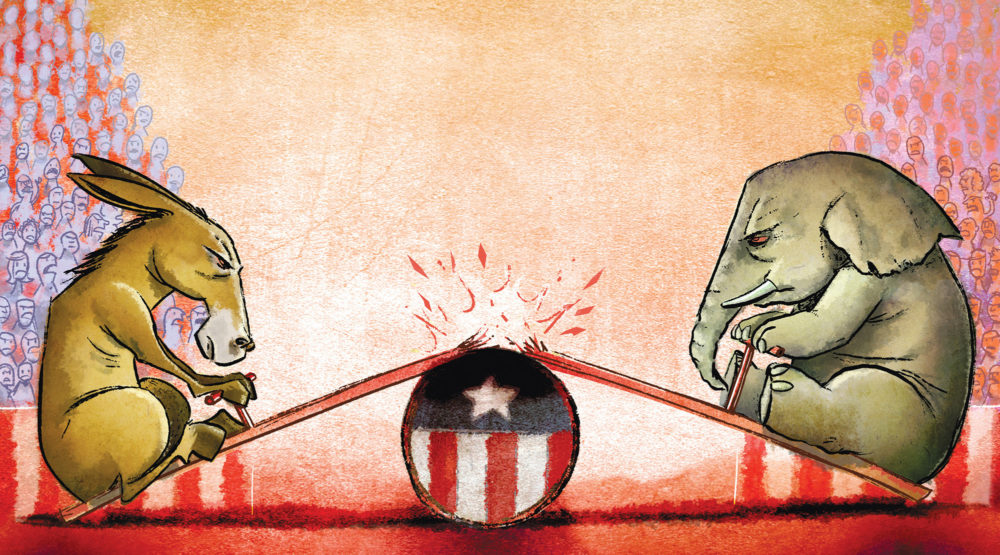 Ezra Klein, who has a new book out on polarization in American politics, takes to the op-ed pages of the New York Times to answer an often-asked question, "Why Democrats Still Have to Appeal to the Center, but Republicans Don't."
He argues that, while the Democratic and Republican parties have dominated American politics since 1860, they're constantly in flux. And that, while the Democrats have sorted left and the Republicans right in recent years, they haven't done so in the same way. His thesis:
Democrats can't win running the kinds of campaigns and deploying the kinds of tactics that succeed for Republicans. They can move to the left — and they are — but they can't abandon the center or, given the geography of American politics, the center-right, and still hold power.
Partly, it's because the Democratic coalition is far more diverse.
Appealing to Democrats requires appealing to a lot of different kinds of people with different interests. Republicans are overwhelmingly dependent on white voters. Democrats are a coalition of liberal whites, African-Americans, Hispanics, Asians and mixed-race voters. Republicans are overwhelmingly dependent on Christian voters. Democrats are a coalition of liberal and nonwhite Christians, Jews, Muslims, New Agers, agnostics, Buddhists and so on.
For this and other reasons, Democrats consume and trust a far wider variety of media sources than Republicans. That changes the nature of the debate within the party.
But, perhaps more importantly, as we've been arguing for quite some time here at OTB (see particularly Steven Taylor's posts on the nature of our institutions and how they differ from those in literally every other country) the system effectively treats Democratic and Republican votes differently.
A party that narrows the sources it listens to is also narrowing the voters it can speak to. And political parties ultimately want to win elections. Lose enough of them, enough times, and even the most stubborn ideologues will accept reform. Democracy, in other words, should discipline parties that close their informational ecosystems. But America isn't a democracy.

[…]

America's political system counts states and districts rather than people, and the G.O.P.'s more rural coalition has a geographic advantage that offsets its popular disadvantage.
The upshot, then, is that the contest is asymmetric.
To win power, Democrats don't just need to appeal to the voter in the middle. They need to appeal to voters to the right of the middle. When Democrats compete for the Senate, they are forced to appeal to an electorate that is far more conservative than the country as a whole. Similarly, gerrymandering and geography means that Democrats need to win a substantial majority in the House popular vote to take the gavel. And a recent study by Michael Geruso, Dean Spears and Ishaana Talesara calculates that the Republican Party's Electoral College advantage means "Republicans should be expected to win 65 percent of presidential contests in which they narrowly lose the popular vote."

The Republican Party, by contrast, can run campaigns aimed at a voter well to the right of the median American.
The GOP has lost the popular vote in six of the last seven presidential elections but won the presidency three times. Ironically or frustratingly, depending on your perspective, the effect has been to get Republicans to double down on appealing to their constituency when democracy would have forced them to widen their aperture. Having garnered nearly three million fewer votes than the most polarizing Democratic nominee in decades should have chastened the party. Instead, they control the White House and the Senate and are seemingly bending over backwards to alienate non-white and non-rural voters.
Klein's solutions are as logical and familiar as they are impossible:
We could do away with the Electoral College and gerrymandering; pass proportional representation and campaign finance reform; make voter registration automatic and give Washington, D.C., and Puerto Rico the political representation they deserve. But precisely because the Republican Party sees deepening democracy as a threat to its future, it will use the power it holds to block any moves in that direction.
The irony is that the country and the Republican Party would both be better off in a more democratic system.
If Republicans couldn't fall back on the distortions of the Electoral College, the geography of the United States Senate and the gerrymandering of House seats — if they had, in other words, to win over a majority of Americans — they would become a more moderate and diverse party. This is not a hypothetical: The country's most popular governors are Charlie Baker in Massachusetts and Larry Hogan in Maryland. Both are Republicans governing, with majority support, in blue states.
I would almost certainly rejoin that version of the GOP. I'd be much more at home there than in Elizabeth Warren's, much less Bernie Sanders', Democratic Party. But we're unlikely to see it emerge any time soon. Not as long as they can win by losing.