Why Do We Even Have A Debt Ceiling Law?
Based on its history, the debt ceiling law may be the most pointless statute in the entire U.S. Code.
It's been remarked here at OTB several times by myself and other contributors that the existence of a law placing a limit on the national debt, which then must be amended every time government borrowing approaches the limit, a vote which nobody likes and everybody demagogues, is fundamentally silly. It's worth noting, though, that we have not always had a debt ceiling, in fact we didn't have one until 1917, and the reasons for it coming to existence are fairly interesting:
The debt ceiling was first enacted in 1917. Why? The date tells all: we were about to enter the Great War. To fund that effort, the Wilson government needed to issue Liberty Bonds. This was controversial, and the debt ceiling was cover, passed to reassure the rubes that Congress would be "responsible" even while the country went to war. It was, from the beginning, an exercise in bad faith and has remained so every single second to the present day.
To understand the truth of that statement, one merely needs to look at this chart of how the debt limit has increased over the 94 years of its existence: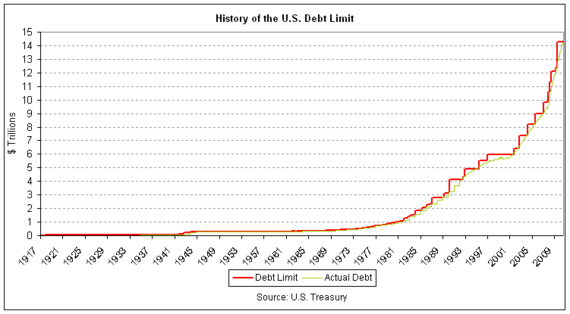 At no time has the debt ceiling acted to restrain either Federal spending or Federal borrowing. Moreover, during the 30 year period from the late 1970s to today, the debt ceiling was routinely increased at least once every two years as we racked up more debt than we'd ever had in the previous 200 years of the Republic. The debt ceiling has served, instead, as a way for Congress to pretend that it is being responsible, at the same time that it shirks its Constitutional duty:
Congress already controls the purse-strings, so if Congress would like us to stop borrowing money, then CONGRESS SHOULD STOP F***ING SPENDING MORE MONEY THAN WE TAKE IN. It's as simple as that. Having this additional, superfluous "debt limit" accomplishes nothing except to give Congresscritters an opportunity for consequence-free political grandstanding. And why wouldn't they grandstand? There's no disincentive. The public at large, in all its ignorant glory, fails to demand either spending cuts (except in the abstract) or tax hikes, yet always opposes "raising the debt limit," even though raising the debt limit is not a policy decision, it's a math problem — one whose parameters are 100% determined by taxing and spending decisions that are already long made by the time the debt limit "issue" comes up for a vote. But the public doesn't care about this. The public loves spending and hates revenue, but also hates debt. So of course the politicians grandstand!
George Will put it succinctly several months ago:
I know of no other developed nation that has a debt ceiling. This is a purely recurring symbolic vote to make people feel good by voting against it.

The trouble is it's suicidal if you should happen to miscalculate and have all kinds of people voting against it as a symbolic vote and turn out to be a majority. Because if the United States defaults on its sovereign debt, the markets will be — well, it will be stimulating.
There is nothing in the Constitution that requires that such a limit exist and, as noted above, Congress already has all of the necessary power to tax and spend to allow it to control the budget. Until they're willing to take the steps to do that, the debt ceiling law is at best pointless, and at worst suicidal.