Why Does Anyone Take Glenn Beck Seriously?
Some conservatives are finally waking up and realizing what people like Glenn Beck are doing to the movement. It's probably too late, though.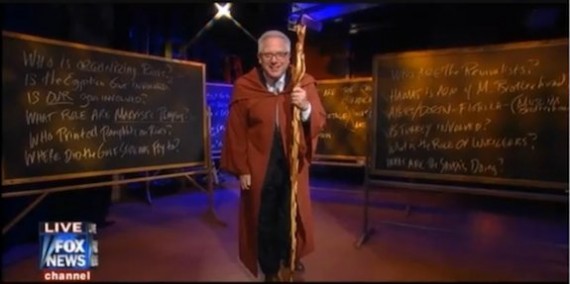 Peter Wehner at Commentary wonders why anyone still takes seriously the person he calls the most disturbing personality on television:
In the past few weeks Glenn Beck has spoken about the coming caliphate that he believes is about to envelope most of the world. He then dilated on the anti-Christ with a man who says he has "new prophetic understanding into the end times." In 2009, this self-proclaimed prophet wrote a column titled "What Obama and the Anti-Christ Have in Common." Then, on a recent show, the discussion focused on the coming Islamic anti-Christ. And earlier this week, an irate, bellicose Beck spoke about the "perfect storm" America faces. "I can't honestly believe we're finally here," he said in praising his own prescience. In his version of events, Beck is the solitary Voice of Truth willing to expose the New World Order (complete with references to Van Jones and Code Pink).

It's hard to tell how much of what Beck says is sincere and how much is for show. Whatever the case, and even taking into account the entire MSNBC lineup, Glenn Beck has become the most disturbing personality on cable television. One cannot watch him for any length of time without being struck by his affinity for conspiracies and for portraying himself as the great decoder of events. Political movements are not just wrong; they are infiltrated by a web of malevolent forces. Others see the shadows on the wall; Beck alone sees the men casting them. The danger when one paints the world in such conspiratorial terms is that it devalues the rational side of politics. It encourages a cast of mind that looks to expose enemies rather than to engage in arguments. Few things, after all, are as they appear.
Jennifer Rubin links to Wehner's piece and argues that it's time for conservatives to start policing the kooks in the midst:
What should thoughtful conservatives do? I've said it before, but it is especially relevant here: Police their own side. Rather than reflexively rising to his defense when questioned about Beck, why don't conservatives call him out and explain that he doesn't represent the views of mainstream conservatives? Conservative groups and candidates should be forewarned: If they host, appear with or defend him they should be prepared to have his extremist views affixed to them.

Fox News has every right to have whomever it wants on the air, but, likewise, conservatives have every right to and, indeed, should disassociate themselves from his brand of rhetoric.
The problem that Rubin faces, though, is that the "thoughtful conservatives" she speaks of are either few and far between, or their afraid to speak out for fear of offending the base. Unlike the 1950s when William F. Buckley effectively banned the John Birch Society from respectable conservatism, the kooks are more numerous this time and it's the "thoughtful conservatives" who find themselves being written out of the movement when they breach some perceived orthodoxy. As I noted last week, the inmates are running the asylum this time around. If anyone's likely to be purged it's likely to be Rubin and people like her. Beck, Limbaugh, Hannity, Levin, Palin and all the rest are going to be around and spewing their nonsense for the masses for a long time to come.