Why Is Romney Leading Among Independents But Lagging In The Polls?
I noted on Monday that Mitt Romney seems to be maintaining a distinct advantage among self-identified Independents in both state and national polling. At the same time, and especially at the state-level, he seems unable to surpass President Obama in the top-line numbers. These facts have been frequently cited by conservatives as "proof" of their argument that the polls are oversampling Democrats and thus overstating the President's performance. It appears, however that there may be another, more interesting, explanation for what's going on.
Consider this chart from TPM's poll tracker showing the trends in Party ID in those polls that report these numbers: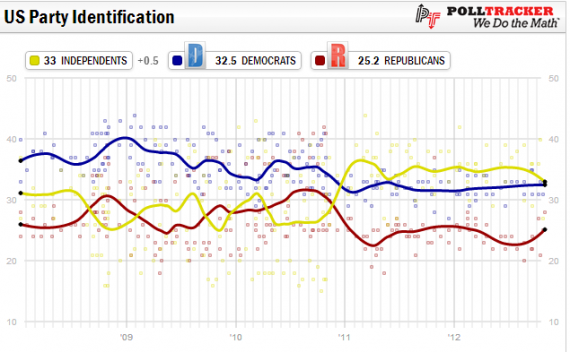 Look at what's happening here. The number of self-identified Republicans has fallen while the number of self-identified "Independents" has increased to the point where it has either equaled or exceeded the number of self-identified Democrats since some point in 2011. Clearly, many of those "Independents" are Republicans who, for whatever reason, prefer identifying themselves as something other than Republican. At the same time, though, they are generally Republican in their political views and thus more likely to support Romney over Obama.