Why Obama Golfs
President Obama sees the golf course as the only place to escape the pressures of the job.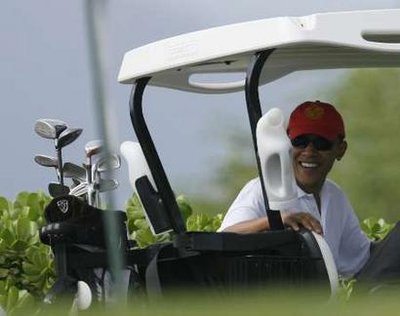 President Obama says that he plays a lot of golf because it's the only way he can have something like a normal life:
"I just miss – I miss being anonymous," he said at the meeting in the White House. "I miss Saturday morning, rolling out of bed, not shaving, getting into my car with my girls, driving to the supermarket, squeezing the fruit, getting my car washed, taking walks. I can't take a walk."

He says he enjoys golf but is not the fanatic that some have portrayed.

"It's the only excuse I have to get outside for four hours at a stretch," he said.
Jim Geraghty isn't too sympathetic:
Well, Mr. President, I tried to prevent you from having to deal with this. And I'll do my part to give you less prominence and more free time starting in January 2013.

The experience of the modern presidency is one unlike almost any other life on earth. Think about it – while he's sleeping, I presume some Secret Service agent is just outside his room, listening; presumably the Obamas are monitored in some form, in case, heaven forbid, Obama has some health issue while he's sleeping. He awakens, and there are people around him – staffers – every single minute. Even when he's alone in the Oval Office, which is probably rare, there's someone just outside. There is no "ordinary" interaction with anyone. Going out for a meal requires meticulous planning and massive security preparations. Going to visit his daughters' school requires a motorcade.

On the other hand, he spent two years and spent half a billion dollars asking for this job. He is free from financial worries. He never has to worry about traffic. His travel budget is almost unlimited, and he never has his junk touched by the TSA. He never waits on line. He rarely if ever is on hold, and he rarely if ever fills out forms. While he lives with a greater threat to his safety and security that almost all of us, he is, probably, the most secure human being on earth. Probably ninety percent of his interactions with people end with, "Yes, sir, Mr. President."
There's no doubt that there are some great perks to being president and that Obama not only asked for the job but is campaigning for another four years. So, clearly, he thinks the trade-offs are well worth it.
Still, I don't for a minute begrudge him a few rounds of golf a month. That he wanted the job and wants to keep doing it another six years doesn't negate the fact that it's incredibly stressful. And leaders need down time even more than those who do physical labor; a tired decision-maker is a poor decision-maker.
That said, a large part of the problem is the ridiculous security bubble with which we surround presidents. Yes, John Kennedy was murdered within living memory and serious attempts were made on Gerald Ford and Ronald Reagan. But the notion that a president can't make an unscheduled trip to the park without days of advance planning is nonsense.