World Reacts To U.S. Debt Downgrade
Like the rest of us, financial analysts across the globe are trying to figure out what the U.S. debt downgrade means.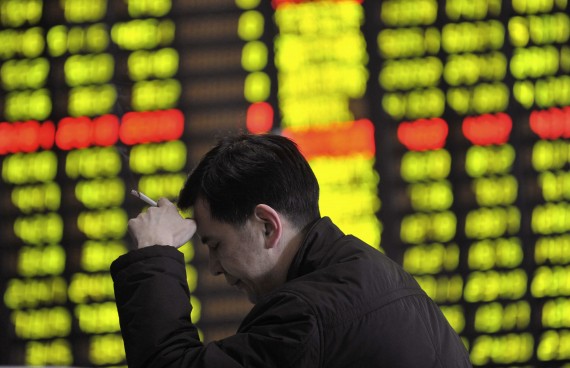 Markets won't be open until Monday, but the world is already starting to react to S&P's decision to downgrade U.S. sovereign debt:
PARIS — Europe was taken aback Saturday at the unprecedented downgrade of America's sterling sovereign credit rating, as officials of the Group of 7 industrial countries decided whether to hold an emergency conference call to discuss the debt crisis that has beset Europe and the United States.

While officials in both Europe and Asia had girded for such a possibility, the news that Standard & Poor's had lowered Washington's AAA rating to AA+ was nonetheless received with a degree of concern in the corridors of power on the Continent.

The French finance minister, François Baroin, questioned the move Saturday, which he said appeared to be based on "nonconsensual figures." The Obama administration had disputed the judgment, noting that Standard & Poor's had made a significant mathematical mistake and overstated the federal debt by about $2 trillion.

Standard & Poor's said the downgrade was based more on the view that the effectiveness, stability and predictability of American policymaking had eroded during the rancorous debate over lifting the debt ceiling. Mr. Baroin said he found it curious that neither Moody's nor Fitch, the two other major ratings agencies, had reached a similar conclusion. Moody's has said it was keeping its AAA rating on the nation's debt, but that it might still lower it.

"We have total confidence in the solidity of the American economy," Mr. Baroin said in an interview on French radio. Nonetheless, he added, the decision "confirms" that the world's most developed economies are confronted with the same urgent priorities: to lift growth and reduce public and private debt.

The Australian prime minister also warned against overreacting to the downgrade.

Standard & Poor's "had been signaling for some time that unless they saw a certain figure of budget cutbacks out of the discussion that there's been in Washington about the American budget and fiscal consolidation, that they were intending to do that downgrade," Prime Minister Julia Gillard said, according to Agence-France Presse. "At the same time, the other two major ratings agencies, Moody's and Fitch, continue to have the American economy rated at AAA. So I think people just need to look at all of the facts."

Japan's reaction was also more muted, according to media reports. Officials in Tokyo said their trust in American Treasuries remained unchanged.

In Germany, however, commentators saw the downgrade as further evidence of the decline of American prestige.

The weekly newsmagazine Focus called the downgrade "a public humiliation."
The Chinese were equally blunt:
SHANGHAI — China, the largest foreign holder of United States debt, said Saturday that Washington needed to "cure its addiction to debts" and "live within its means," just hours after the rating agency Standard & Poor's downgraded America's long-term debt.

The harshly worded commentary, which was released by China's official Xinhua news agency, was Beijing's latest effort to express its displeasure with Washington.

Beijing's reaction to the downgrade was the harshest among foreign leaders.

Officials in Japan and France said their faith in the United States government remained strong. The Australian prime minister, Julia Gillard, warned against overreacting, while the Indian finance minister, Pranab Mukherjee, said the downgrade had created a "grave" situation, one that would require some time to analyze.

Though Beijing has few options other than to continue to buy United States Treasury bonds, Chinese officials are clearly concerned that the country's substantial holdings of American debt, worth at least $1.1 trillion, are being devalued.

"The U.S. government has to come to terms with the painful fact that the good old days when it could just borrow its way out of messes of its own making are finally gone," read the commentary, which was published in Chinese newspapers.

Beijing, which did not release any other official statement on the downgrade, called on Washington to make substantial cuts to its "gigantic military expenditure" and its "bloated social welfare" programs.

The commentary serves as a sharp illustration of how the United States' standing in the world is sliding and how China now views itself as ascendant.
In The Telegraph, David Buik sees the downgrade as evidence of the financially illiteracy of the United States but doesn't see it having a major impact on the world economy:
What does this mean to the man in the street? It will be hoped that this downgrade will not precipitate higher interest rates. Personally, I don't think it will.

No doubt this counterproductive initiative taken by S&P and at the time of writing yet to be endorsed by Moody's or Fitch, will briefly create further turmoil and volatility on Monday morning, but it may be short-lived.

Why? The world's economy is so brittle that it cannot sustain high interest rates.

The US Treasury market is the best supported and most liquid market in the world with the likes of China, Japan and Russia massive holders.

It was interesting to note that when S&P threatened a downgrade, yields on US Treasuries actually fell quite sharply – in other words, the cost of borrowing seemed unimportant as fearful investors deserted equities in their droves..

S&P has a duty of care, but its timing was disastrous. However this stark news may well prove a timely wake up call as to the damaging effect of global debt – EU politicians, you have been warned.
Buik may be correct, for several reasons. United States Treasuries have long been the investment of choice for investors looking for a safe place to put their money. During last week's market downturn, for example, traders will pulling money out of stocks and putting them in U.S. bonds to such a large degree that the yield on 10 year notes actually went down (a bond's yield tends to move in the opposite direction of its price). Will this type of a flight to quality change now that the U.S. had been downgraded? Perhaps some investors will diversify their holdings into Gold or Swiss Francs, but it seems unlikely that there would be a sudden movement out of T-Bills simply because there aren't many other places to go.
Nonetheless, this is a profound psychological change and it's likely to take the market time to react to it. The real question is how the United States is going to react to this. This should be a Sputnik moment, a moment when our political leadership and citizenry is so shocked that they are compelled to act. It should be, but I'm not sure its going to be. So far, all we're seeing from politicians and pundits is finger pointing as they try to pin the blame for this on the other side. That's the wrong way to look at it, and if that's what we end up doing then we're going to see more days like yesterday.