World War II's Latest Victim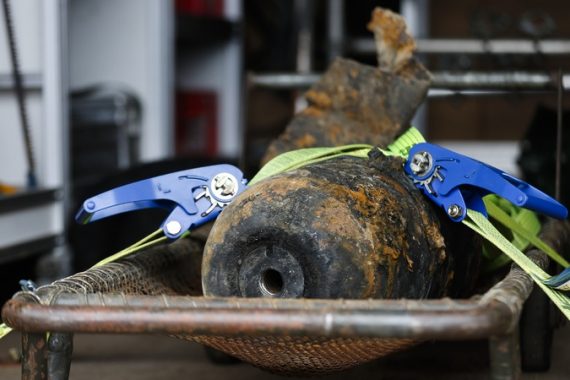 Nearly 70 years after it ended, World War II has claimed another life:
We can actually blame Nazis for another death from World War II.

A driver of a bulldozer was killed in the western German town of Euskirchen on Friday when a yet-to-be-identified World War II bomb exploded during construction work. Eight others were injured in the explosion, two of them seriously.

Nearly 70 years after the war ended, bombs are still being discovered in Germany, some of which have threatened the lives of the people who unwillingly discover them. In November, 20,000 people were evacuated from the western German city of Dortmund when authorities discovered a 4,000-pound Allied bomb. It was defused before anyone was injured.

Two years earlier, 45,000 people were evacuated from Koblenz, a major city along the Rhine River, because of an equally large bomb. If it had gone off, it would have wiped out the center of the city.

These bombs are also discovered in larger cities, like Berlin. A 220-pound Soviet bomb was discovered near the train tracks that led into the main station of the German capital last April, forcing 840 commuters to evacuate the area. The bomb was safely detonated in a nearby forest after being moved out on the back of a truck.
Last year National Geographic did a story about the issue of un-exploded ordinance from World War Two:
The number of bombs still to be found is staggering. British, American, and Russian bombing raids dumped upward of 2.7 million tons of bombs on Germany during the war, each weighing anywhere from 100 to 4,000 pounds (45 to 1,814 kilos). Spyra estimates between 7 and 15 percent of those were duds, bombs that hit the ground but failed to explode. For decades, they've remained live, waiting quietly for an errant backhoe or bulldozer to set them off.

Finding and removing them before the worst happens employs thousands of people in Germany, at a cost of tens of millions of dollars each year. Across Germany, an estimated 20,000 tons of WWII material—everything from bombs to rusty rifles and the wreckage of trucks and tanks—is recovered annually. The economic costs from offices, highways, and train lines being shut down while bomb squads do their work is incalculable.

Experts say the problem will get worse before it gets better. For decades, bombs turned up during postwar building projects, sometimes with deadly results. That's why construction projects in Germany today often require a Kampfmittelfreiheitsbescheinigung, or a permit certifying that the area is bomb-free, before work begins. Consultants pore over aerial photos from U.S. and British army archives for signs of unexploded ordnance.

But there are no guarantees, particularly in hard-hit cities like Berlin, the target of 363 air raids between May 1940 and April 1945. By the end of the war the city was a vast sea of rubble. "Bombs fell on train tracks, airfields, factories, and city centers," said Spyra.

As the years go by, remaining munitions get more dangerous: The material inside WWII-era bombs is usually TNT, a stable chemical that remains as explosive today as it was 70 years ago.

Allied bombs often included timers set to explode several hours to several days later, in order to kill firefighters or cleanup workers arriving at the scene of an air raid. "Naturally, that meant a long wait to get repairs started, which weakened the German military effort," said Spyra.

The dud detonators get more fragile with each passing year. The timers were commonly made of celluloid, a type of plastic that decays over time. (Many old movies were made of similar stuff, one reason many old movies no longer exist.) The deteriorating celluloid makes the detonators—and the bombs they arm—unpredictable and sometimes impossible to safely defuse.
Friday's death wasn't the first death from the leftover bombs of World War II, and it's likely not the last. Indeed, there are also still reports of occasional discovery of unexploded ordinance from World War One being discovered in the forests of Belgium and France. The worry in those cases, of course, is whether the ordinance in question may have chemical agents contained within them. In either case, it's obvious that the legacy of humanity's two greatest wars is far from over.