Would You Pay for Glenn Beck TV?
Beck heads to the internet.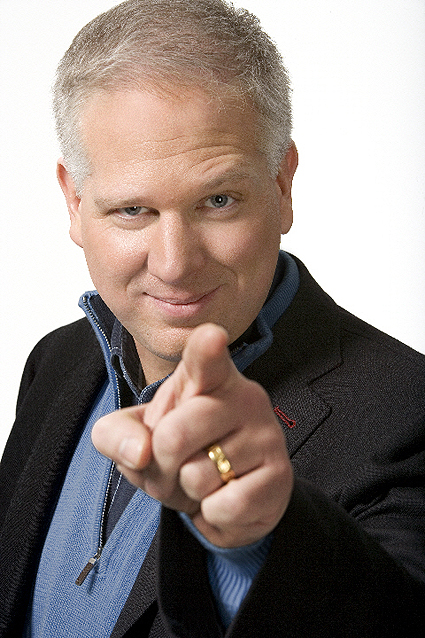 You are about to get that chance.
Via the NYT:  Moving Online, Beck Will Charge Viewers a Fee
On Tuesday, Mr. Beck will announce a first-of-its-kind effort to take a popular — but also fiercely polarizing — television show and turn it into its own subscription enterprise. It is an adaptation of the business models of both HBO and Netflix for one man's personal brand — and a huge risk, as he and his staff members acknowledged in interviews in recent days.

[…]

The business decision by Mr. Beck's company, Mercury Radio Arts, hinges on an expectation that more and more people will figure out how to view online shows on their TV sets through set-top boxes and video game consoles — and that they will subscribe directly to their favorite brands.

[…]

GBTV will cost $4.95 a month for subscribers who want to watch only Mr. Beck's two-hour show, and $9.95 a month for subscribers who want access to all of GBTV. "We want to create a network that has more than just Glenn's show," Mr. Balfe said, talking generally but ambitiously about acquiring scripted programming in the future — assuming enough subscribers sign up to justify the costs.
On the one hand, there is actually something to the notion that the future is online streaming of content.  I absolutely adore Netflix streaming, and love the HBO Go app.  We watch Netflix on a variety of devices in my household, so I get the appeal.  However, there is a limit, I would think, to how many individual subscriptions for which people will pay.
Netflix, streaming only, is less than $10/month (more if you want DVDs via mail as well) and their catalog is pretty impressive (and constantly growing).  HBO Go is a adjunct to an existing HBO subscription, so doesn't cost me any extra.  Likewise, if Charter would ever sign on, the Watch ESPN iPad/iPhone app will be "free" as well.
While I can see some subscription services working, I have to wonder if people would $5 or $10/month for basically one show for such a narrow offering.  More specifically, I suppose I could see some people paying out, but will it be enough to substitute for the kind of money Beck made on cable?  It is an interesting question.
Here's a description of the proposal:
Eventually, Mr. Beck said, his goal is to have an array of scripted and unscripted shows alongside his own daily show, which will simply be titled "Glenn Beck" and will run for two hours on weekday afternoons.

"If you're a fan of Jon Stewart, you're going to find something on GBTV that you're going to enjoy," Mr. Beck said. "If you're a fan of '24,' you're going to find something on GBTV that you're going to enjoy."

What GBTV will not be, he and his associates emphasized, is a news channel.
Part of this is also, it appears, about getting around a non-compete agreement with Fox:
on Sept. 12, "Glenn Beck" will begin. The two-hour show will be scheduled for 5 p.m. Eastern time, the same time as Mr. Beck's current show on Fox, putting him in direct competition with whoever replaces him at the cable news channel. But because it will stream only over the Internet, and not be shown on television, it is not a violation of his exit agreement with Fox. And Mr. Beck's representatives note that the show will be available on-demand on the Internet, further reducing the competitive element.
Another observation about GBTV in particular:  I am under the impression that Beck's demographic for his Fox show is mostly an older one (after all, the live show airs when the bulk of the population is still at work).  These strike as people less likely to follow him to an online presentation.*  Along those same lines, I find internet streaming of programs to be most enjoyable either via internet-ready TV devices (like my TiVo) or on my iPad.  I find them less appealing sitting at my desk looking at my computer.  As such, I would speculate that until there is more penetration of the marketplace with easy to use internet-ready TVs that this type of business model may be premature (especially if the demographic is an older one).
In sum:  I am intrigued by the business model and the general shift to streaming programing.  However, I have my doubts about this specific project.  It will be interesting to see how it plays out.
—-
*Indeed, a lot of them watch Beck because he is what is on between Cavuto and Special Report and, I expect, most of those same viewers will watch whatever new program is inserted in that space.