Yes, Bush Administration Used Torture
A bipartisan commission of elder statesmen confirms what we've known for years.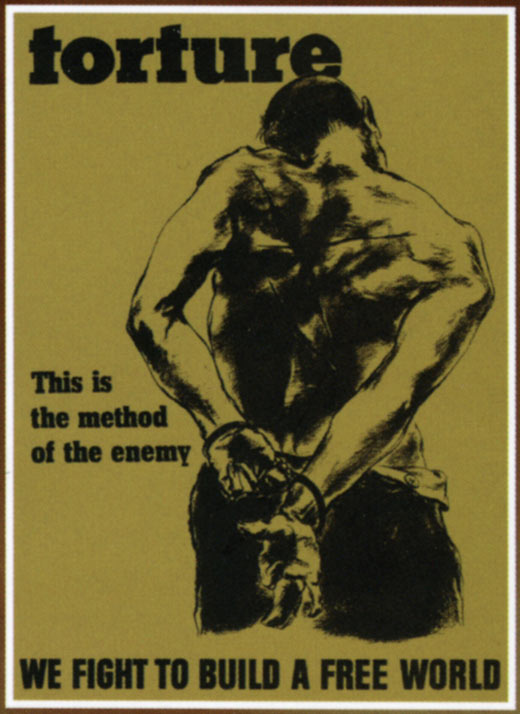 The bipartisan Constitution Project Task Force on Detainee Treatment has released a 600 page report concluding that "U.S. forces, in many instances, used interrogation techniques on detainees that constitute torture. American personnel conducted an even larger number of interrogations that involved 'cruel, inhuman, or degrading' treatment. Both categories of actions violate U.S. laws and international treaties."
For inexplicable reasons, they've decided to release the report in the least-user-friendly format possible, a series of readable slides. The folks at Lawfare have kindly provided a plain text version. Among the highlights:
The events examined in this report are unprecedented in U.S. history. In the course of the nation's many previous conflicts, there is little doubt that some U.S. personnel committed brutal acts against captives, as have armies and governments throughout history.

But there is no evidence there had ever before been the kind of considered and detailed discussions that occurred after September 11, directly involving a president and his top advisers on the wisdom, propriety and legality of inflicting pain and torment on some detainees in our custody.

Despite this extraordinary aspect, the Obama administration declined, as a matter of policy, to undertake or commission an official study of what happened, saying it was unproductive to "look backwards" rather than forward.

[…]

Our report rests, in part, on the belief that all societies behave differently under stress; at those times, they may even take actions that conflict with their essential character and values. American history has its share of such episodes, like the internment of Japanese-Americans during World War II, that may have seemed widely acceptable at the time they occurred,but years later are viewed in a starkly different light. What was once generally taken to be understandable and justifiable behavior can later become a case of historical regret.

[…]

There is no way of knowing how the government would have responded if a Democratic administration were in power at the time of the September 11 attacks and had to bear the same responsibilities. Indeed, one of the controversial methods examined here—capture and rendition of terror suspects to foreign governments known to abuse people in their custody—had its first significant use during the Clinton administration, well before September 11.

Any effort to understand how extraordinary decisions were reached on approving harsh treatment of detainees must begin with a recognition of the extraordinary anxiety that enveloped the nation after September 11. The greatest fears of Americans and their leaders in that period were of further attacks from those who had demonstrated that they were capable of wreaking havoc in New York and Washington. The abstract problems that might come with unchecked executive power were not a priority or an immediate concern for most Americans inside and outside of government.

[…]

Perhaps the most important or notable finding of this panel is that it is indisputable that the United States engaged in the practice of torture.

This finding, offered without reservation, is not based on any impressionistic approach to the issue. No member of the Task Force made this decision because the techniques "seemed like torture to me," or "I would regard that as torture."

Instead, this conclusion is grounded in a thorough and detailed examination of what constitutes torture in many contexts, notably historical and legal. The Task Force examined court cases in which torture was deemed to have occurred both inside and outside the country and, tellingly, in instances in which the United States has leveled the charge of torture against other governments. The United States may not declare a nation guilty of engaging in torture and then exempt itself from being so labeled for similar if not identical conduct.

[…]

The second notable conclusion of the Task Force is that the nation's highest officials bear some responsibility for allowing and contributing to the spread of torture.

The evidence for this finding about responsibility is contained throughout the report, but it is  distilled in a detailed memo showing the widespread responsibility for torture among civilian and military leaders. [See Appendix 2] The most important element may have been to declare that the Geneva Conventions, a venerable instrument for ensuring humane treatment in time of war, did not apply to Al Qaeda and Taliban captives in Afghanistan or Guantánamo. The administration never specified what rules would apply instead.

The other major factor was President Bush's authorization of brutal techniques by the CIA for selected detainees.

The CIA also created its own detention and interrogation facilities — at several locations in Afghanistan, and even more secretive "black sites" in Thailand, Poland, Romania and Lithuania, where the highest value captives were interrogated.

The consequence of these official actions and statements are now clear: many lower-level troops said they believed that "the gloves were off " regarding treatment of prisoners.

[…]

Much of the torture that occurred in Guantánamo, Afghanistan and Iraq was never explicitly authorized. But the authorization of the CIA's techniques depended on setting aside the traditional legal rules that protected captives. And as retired Marine generals Charles Krulak and Joseph Hoar have said, "any degree of 'flexibility' about torture at the top drops down the chain of command like a stone — the rare exception fast becoming the rule."
There is a whole lot more to the report, but those are the highlights of what I've read thus far. None of this is truly new information. But the passage of time and the composition of the panel should help end the debate on this.
Conor Friedersdorf ("Bipartisan Elites: Yes, the Bush Administration Totally Tortured"):
 Its findings, based on a thorough two-year investigation, are endorsed by members in good standing of the U.S. establishment. Americans who've studied the facts have long known that Team Bush tortured.

[…]

So say the elder statesmen.

They include Asa Hutchinson, who served in the Bush Administration as a Department of Homeland Security undersecretary from 2003 to 2005, and as the administrator of the Drug Enforcement Administration before that; James R. Jones, a former U.S. ambassador to Mexico and a Democratic member of the House of Representatives for seven terms; Talbot D'Alemberte, a former president of the American Bar Association; legal scholar Richard Epstein; David Gushee, a professor of Christian ethics; David Irvine, a former Republican state legislator and retired brigadier general; Claudia Kennedy, "the first woman to receive the rank of three-star general in the United States army"; naval veteran and career diplomat Thomas Pickering; William Sessions, director of the FBI in three presidential administrations; and others.

They all agree that Team Bush tortured people.
Jacob Heilbrunn ("The Constitution Project's Vital Terrorism and Torture Report") adds:
 The point would seem to be simple: you can't purport to stand for human rights abroad even as you systematically violate them. This legacy continues to haunt the CIA, which was suborned into acting illegally and whose new chief, John Brennan, now claims he can't really remember with any degree of exactitude what he did or did not witness during the Bush years.

[…]

The lawless lawmakers, the proponents of torture—the Addingtons, Yoos, and Cheneys—will doubtless continue to asseverate that they acted, and would always advocate acting, to preserve American freedoms by endorsing the methods they employed to try and extort confessions and information from the bad guys. But apart from the question whether torture even elicits reliable information, it is staggering that they would conclude that it takes the Stalinist conveyor belt system of torture to safeguard the country. Perhaps the Constitution Project's timely report will help preserve us in the future from the fanatics who jeopardize what they purport to protect.
The problem with all this is what to do about it. Monday, I noted that California Governor Jerry Brown is thumbing his nose at the Supreme Court on prisoner release. While outrageous, I fully understand why he would do so given the enormous political pressures he's under. Similarly, while I opposed the use of waterboarding, rendition, and all the rest even in the earliest days after 9/11 and even while strongly supporting the Bush administration, I fully understood why the people with the awesome responsibilities of safeguarding the nation in those days might have thought torture was "worth it."
Thus, I'm left in the untenable position of simultaneously believing that the Bush administration acted illegally in many cases and yet not thinking that Bush, Cheney, Yoo, and company ought go to jail for these acts.  Indeed, I share this odd position with the current administration.  Heilbrunn is, not unreasonably, outraged by this:
Where does President Obama fit into this tawdry saga? He has essentially held his nose when it comes to the torture issue. He stated at the outset that he wanted to "look forward." This was an evasion of his responsibilities. How can you know where you are without knowing where you came from?  So thanks to Obama's pusillanimity there has never been a national commission to study what went wrong.
The cynic in me says that this is simply power protecting power: Obama is president now and he doesn't want anyone second guessing him down the road. But it's also, I think, something much more: sitting in the big chair gives him an appreciation of how hard it is to fill. Indeed, more than a decade after 9/11, Obama himself is still making compromises with the law, including the Constitution which he swore to uphold, in the name of safeguarding the Republic.
Note: Doug Mataconis was working on a similar post, "Report: U.S. Practiced Torture After 9/11," at the same time. This is important enough for two posts.